John Matin Harvey Dwight
Lonesome Dove
Tarrant Co, Cemeteries of TX
Submitted by James Manford Dwight,
San Antonio, Texas


My name is James Manford Dwight and I am the Great Grandson of Malinda Hill. She is buried in the Lonesome Dove Cemetery in Tarrant County, Texas. She was the daughter of Samuel and Elizabeth Frost. Samuel Frost died at Fort Parker and at this time; I do not know where Elizabeth died but she re-married.

JMH (John Matin Harvey) Dwight was my Grandfather and he did make his mother's tombstone and many others around Texas. JMH Dwight is buried in Mission Garden Cemetery in ( Curry County) in Clovis, New Mexico.
My grandfather was married twice. His first wife's name was Frances Parlee Hyde Dwight and she died in New Mexico. After she died, my Grandfather married his second wife , Dove Childress Dwight (my Grandmother) .
Below is a small picture of JMH and Parlee Dwight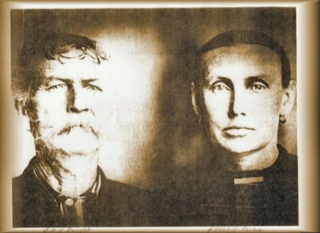 Francis Marion Dwight is buried in the Willow Point Cemetery and that is in Wise County.

Francis Marion Dwight and JMH Dwight (John Martin Harvey Dwight) were brothers and it was Francis that was in the Civil War and Francis did not die in that war. At this time I only know two of my Grandfather's brothers that was in the Civil War and neither of them died in the Civil War.
And this is a picture of me and my Great grand Mother's grave site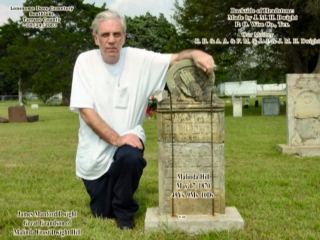 Malinda Hill.
---


I