Ray Jackson
Apr 03 2009
Shelby Co. Cemeteries of Tx
Submitted by John Warner
---
04/03/09
Shelby County Today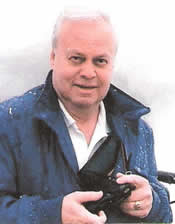 Ray Jackson, 79, of Center, passed away Friday April 3, 2009 at Nacogdoches Memorial Hospital.
He requested that his body be cremated and no services are planned.
He was born March 24, 1930 in Bragg, Hardin County, Texas to Thomas Allen and Omino ( Newman) Jackson. He graduated from Center High School in 1947 and he retired from Houston Lighting Company, after retirement he moved back to Shelby County and he spent countless hours researching history for the Shelby County Museum which he was very proud of.
He is preceded in death by his Parents, Thomas and Omino Jackson, Brother, Melvin Jackson, Sister, Ruth Jackson McSwain and Special Friends, Carla and Bernadette.
He is survived by:
Bunch of Friends especially Beatrice

Services are under the direction of Mangum Funeral Home, Center, Texas
---