Caison-Heath Cemetery
Rusk Co. Cemeteries of TX
Courtesy of Sharon Pierce
From KLTV web site www.kltv.com

8/12/2002 - Rusk County
Vandals Desecrate Family Cemetery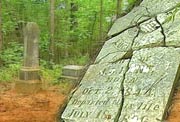 When Lewis Smith looks at what remains of the Heath Family Cemetery, words fail him.

"I don't know why anybody would want to destroy things like this," Lewis says. "This is really history and it's...I don't know know what to say. It's just upsetting...about the whole situation."

The vandalized cemetery now looks almost like a rock quarry, with headstones broken and toppled, markers moved, garbage left behind, and one grave almost completely exhumed. The dirt has been replaced, but the damage remains. The cemetery has seen damage before, but not this bad.

"This is the worst we've seen. They pretty well destroyed it this time," Smith explains. "They've got all the markers down except for maybe four in the cemetery that's left."

In addition to the physical damage, a more sinister form of vandalism also occurred. Most of these graves were marked only by their headstones. Stones which are now broken and strewn all over the area. Burial ground from as far back as the early 1800s is now unmarked, and it will be difficult to locate all of the bodies because of the layout of the cemetery. For now, the community will try and rebuild, but this random act of destruction has shaken them.

Smith explains, "I really feel sad, I don't feel angry. This is worse than any automobile accident or anything I've ever been on. This is life hereafter and our remains. It's just...that's just really upsetting."


From Tyler Morning Telegraph http://www.tylerpaper.com/site/news.cfm?brd=1994 (click on East Texas on left)

VANDALS STRIKE HISTORIC RUSK CO. CEMETARY






By: KENNETH DEAN, Staff Writer August 12, 2002






Rusk County sheriff's investigators are searching for vandals who destroyed headstones and desecrated a grave in a rural family cemetery. (August 13, 2002)

HENDERSON - Rusk County sheriff's investigators are searching for vandals who destroyed headstones and desecrated a grave in a rural family cemetery. The Heath Family Cemetery lies in a rural west part of county and has been the target of vandalism in the past, sheriff officials said.Precinct 4 Justice of the Peace Lewis Smith said Ray Heath, an adjacent property owner whose family is buried in the cemetery, filed the complaint after finding the destruction this weekend.The acts of criminal mischief left headstones overturned, shattered and obvious signs of one grave being dug up."This is really just heartbreaking.
Seeing this is worse than pronouncing someone [dead]. It just tears you apart," he said.Smith said he believed there are probably 100 graves in the cemetery, the oldest graves date to 1797 and possibly earlier."There are only four markers left standing. The others have been toppled or destroyed. It is just heartbreaking to see this kind of destruction," he said.Lt. Jerry Kesinger said the vandals are likely high school students or young adults who use the area, because it is so rural."Most of the department doesn't even know where the cemetery is at because it is off the beaten path. The county road the cemetery is off of is not even on a county map," he said.
Precinct 5 Justice of the Peace Bob Richardson said he remembered dealing with Halloween vandals at the cemetery in the 1980s, but said there was constant problems with it."The cemetery is in such a remote area that kids go out there to drink, then they start tearing things up. They (the vandals) have even said they heard rumors of people being buried with gold in those old graves. I guess that is why they try to dig them up," he said.Richardson said the vandals could be charged with vandalism and grave desecration."These charges, even if misdemeanors, can add up quickly when you're talking about desecrating and vandalizing graves," he said.Richardson said a few years ago, an Overton woman was caught in a cemetery with a human skull in her hand and a man was charged with a third-degree felony after he set fire to a corpse he had dug up."Some people are just sick," he said.Kesinger said the cemetery has been vandalized repeatedly over the years."It gets vandalized, then three of four months will pass without hearing any complaints.
Then all of the sudden, it happens again. We are stepping patrols up in the area to possibly curve this destruction," he said. Smith said the vandals do not seem to understand that the destruction hurts relatives of the deceased to find the graves in such disarray.These particular acts of vandalism already have done harm, but Smith is hoping parents and other adults will get the message to the younger people. "It doesn't hurt the deceased when you do something like this it hurts the living. One person may have a thousand relatives still living. Talk to your young people and let them know this isn't a harmless game. People are hurt," he said.