Tudman Cemetery (B)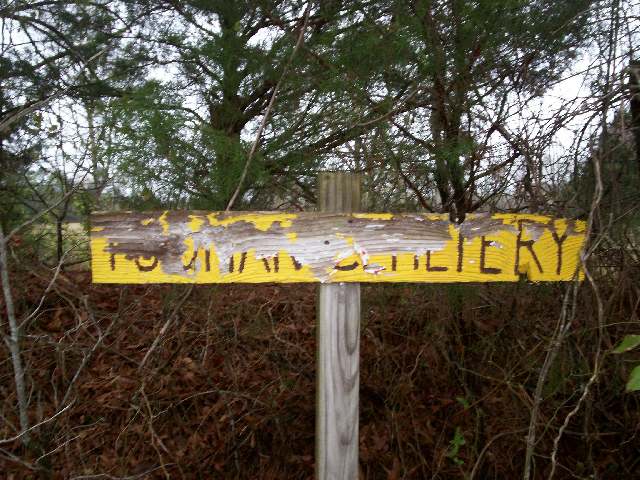 Photo by Preston Partin
Rusk Co Cemeteries of TX
Submitted by Dorothy Penney (2005)
---
From Nacogdoches take state Hwy. 259 North to Mt. Enterprise, at the 4 way stop in Mt. Enterprise turn left on state Hwy. 84 West, go 4.6 miles and turn left on county road 3227, stay on county road 3227 for 1.8 miles, then turn left on county road 3233 until it dead ends. then turn left on county road 3238 go 0.5 miles and the Tudman cemetery will be on your left. the cemetery is off the road it will look like you are turning into a drive way, there is a old faded out yellow sign that had Tudman cemetery written on it at one time.
G.P.S. Cord. North 31 degrees 51.631 West 094 degrees 46.769 Elev. 494 feet
Directions by George B. Partin & Son's Monuments 1523 Douglass Hwy. Nacogdoches, Texas 75964 local 1-936-564-3512 toll free 1-877-564-3512 fax 1-936-462-8306 email gbps1523@yahoo.com
---
These people are buried in Tudman (C) cemetery about .3 mile west of CR 3230 on north side of CR 3228.
| | | | | |
| --- | --- | --- | --- | --- |
| Last Name | First Name | Birth | Death | Comments |
| Anderson | Ossie Simon | 5-3-1911 | 6-13-1938 | - |
| Arnett | Elgie | 2-28-1887 | 6-19-1939 | - |
| Arnett | Floyd | 7-27-1905 | 4-11-1974 | - |
| Arnett | Fred D | 5-14-1903 | 7-8-1977 | - |
| Arnett | U. L | 2-1-1932 | 11-8-1964 | - |
| Blanton | Monnie | 11-22-1900 | 12-11-1991 | - |
| Burgess | Tinnie | 9-8-1902 | 2-25-1995 | - |
| Burgess | Willie Horace | 3-8-1904 | 8-26-1976 | - |
| Gray | James A | 1903 | 1984 | - |
| Gray | Lillie Mae | 10-13-1909 | 3-9-2001 | - |
| Gray | Warren Gray | 4-5-1947 | 5-10-1968 | Sgt Co B 503 Inf |
| Harris | Helen | 10-5-1919 | 8-1-1976 | - |
| Johnson | A. R. | 2-23-1920 | 9-13-1960 | - |
| Johnson | Bob (Robert) | 10-27-1923 | 3-2-1978 | - |
| Johnson | Georgia | 9-13-1884 | 6-3-1965 | - |
| Johnson | James Earl | 9-9-1959 | 10-9-1981 | - |
| Johnson | Jasper | 1881 | 1920 | - |
| Johnson | John Ben (Bunk) | 8-4-1897 | 8-1-1982 | - |
| Johnson | Hayward | 9-12-1926 | 11-13-1996 | - |
| Johnson | Marion | 12-28-1905 | 2-21-1989 | - |
| Johnson | Maxie Joe | 6-29-1938 | 4-4-1980 | - |
| Johnson | Ola V | 3-25-1903 | 11-8-1975 | - |
| Johnson | Robert | 6-3-1907 | 8-21-1981 | - |
| Johnson | Roberta Lee | 1903 | 1-23-2004 | - |
| Lewis | Leather | 1910 | 1935 | - |
| Lewis | Jessie | 8-7-1895 | 6-29-1969 | - |
| Scruggs | Tommie | 8-12-1890 | 9-25-1913 | - |
| Scruggs | Fannie | 1867 | 1901 | - |
| Scruggs | Luevinger | 4-13-1910 | 1912 | - |
| Scruggs | Martin | 7-1-1858 | 7-8-1924 | - |
| Scruggs | Tommie | 8-12-1896 | 9-25-1913 | - |
| Simon | Arrie B. | 9-24-1891 | 12-4-1984 | - |
| Simon | Bernice W. | 8-20-1907 | 6-1-1993 | - |
| Simon | Delmon | 8-26-1888 | 12-15-1955 | - |
| Simon | Carmen Ray (Lacy) | 6-14-1997 | only date shown | - |
| Simon | Odies R. | 3-21-1928 | 9-7-2002 | Sgt U S Army |
| Simon | Verdell | 3-7-1939 | 5-24-1995 | - |
| Williams | Jerry | 1-22-1934 | 7-31-1977 | - |
| Williams | Lena Mae | 8-1-1950 | 10-11-1955 | - |
| Williams | Willie B. | 9-22-1945 | 6-16-1951 | - |