HARMONY HILL CEMETERY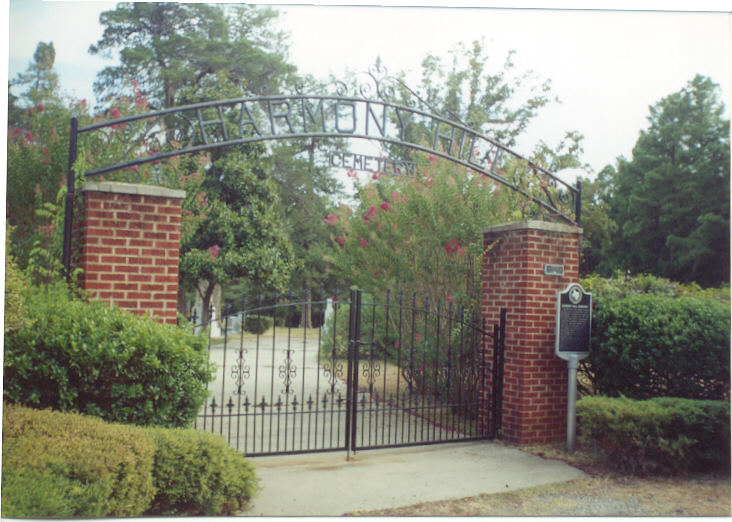 Rusk Co. Cemeteries of TX
Used by permission of Mary F. Dunn Rusk Co. Cemeteries Vol II Copied 20 June 1956.
Photo & Submitted by Gloria B. Mayfield
Dunklin photos submitted by Tom (Dunk) Dunklin

This is a very beautiful - well-kept - and old cemetery - located south of Highway 43 - about five miles on Highway 43 from Tatum to Henderson. J. W. Hall was the First grave in Harmony Hill Cemetery and has the one date of 1844. Many unmarked graves all around.
Updated from Hawthorn Funeral Home Records 2009 GBM
| | | | | | | |
| --- | --- | --- | --- | --- | --- | --- |
| Last Name | First Name | Birth | Death | Parents | Pg # | Comments |
| Adams | Bettie Jones | Aug. 20 1958 | Jan. 13 1939 | - | - | - |
| Adams | Cidney W. | Jul. 4 1854 | Jan 25 1938 | - | - | - |
| Beall | Faye Burnett | Jun 14 1937 | Jun 26 1994 | George Lees & Nellie Dwyer | 65 | Ralph Beall |
| Blount | Louisa | No dates | - | - | - | - |
| Brown | Baby | No dates | - | - | - | - |
| Brown | Linson F. | Nov. 4 1861 | Jul. 14 1862 | - | - | - |
| Callaway | C.C. (Bud) | 1839 | 1914 | - | - | Married Lou Atwood |
| Callaway | Enoch Job | 1845 | 1916 | - | - | Married Leta Hayes |
| Callaway | Mary Elizabeth (Hayes) | Jun. 12 1813 | Jun. 15 1881 | | | m. Jun. 10 1832; Moved from Coosa Co. Ala to Rusk Co. Tex 1842; Children ľall on same stone with husbands and wives; All listed below: |
| Callaway | Mary Rebecca | 1847 | 1869 | - | - | Married Tom Crawford |
| Callaway | Saphronia | 1837 | 1907 | - | - | Married Joy Walling |
| Callaway | Sarah A. | No dates | - | - | - | - |
| Callaway | Virgil R. | - | - | - | - | Co. C. 15 Tex. Inf. CSA |
| Callaway | Virgil Rice | 1843 | 1916 | - | - | Married Sarah Kuykendall |
| Callaway | Willis Francis | Jan. 2 1810 | Feb. 8 1856 | - | - | - |
| Capps | Baby | - | - | - | - | - |
| Capps | Charlie | - | - | - | - | Small markers-no dates |
| Capps | Mrs. | - | - | - | - | - |
| Carter | Pansy Ette | Sep 29 1903 | Jul 27 1987 | Charles Williams & Anna B. Shivers | 76 | wid/o William Homer |
| Carter | William Homer "Kelley" | Nov 16 1898 | Jan 16 1974 | Alex Alexander Carter & Mattie E. Reese | 11 | Pansy |
| Crawford | Martha | Apr. 6 1818 | Sept. 1 1906 | - | - | Wife of W.C. |
| Deckhard | Margaret | - | May 10 1883 | - | - | Age 2 yrs. |
| Deckhard | Osfer | - | Oct. 15 1884 | - | - | Age 2 yrs. |
| Deckhard | William | May 15 1881 | May 21 1881 | | | - |
| Dodson | John Edwin | Dec 16 1936 | Nov 13 2004 | Jessie James Dodson & Margie Faye Langley | 130 | Helen Marie Young |
| Dollahite | Tennessee C. | Jun. 12 1832 | Nov. 8 1916 | - | - | Wife of W.A. |
| Dollhite | W.A. | Feb. 18 1823 | Sep. 4 1901 | - | - | - |
| Dunklin | James Hillory | Jul. 11 1819 | Apr. 19 1910 | (Photo) | - | "Father" h/o Symtha |
| Dunklin | Syntha | Jun. 3 1822 | Mar. 2 1890 | Photo | Bradham | Wife of J(ames) H(illory) |
| Eight unmarked graves | 3 of them are piles of rock | - | - | - | - | - |
| Findley | Hattie | Jul. 15 1872 | Jul. 1 1892 | - | - | - |
| Four unmarked graves | | - | - | - | - | - |
| Garrison | C.W. | Dec. 19 1859 | Nov. 7 1862 | - | - | Son of Z.B. & E. H. |
| Garrison | Flem (ing Hodges) | 1824 | 1887 | | | Major Co. C. 14th Tex. CAV. CSA |
| Garrison | Julian C. | Oct. 27 1885 | Sep. 1 1887 | - | - | Son of C.F. & E.A. |
| Garrison | Sarah | No dates | - | - | - | - |
| Geter | Drucilla | 1837 | - | - | - | - |
| Gladney | Ann T. | Jan. 12 1839 | Sep. 30 1916 | - | - | Wife of J. P. Gladney |
| Gladney | Donald W. | May 27 1851 | Aug. 4 1856 | - | - | - |
| Gladney | J.P. | Feb. 4 1812 | Dec. 19 1878 | - | - | Mason |
| Gladney | Jane | Jan. 6 1871 | Mar. 18 1873 | - | - | Dau. of W.M. & C. I. |
| Gladney | Jane R. | Oct. 23 1817 | Feb. 1 1857 | - | - | - |
| Gladney | M. L. | May 1 1861 | Jul. 14 1884 | - | - | - |
| Gladney | S.R. | Jul. 17 1848 | Mar. 9 1894 | - | - | - |
| Gray | Nancy K. | 1835 | 1852 | - | - | - |
| Greenwood | Gill | Aug. 1 1871 | Oct 18 1875 | - | - | Son of N. & S. L. |
| Greenwood | Victoria | - | Jul. 10 1876 | | | Age 8 yrs; dau. of N. & S.L. |
| Griffin | Baby | No dates | - | - | - | - |
| Guthrie | Mr. | No dates | - | - | - | - |
| Guthrie | Mrs. | No dates | - | - | - | - |
| Hill | Gibson F. | Apr. 18 1837 | Jan. 22 1884 | - | - | - |
| Hillin | A.Z. | May 14 1925 | Jun. 21 1941 | - | - | - |
| Hillin | Albert Carl | Nov 29 1931 | Dec 11 1998 | Blan R. Hillin & Mossie Lee Jimmerson | 78 | Coy Jean Jones |
| Hillin | Bland R. | Feb 26 1890 | Jun 22 1970 | Andy Matthew Hillin & Martha Jane Welch | 70 | Mossie Lee Hillin |
| Hillin | James T. | Aug 01 1929 | Jun 26 1992 | Bland Hillin & Mossie Lee Jimmerson | 72 | single |
| Hillin | Mossie Lee Jimmerson | Mar 04 1903 | Aug 04 1981 | Jim T. Jimmerson & Mary Pepper | 75 | widow of Bland Hillin |
| Jimerson | Mollie Dunklin | 1857 | 1902 | - | - | Wife of Thomas Franklin |
| Jimerson | Thomas Franklin | 1846 | 1920 | - | - | - |
| Jones | Alien | No dates | - | - | - | - |
| Jones | Amanda | Mar. 5 1837 | Apr. 9 1920 | - | - | "Mother" |
| Jones | F. S. | Jan 8 1864 | Jan 31 1930 | - | - | - |
| Jones | George W. | Nov. 27 1874 | Jul. 5 1875 | | | Son of Stephen & Amanda |
| Jones | S.R. | Oct. 1 1887 | Jul. 31 1889 | - | - | Son of S.F. & L.V. |
| Jones | Stephen | Mar. 10 1835 | Oct. 22 1910 | - | - | "Father" |
| Kelly | Helen | Sep. 10 1887 | May 28 1927 | - | - | Wife of ---d. |
| Kinard | Avis | May 28 1893 | May 06 1971 | John W. Kinard & Anna S. McNeese | 46 | single |
| King | Hanna (Mrs. H.F.) | Jan. 31 1840 | Jun. 8 1896 | - | - | - |
| Kuykendall | Alvah N. | Aug. 27 1824 | Jan. 9 1884 | - | - | - |
| Kuykendall | D.R. | 1804 | 1860 | - | - | Dorcus w.o James |
| Kuykendall | Eveline | Feb. 1 1820 | Oct. 20 1901 | - | - | - |
| Kuykendall | J.A. | 1799 | 1881 | - | - | 1850 Co. Census James |
| Kuykendall | J.A. | Jun. 15 1867 | Sep. 10 1887 | - | - | - |
| Kuykendall | Locy | Feb. 18 1883 | Oct. 12 1886 | - | - | - |
| Kuykendall | M.L. | Jan. 14 1864 | Sep. 22 1868 | - | - | - |
| Kuykendall | Martha A. | 1827 | Feb. 23 1886 | | | Wife of A. N. Mother of George W. 1847 |
| Kuykendall | Owen | Dec. 3 1824 | Jul. 1855 | | | 1850 Rusk Co.; h/o Eveline Burton; m. Jan 4 1849 Harrison Co. TX |
| Langhorne | Margaret M. | Oct. 30 1817 | Feb. 18 1882 | - | - | Wife of J.M. Langhorne |
| Logan | John | No dates | - | - | - | - |
| Logan | Mrs. | No dates | - | - | - | - |
| MaMahon | R.E. L. | Jul. 12 1879 | Jun. 17 1883 | - | - | - |
| McMahon | Ida | 1857 | 1884 | - | - | - |
| McNeese | J.P. | Jun. 13 1818 | Sep. 26 1889 | - | - | (71-3-13) "Father" |
| Miller | Louisa J. | Dec. 18 1821 | Aug. 27 1880 | - | - | "Mother" |
| Nays | Baby | No dates | - | - | - | - |
| Noble | Willie M. | - | Oct. 2 1929 | - | - | Tex. Corp. 143 Inf 36 Div |
| Noble | Willie S. | Oct. 13 1865 | Nov. 2 1888 | - | - | Wife of J.B. |
| Norton | Mr. | No dates | - | - | - | - |
| Pruitt | Andrew | No dates | - | - | - | - |
| Pruitt | Drucilla | No dates | - | - | - | - |
| Pruitt | Melissa Jane | - | Oct. 15 1851 | | | Dau. of Andrew & Drucilla; age 14 yrs 3 mon. 23 days |
| Randolph | Margaret E. | Feb. 9 1907 | - | - | - | - |
| Randolph | William B. | Jul. 24 1892 | Jun. 8 1954 | - | - | "Father" |
| Reese | Hew | Feb. 19 1874 | Mar. 20 1874 | - | - | - |
| Reese | Jefferson | Feb. 24 1875 | Mar. 8 1875 | - | - | - |
| Reese | Sarah | Nov. 4 1858 | 8 Dec. 1858 | - | - | - |
| Sanders | Baby | Aug. 25 1938 | Aug. 25 1938 | - | - | Baby of Oliver & Clara |
| Sessums | Loudelie | Feb. 5 1874 | May 7 1952 | - | - | |
| Seven unmarked graves to West | - | - | - | | | - |
| Smith | Bryant | Dec 08 1895 | Feb 24 1973 | William A.Smith,? | 39 | Divorced |
| Stacy | Mary Maurene Jimmerson | Feb 04 1915 | Aug 28 2001 | James T. Jimmerson & Mary Pepper | 66 | George Lee Stary |
| Turlington | - | - | - | - | - | - |
| Vinson | Baby | No dates | - | - | - | - |
| Watson | E.D. | Aug. 2 1824 | Jun. 25 1901 | - | - | - |
| Watt | Andrew | - | 1882 | - | - | - |
| Watt | Fannie | May 14 1884 | 1885 | - | - | - |
| Watt | Griffith | - | 1936 | - | - | - |
| Watt | James | - | 1935 | - | - | - |
| Watt | Jane | - | 1921 | - | - | - |
| Watt | Janie | Jan. 14 1873 | Oct. 28 1945 | - | - | - |
| Watt | Jeanette | Sep. 21 1875 | 1878 | - | - | - |
| Watt | Robert H. | Sep 18 1860 | Apr 12 1918 | - | - | - |
| Whitaker | C.E. | Jan. 28 1876 | Sep. 2 1940 | - | - | Son of J. C. & Eliza |
| Whitaker | Eliza | Apr. 20 1843 | Dec. 8 1928 | - | - | Wife of J.C. |
| Whitaker | J.C. | May 30 1844 | Oct. 17 1885 | - | - | - |
| Williams | Henry | Aug. 15 1815 | Mar. 9 1877 | - | - | "Father" |
| Williams | Irena | Aug. 15 1812 | Jun. 9 1882 | - | - | "Mother"; w/o Henry |
| Williamson | Nellie Alice | Nov 26 1892 | Sep 15 1971 | Walter Beall & Alice Carlise | 102 | ~ |
| Williamson | William Right | Apr 23 1890 | Sep 21 1967 | John Williamson | 94 | M: Nellie |
| Woodall | R.B. | Jan. 5 1828 | Apr. 5 1865 | - | - | Mason |
| Wright | Amanda Emily | Oct. 11 1878 | Sep. 23 1967 | - | - | (Obit) |
| Wright | Infant son | Aug. 29 1906 | Sep. 10 1906 | - | - | Son of T.J. & N.E. Wright |
| Wright | Thomas J. | Aug. 21 1877 | Apr. 25 1951 | - | - | "Father" |
| Young | A. Clyde | 1912 | 1956 | - | - | - |