Barksdale- Young Cemetery
Rusk Co. Cemeteries of TX
Mary F. Dunn, Rusk County Cemeteries Vol II
Submitted by Gloria B. Mayfield, Rusk County Coordinator
On April 23 2001, I enjoyed a cemetery trip that lead to the Barksdale-Young, Pruitt and the Trammel Cemetery. All of these cemeteries are located on private land in the Dirgin Area. Albert and Edd Taylor and their wives were my host. Both of the Taylors were born on this land and the property remains in the family. Many thanks to the fine people who care enough to take their time to show and allow me to take pictures.
This is a very old cemetery, located in the Church Hill Community. Row 1 Barksdale,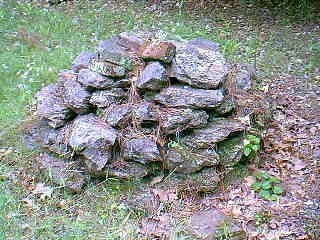 Two rock vaults, one of a child and one of an adult. Reported to be members of the Barksdale family for whom the cemetery was
named. One said to be Cron Barksdale. Nine other unmarked graves in same row.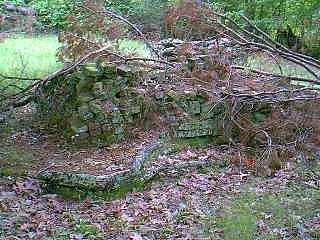 Brick vault was reported to be that of a peddler who died while visiting the Barksdale family. The brick were bought with the money he had at his death.
Row 2 Members of a Garvin family also reported to be here. (info provided by Albert Taylor)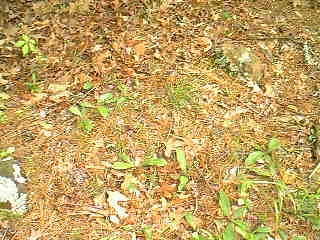 Thomas M. Garvin b: abt 1816 Lexington Co. SC, d: unknown and wife mary Jane Blakely Garvin b: abt 1816 both buried in unmarked graves at Barksdale Young. Their son Bazil W. Garvin b: Arp 8 1845 in Charleston SC d: Jul 24 1920 CSA Marker and his wife Mary Tabith Walker Garvin are both buried at Liberty Cemetery, Rusk Co. TX
There are five unmarked graves next to the Ella B. Young grave.
Row 5 there are five unmarked graves
| | | | | |
| --- | --- | --- | --- | --- |
| Last Name | First Name | Birth | Death | Inscription |
| Gray | | (1783) | abt 1858 | 75 yrs. @Grandma@ |
| Young | | Sep 30 1866 | Oct 19 1873 | d/o M. F. |
| Marlar | | May 15 1857 | Jul 11 1857 | inf/o J. G. & R. C. |
| Gray | | Jan 5 1850 | Jan 7 1875 | d/o S. & E. A. |
| Gray | | Feb 12 1813 | Jan 8 1872 | |
| Gray | | Sep 5 1818 | May 10 1868 | h Samuel |
| Gray | | Nov 17 1859 | Jun 1 1865 | d/o S. & E.A. |
| Gray | | Jan 17 1850 | May 16 1876 | h John |
| Gray | | Mar 11 1876 | May 31 1876 | s/o John & Janie E. |
| Young | | 1808 | 1883 | w Elizabeth James ABurden down, change the cross into a crown.@ |
| Young | | Dec 1 1866 | Feb 5 1956 | s/o John Miller & 2nd wife Elizabeth Ann McDonough d: Harmony Hill Cem |
| Young | | Jan 25 1876 | Jun 15 1963 | h Andy |
| Young | | Apr 16 1899 | Jun 27 1963 | s/o Andy & Texana |
| Young | | Sep 7 1902 | Sep 28 1902 | d/o A. T. & Tex |