WOOLWINE - TAYLOR CEMETERY
The highway sign defines it as 'Taylor Cemetery as does the "Roads of Texas" book of maps.
Panola Co. Cemeteries of TX
Information by John Dulin,
Jul 2000 update & picture by Anita Jessup
August 2007 additional information by Annette Stoddard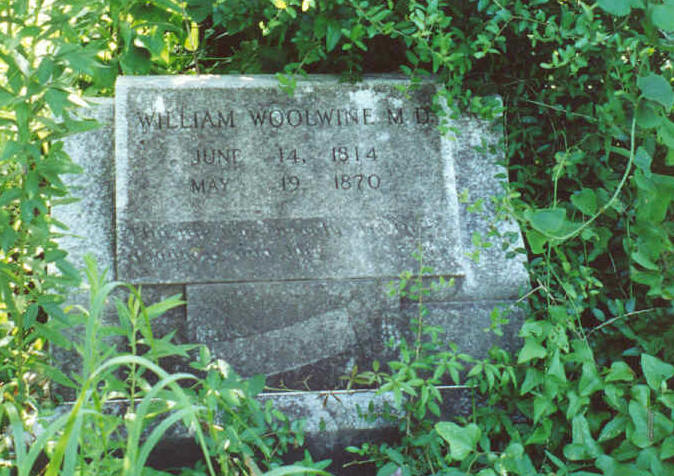 Dr. William Woolwine June 14 1814 died May 19 1870
This cemetery is located just over the Rusk- Panola County line in Panola County. Traveling north on FM 1791 from Hwy 84, proceed to the intersection of FM 1791 from Hwy 84, proceed to the intersection of FM 999. The cemetery is located on the top of the ridge to the left, directly across from where FM 999 intersects with FM 1791, just above Springs of Living Water Church. The cemetery is not visible from the road.
July 2000 ---Anita Jessup
The stone for the Taylor family is relatively new -- a very large stone -- flat to ground. It must be about 4 feet from side to side, and about 18 inches wide -- was obviously added much more recently than when they died. The words "Texas Pioneers" were at the bottom of the stone with William and Pamela's names. That is the very large stone and it may have had both couples on it -- one couple on the left and one on the right.

The stones are all in one place, within a few feet of each other. Dr. Woolwine's stone is old and rests against a tree. The Taylor stone (s) is much newer and is behind the Woolwine stone. The Murphy stone is to the right of Dr. Woolwine.
August 2007------ Annette Stoddard< stoddard@glade.net

Please note that most of the Taylors were buried before< Dr. Woolwine..... the cemetery was started by the Taylor family for their loved ones and was a part of the land they owned. The highway sign defines it as 'Taylor Cemetery as does the "Roads of Texas" book of maps.

I am a ggggranddaughter of William Taylor and gggranddaughter of William H. My ggrandfather John is supposed to be there also "under the sassafras tree". My husband found a large old sassafras tree that is over the other Taylor graves.

The website mentions that the stones for the Taylors were newer that the others.....because the construction crews destroyed the original stones. The Woolwine stone was moved...don't know where it should be. The Taylor cousins from Garrison, Timpson and Nacogdoches erected the new stones. Bill Taylor and Gene Hudman, both from Timpson is also William, and William H.'s descendant and is the source of my info. (Annette Stoddard)
| | | | | |
| --- | --- | --- | --- | --- |
| Last Name | First Name | Birth | Death | Comments |
| Murphy | Jack | June 29 1915 | Oct 8 1915 | - |
| Murphy | Edward | Oct 21 1908 | Apr 18 1973 | USArmy WWII |
| Murphy | Alpha E. Tinkle | Oct 23 1878 | Jul 29 1915 | - |
| Murphy | J. B. | Gordon | Feb 6 1868 | Oct 4 1940 |
| Woolwine | William Dr. | June 14 1814 | May 19 1870 | - |
| Keating | M. L. Woolwine | Oct 6 1843 | Nov 1 1879 | W/o J.B. |
| Taylor | William H. | 1819 | 1867 | h/o Emily |
| Taylor | Emily | 1824 | 1885 | - |
| Taylor | William | 1793 | 1861 | "Texas Pioneers" |
| Taylor | Pamela | 1798 | 1852 | w/o William |