Old Camp Ground Cemetery 2009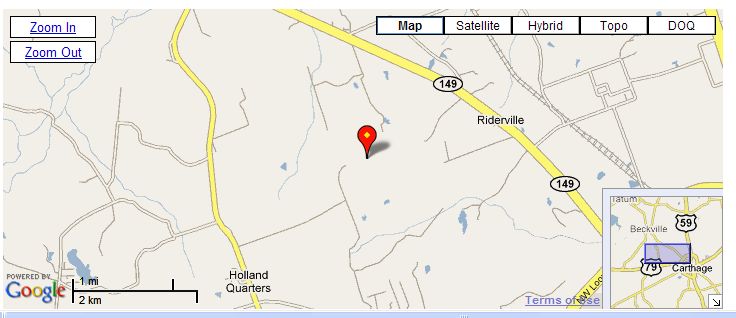 Panola Co. Cemeteries of TX
Surveyed by Don Austin ca 1981
Submitted by Gloria B. Mayfield
Latitude 32.1865497 Longitude -94.4051994
Directions: From Carthage go westbound on U.S. Hwy 79 S for three miles to the intersection with FM 959. Turn right on to FM 959 and continue for 1.1 miles to Johnson's Chapel Baptist Church at the intersection with Panola County Road 220. Turn right on to CR 220 right beside Johnson's Chapel Baptist Church and travel to the end of the county road which is approximately six-tenths of a mile. The road will end at a metal gate. The gate marks the entrance to the private property on which the cemetery is located.
It is estimated that this cemetery may contain 80-100 graves; however at the time of the survey there were only 17 identifiable marked graves and 40-50 non-identifiable marked graves. According to oral traditions this cemetery was the final resting place of both blacks and white slaves and free.
"Located in a shady glade near a stream just north of an old roadbed that runs east to west. It is a fairly large cemetery enclosed by a galvanized chain-link fence with a gate on the east side. Two dilapidated picnic tables remain just outside the fence testifying to bygone annual memorial days. Just inside the gate is a metal sign which reads 'Old Camp Grounds Cemetery' on one side and 'In Memory of C.I. Voorhies' on the other. There is a great deal of large shrubbery growing inside as well as two or three large trees.
About 100 yards east of the cemetery is a low granite marker dedicated in 1955 which reads:
'Site of Old Camp Ground PISGAH METHODIST CHURCH Organized 1848 Moved to present site 1913' This is the former site of the Pisgah Methodist Church now located on Hwy 149 about 1-1/2 miles east of this location. Old time camp meetings were held here regularly until around the turn of the century which is how the cemetery derived its name."
The late Dr. V.M. Holland Carthage physician and local historian stated that Old Camp Ground and Old Macedonia (a short distance northwest of Old Camp Ground) were classic examples of early East Texas burial customs in that "pens" or "sheds" or the combination of the two were the favored methods of marking graves. As families died out or moved away these wooden markers fell into a state of disrepair. During the early 1900's according to Dr. Holland cemetery working days were held in which all remainders of the pens and sheds were piled and burned. In some instances pieces of rock were placed at the grave sites as markers. However as neither the pens and sheds nor the rocks showed the identity of the deceased it was only a matter of time before names and dates that had once been common knowledge became lost for all times.
| | | | | | | |
| --- | --- | --- | --- | --- | --- | --- |
| Surname | Given Name | Date of Birth | Date of Death | Parents | Pg | Comments |
| Brewster | Arnie | - | Nov 1 1937 | - | - | - |
| Bruster | Bell | - | Nov 1 1937 | - | - | - |
| Bruster | Emiline | -- | Nov 15 1908 | - | - | "Mother" |
| Bruster | George | No date | No date | - | - | "Son" |
| Bruster | James | ? | 1865 | - | - | "Dad" |
| Bruster | Ora | No date | No date | - | - | "Daughter" |
| Chadwick | Elizabeth | ? | Apr 29 1879 | - | - | - |
| Chilcoat | Eliza C. | Jul 24 1823 | Dec 27 1872 | - | - | w/o John B. Chilcoat |
| Foster | W.H. | Dec 7 1852 | Apr 14 1897 | - | - | - |
| Mathis | Charles M. | Jul 25 1831 | Feb 13 1902 | - | - | - |
| Pierce | Willie Mae | Nov 5 1914 | Jul 26 1916 | - | - | - |
| Pope | Ruthie | Sep 30 1854 | Jul 1875 | - | - | - |
| Rich | Billy | Sep 2 1848 | Mar 19 1917 | - | - | - |
| Rich | James C. | 1825 | 1872 | - | - | - |
| Rich | Lula Zorn | 1856 | 1884 | - | - | - |
| Rich | Mollie | Mar 16 1858 | Feb 3 1918 | - | - | - |
| Rich | Nancy Chilcoat | 1821 | 1872 | - | - | wife of James C. Rich |
| Seaton | Infant | Feb 22 1876 | Feb 22 1876 | - | - | daughter of J.M. & P.B. |
| E.G.C. | Initials only | - | - | on footstone | - | No headstone evident |
| Voorhies | Calvin I. | 1850 | 1921 | - | - | - |
| Voorhies | Mary E. | 1864 | 1917 | - | - | - |
-
-