Mt. Pleasant Missionary Baptist Church Cemetery
aka Logan Cemetery aka Smith Cemetery
Logan Community, Panola Co- Cemeteries of TX
Transcribed & Photos by Gloria B. Mayfield 2001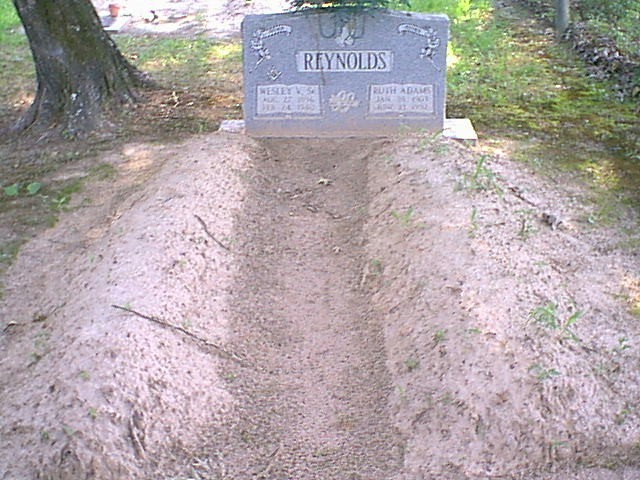 The cemetery at Logan, Texas behind the Mt. Pleasant Baptist church is SMITH Cemetery. Mt. Pleasant Church has moved, the building is still there but they no longer have services there.
This cemetery is located on land that was once owned by Lorenzo Harris Adams. (Lorenzo donated the land for the church and the old school, he also donated the land for Adams Cemetery). Lorenzo and his second wife Naomi Vestie Lawrence' daughter Julie Adams Smith and her son Cecil were the first people buried in the cemetery in 1925, thus the name SMITH.
For many years it was a private cemetery for the Adam's family and their heirs.

Location: FM 3359 (2800 marker) & Cr 455 (500 marker) behind Mt Pleasant Missionary Baptist Church.- Graves are free of grass and is one of the few that still have the graves mounded. Beautiful, peaceful, shady and well kept.
Updated Jan 2009 by Obits and Hawthorn Funeral Home Records. The numbers listed in the comment section are the page number of the year of death in the Hawthorn Funeral Home Books.- Gloria B. Mayfield
| | | | | | | |
| --- | --- | --- | --- | --- | --- | --- |
| Last Name | First Name | Birth | Died | Parents | Pg | Inscriptions |
| Adams | John Q | Jan 19 1932 | Feb 14 1934 | - | - | - |
| Adams | John Q. | Dec 24 1858 | Mar 8 1947 | - | - | w Montie S. |
| Adams | J. Macie | Jul 1 1907 | Jan 29 1961 | - | - | - |
| Adams | Lorenzo Herman | Aug 20 1908 | Dec 18 1947 | - | - | "A loving father tender and kind what a beautiful Memory you left behind" |
| Adams | Lorenzo H Jr | Mar 17 1942 | Aug 1 1994 | - | - | "He lives with us in memory and will forever more" |
| Adams | Mary A. | June 1 1937 | Aug 8 1937 | - | - | - |
| Adams | Macy Julia | Jul 01 1907 | Jan 29 1961 | Fate Rinkle & Roxie Anna Dickenson | 13 | widow |
| Adams | Montie S. | Apr 11 1884 | Mar 281952 | - | - | h John Q. |
| Adams | Robert Q | Jan 10 1908 | Aug 21 1940 | - | - | w J. Macie |
| Adams | Sadie Mae | Nov 3 1930 | Nov 11 1930 | - | - | - |
| Adams | Sayno Montie | Apr 11 1884 | Mar 28 1952 | Robert Lawson & Mary Aulam | 20 | ~ |
| Baby Grave | - | - | - | - | - | no marker |
| Barnett | Burry C. | Jan 4 1898 | Feb 23 1955 | - | - | PFC Co A 14 Machine Gun BN WW I PH |
| Barnet | Burry Chiston Jr | Mar 6 1936 | Aug 5 1938 | - | - | - |
| Barnett | Douglas "Bud" | Apr 26 1921 | Apr 5 1990 | - | - | PFC US Army WW II |
| Barnett | George Thomason | Dec 19 1885 | Oct 16 1964 | John W. Barnette & Cassie Lynn Sinclair | 97 | M: Myrtle |
| Barnett | Harvey Denson | Feb 24 1924 | Jun 28 1983 | - | - | PFC US Army WW II |
| Barnett | Horace A. | Dec 28 1929 | Aug 15 1971 | - | - | Tx CPL BTRY C 32 FA\CAV DIV Korea |
| Barnett | Marcie Ruth | Feb 14 1933 | Nov 17 1937 | - | - | - |
| Barnett | Melba Hallmark | Sept 10 1932 | - | - | - | m Feb 5 1973 h Harvey D. |
| Barnett | Myrtle F. | 1899 | - | - | - | fs Mother |
| Barnett | Oliver Baker | Oct 30 1923 | Feb 28 1987 | - | - | In loving Memory |
| Barnett | Steven G. | Oct 22 1964 | Mar 20 1982 | - | - | He died before his time- We love and miss you |
| Colvard | Guyton W. | Jan 26 1912 | Jul 9 1955 | - | - | "Pappy" |
| Crow | Sherman G. | 1924 | - | - | - | - |
| Crow | Mildred M. | 1920 | 1995 | - | - | - |
| Hagans | Edward Atho | Jul 20 1933 | Aug 20 1993 | - | - | "father, husband, & daddy" |
| Faircloth | Kermit E. Jr | Nov 15 1961 | Sept 9 1994 | - | - | CSA Battle Flag and Kermit the Frog engraved on marker w "The Last Rebel" PVT 2 US Army |
| Rains | Gertrude | Feb 10 1905 | May 15 1989 | - | - | "Just a Rose will do" |
| Reynolds | Ruth Adams | Jan 28 1903 | Jun 13 1992 | - | - | fm" mother" m Dec 6 1917 |
| Reynolds | Wesley V. Sr | Aug 27 1896 | Feb 24 1940 | - | - | Masonic w Ruth A. |
| Rutherford | Clarence Bernard | Apr 06 1903 | Apr 19 1953 | ~ | 17 | ~ |
| Rutherford | Daniel H. | June 6 1930 | Sept 3 1950 | - | - | Died in Korea serving his country. Reburied Aug 27, 1951 |
| Rutherford | Feddie V.Adams | Aug 25 1906 | Mar 31 1992 | - | - | h Clarence |
| Rutherford | Grace M. | Dec 29 1924 | Feb 21 1968 | - | - | "I'll meet you in the morning" |
| Rutherford | R. D. | Jul 28 1965 | Feb 21 1968 | - | - | "The Lord Giveth,TheLord Taketh Away |
| Smith | Cecil R. | 1914 | 1925 | s/o Julie E. Adams | - | - |
| Smith | Julie E. Adams | 1900 | 1925 | Lorenzo &- Naomi Vestie Lawrence Adams | - | - |
| Smith | Vernon L. | 1918 | 1940 | - | - | - |
| Smitherman | Roscoe E. | Sept 30 1885 | Nov 3 1970 | - | - | - |
| Smitherman | Effie M. | Nov 25, 1903 | Dec 28 1987 | - | - | - |
| Thomas | Thermon Ray | Oct 10 1925 | Aug 1 1997 | - | - | US Navy WW II |
-