GRANT CEMETERY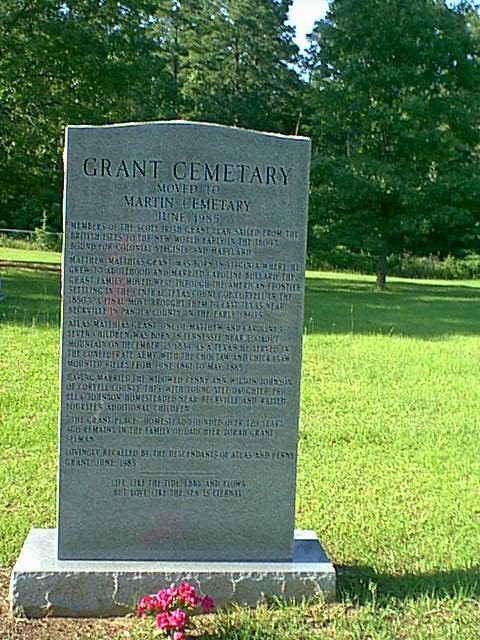 Don Austin "Lost Cemeteries"

Panola Co Cemeteries of TX

This cemetery is located about 2 miles northwest of Beckville, adjacent to property owned by Texas Utilities Generating Co. This cemetery was moved to Martin Cemetery in June 1985.

Located atop a fairly large hill surrounded by several trees and flanked by an old roadbed, which crested the hill. The cemetery about 30 by 50 is fenced off by a galvanized chain-link fence, and contains about 20 graves, four of which are marked with concrete or marble gravestones, and the rest are simply marked by long mounds of gravel, all appearing to be full-length graves. The two-non identifiable markers are each in the shape of a cross, and all four rock markers have seashells or muscle shells lying either on the marker or around its base. One of the identifiable graves is that of a Civil War Veteran, It is said that there are a few graves located outside of the fence, but there is no visible indication of their exact location.

Submitted by Gloria B. Mayfield- Cemeteries of TX Project Manager

Updated Jan 2009 by Obits and Hawthorn Funeral Home Records The numbers listed in the comment section are the page number of the year of death in the Hawthorn Funeral Home Books. No new burials.
| | | | | |
| --- | --- | --- | --- | --- |
| Last Name | First Name | Birth | Death | Comments |
| Grant | Atlas M. | Dec 23 1839 | Mar 11 1909 | 1 Choctaw & Chickasaw Mtd. Rifles C. S. A |
| Grant | Penny A. | Feb 9 1845 | Nov 7 1922 | - |