GRAND BLUFF CEMETERY
Panola Co- Cemeteries of TX
Compiled and Photos by Gloria B. Mayfield. 1998 & 2001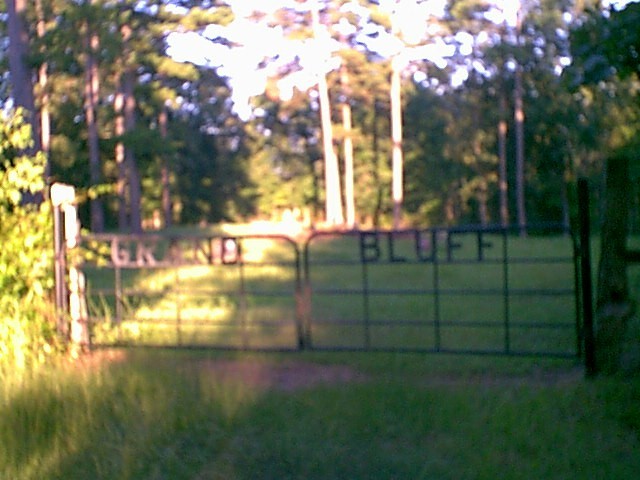 Grand Bluff Cemetery : Take 59, approximately 9 miles north of Carthage to FM 1794 then turn right (east) go approximately ½ mile to intersection of CR 2792. Turn left on FM 1794, continue .2 mile to Grand Bluff Cemetery sign and also has State Marker: "Grand Bluff Cemetery originally served the pioneers who settled in the nearby community of Grand Bluff(.5 miles West), an early ferry crossing on the Sabine River. The earliest known burials dated 1838 are for Mary Francis Hoyle, Mrs Robert Wyatt. Land for the cemetery was donated by David Vawter, an early ferry operator. The settlement of Grand Bluff began to decline in the 1880's when railroads made the ferry crossings obsolete. The cemetery was last used in 1906 for the burial of Dr. David M. Vawter, son of the site's donor." 1836-1936.
There is a large mound of dirt, approximaly 9 yards long and 4 yards wide, covered with pieces of brick, This is rumored to the the Graves of the Vawter Family. But another story that I have heard was, there was a typhoid epidemic and many died at one time and they were buried together in this large grave. To the East, there are two vaults , one is brick, at the end of the main family mound.
In the center of the cemetery where is a small child's grave, mounded and covered with brick, some graves are covered with pieces of vases and shells. There are many unmarked graves. The cemetery is mowed and has the appearance of being restored.
I have use several Bible records, family histories other cemetery transcriptions as guides because here in June 1998, there is not much readable information at this cemetery.
This cemetery has been updated, using the Hawthorn Funeral Home Records plus walking records. FH Records are identified by a page number in comments, Use this, plus the death year to locate in the Funeral Home Records. You may find duplicate entries, I left them as such so you can go to the Hawthorn Funeral Home Records for more information. (2009 gbm)-
-
| | | | | | | |
| --- | --- | --- | --- | --- | --- | --- |
| LAST NAME | FIRST NAME | BIRTH | DEATH | - | - | INSCRIPTIONS |
| Barber | John | ? | About 1862 | - | - | - |
| Blackmon | Newton V. | Jul 9 1875 | Jun 1 1878 | - | - | "Asleep with Jesus" |
| Blackmon | Emil P. | Jun 1 1878 | Sep 1 1878 | - | - | s/o T & S. A. Blackmon- "Sleep, Baby, Sleep" |
| Dailey | Mark | Jul 08 1952 | Aug 29 2005 | Hiram Bryan Dailey & Georgia Ruth Woods | 83 | divorced |
| Hoyle | Mary Frances | - | 1838 | - | - | niece of Robert Wyatt who also died when entered TX and was buried here. |
| Gray | Uriah Cummingham | Feb 23 1807 | Nov 20 1857 | - | - | - |
| Gray | Mary Catherine Steel | - | Mar 5, 1881 | - | - | age 66 years - "All Is Well"- - h Uriah |
| Peavy | Hollis Rosevelt | Mar 19 1933 | Jun 14 2000 | Albert Gorden Peavy & Martha Emma UnknownD/o Albert Gorden & Martha Emma Henry Peavy. | 48 | - 2nd wife Deborah Jeanette Luman Peavy Martha Peavy Adcock |
| Pugh | William N. | 1830 | 1898 | - | - | - |
| Pugh | Twin Boys | 1900 | 1900 | - | - | - |
| Sterrett | S. Julia | Oct 4 1885 | Dec 4 1886 | - | - | twin dau of Dr. M. D. (Major Dowell) & S.J. Sterrett |
| Sterrett | Little Polly | Dec 1 1879 | Feb 2 1881 | - | - | "Gone but not forgotten" Dau of Dr. M. D. & S.J. Sterrett |
| Twoney | Mrs. R. S. | - | - | - | - | - |
| Vawter | Amanda Lucinda Glover | July 8 1805 | Dec 20 1857 | - | - | - |
| Vawter | David | Jan 21 1800 | July 13 1845 | - | - | - |
| Vawter | Dr. David M. | Jan 17 1833 | 1906 | - | - | - |
| Watts | Lura | Aug 25 1879 | Nov 5, 1883 | - | - | "A Little flower of love that blossomed but to die."d/o T.L. & Lula Watts |
| Wyatt | Mrs Robert (Barksdale) | - | 1838 | - | - | (fact) she died when she enter TX and was buried here. |
| Broyles | Claude | Mar 12 1889 | Oct 23 1891 | - | - | -- |
-