Centennial Cemetery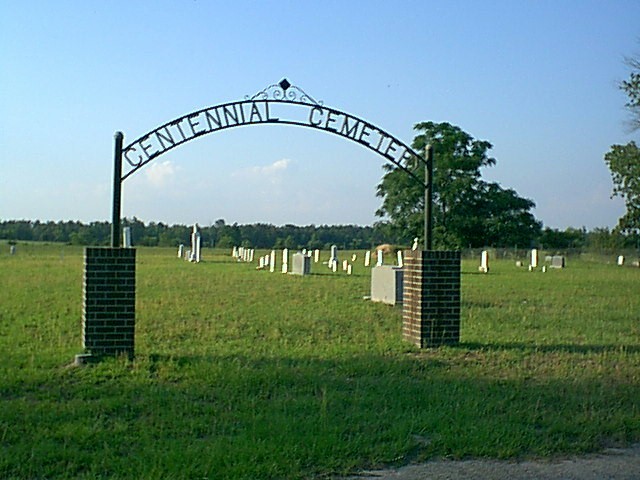 Panola Co Cemeteries of TX
By Panola County Hist. & Gen. Assn.
Photos and Submitted by Gloria B. Mayfield
Directions: From Carthage go northbound on U.S. Highway 79 North for 7.9 miles to the intersection with FM 123. Turn right on to FM 123 and continue 9.1 miles to the intersection of FM 123 and Panola County Road 322. The cemetery will be on the left just before that intersection.
In the Rich section there was an unusual grave covered with concrete.
Photos of Erwin & Martin by Deborah Stanford
This cemetery has been updated, using the Hawthorn Funeral Home Records plus walking records. FH Records are identified by a page number in comments, Use this, plus the death year to locate in the Funeral Home Records. You may find duplicate entries, I left them as such so you can go to the Hawthorn Funeral Home Records for more information. (2009gbm)
Surname

Given Name

Date of Birth

Date of Death

Parents

Pg

Comments

Allison

Mrs. J. E.

1851

1932

-
-

-

Amsley

Julia Mae

May 27 1883

May 11 1965

Frank Amsley

68

single

Anderson

Calvin

1867

Apr 26 1941

~

29

wife d Aug 9 1941

Anderson

Jennie W.

1876

1940

-
-

-

Bagley

C.W.

Nov 11 1843

Jun 17 1863

-
-

-

Bagley

Susie

Apr 1862

Mar 1863

-
-

-

Beard

Allen Rhea

Jan 02 1929

Nov 03 1977

Clive Beard & Ventriss Allen

126-A

Patricia Beard

Birdsong

Mrs. R.E.

No date

No date

-
-

Age 34 years

Bowman

James N.

Mar 6 1806

Nov 17 1863

-
-

-

Cureton

E.V.

Jan 20 1924

No date

-
-

-

Cureton

Shirley Isabelle

Dec 22 1933

Jan 02 1994

Eugene Newman & Lucy Dickerson

1

Elias V. Cureton

Cureton

Timothy Jay, Sr

Mar 03 1962

Feb 02 2006

Elias Varanos Cureton and Shirley Isabelle Root
-

Davis

Austin L.

Aug 28 1834

Aug 6 1912

-
-

-

Davis

Brooks H.

1804

1899

-
-

-

Davis

Pernecy

Feb 29 1802

Dec 6 1973

-
-

wife of B.N.

Davis

Sarah

Jan 25 1832

Aug 7 1889

-
-

-

Davis

Tommy L.

Mar 4 1881

May 1 1882

-
-

-

Deason

Henry Lee

Nov 15 1903

No date

-
-

-

Deason

Ina Lee

Dec 15 1907

Dec 29 1993

Cliff Rich & Ola Williams

132

Henry Lee Deason

Deason

John Franklin

Dec 23 1910

Aug 09 1993

Franklin Deason & LeNora Victoria Cockran

67

Margaret Lee James

Deason

Lenora Victoria

Jun 08 1875

Feb 14 1978

Obe Cockran & Betsy Boatner

23

widowed

Deason

Margaret James

May 11 1917

No date

-
-

-

Dickenson

Ann Davis

May 3 1848

Oct 12 1878

-
-

-

Dickenson

Davis

1868

1878

-
-

son of S. & Ann

Dickenson

Elean

1866

1867

-
-

dau of S. & Ann

Dickenson

Ella N.

Mar 22 1872

Sep 16 1876

-
-

-

Dickenson

Infant of

Jun 25 1858

Jun 25 1858

-
-

S. & Ann

Dickenson

Jennie

Jan 1 1860

May 1867

-
-

-

Dickenson

Joel

Aug 20 1891

No date

-
-

-

Dickenson

Killis W.

Jun 16 1866

Sep 15 1894

-
-

-

Dickenson

Margaret Walton

Aug 22 1840

Dec 24 1870

-
-

-

Dickenson

Pernecy

Nov 12 1859

Apr 8 1860

-
-

dau of S. & Ann

Dickenson

Samuel

Jun 24 1838

Jun 5 1905

-
-

Born Arkadelphia AR

Dickenson

Samuel David

Nov 25 1862

Aug 10 1884

-
-

son of S. & Ann

Doggett

John Robert

Nov 06 1980

Apr 23 1995

James Harley Doggett & Johnnie Faye Hodge

63

single

Doggett

Justin

Sep 05 1984

Jun 01 2004

James Harley Doggett ( Bill Swails) & Johnnie Fay Hodge

64

single

Erwin

Aug 5 1852

Feb 12 1924

-
-

w: Isobel White Erwin

Erwin

Glayds

Mar 02 1907

Jul 21 2003

John Thomas Erwin, Sr & Mattie Elizabeth Rich

51

Never Married

Erwin

Jul 25 1901

Dec 14 1980

Abner Bicham Erwin & Isobel White

163

divorced

Erwin

Sep 8 1915

No date

-
-

J.T. & M.L.

Erwin

Oct 5 1859

Jan 26 1930

-
-

w/o Abner B.

Erwin

Sep 16 1912

Apr 03 1995

John Thomas Erwin & Mary Elizabeth Rich

54

widowed

Erwin

Mar 6 1897

Dec 13 1952

-
-

-

Erwin

Jan 21 1882

May 03 1942

Abner Erwin (LA) & Bill White (TN)

41

Widow h.o Mattie Lizzie

Erwin

John Thomas

Jan 21 1882

May 3 1942

-
-

Erwin

Mina Lavern Mayo

Jan 22 1923

Jan 6 1975

Daniel O. Mayo & Pauline Browning
-

w/o James Austin

Erwin

Aug 6 1888

Jan 15 1924

-
-

w/o John Thomas

Erwin

Mar 29 1888

Sep 14 1906

-
-

-

Fletcher

Naomi Wallace

No date

No date

-
-

-

Grimes

Mattie C.

Dec 21 1865

Sep 2 1895

-
-

-

Harper

Mary

Aug 8 1800

Mar 3 1866

-
-

-

Holland

Anna D.

Jan 7 1861

Sep 11 1864

-
-

-

Holland

Elizabeth

Jan 11 1842

Aug 23 1914

-
-

dau of W. & S.

Holland

Jane

Feb 11 1859

No date

-
-

-

Holland

Pernecey

Apr 16 1827

Feb 1865

-
-

-

Holland

Sarah

Nov 16 1803

Nov 1868

-
-

wife of William

Holland

William

Nov 28 1801

Jun 23 1873

-
-

-

Holland

Willie

Aug 9 1863

Sep 11 1867

-
-

-

Holt

Cora M. Dickerson

Oct 22 1861

May 3 1956

-
-

-

Hurley

Anna

Jul 6 1889

May 15 1951

-
-

-

Hurley

Lou Cristy

Dec 9 1877

Oct 9 1957

-
-

-

Hurley

Mose Currin

Jan 4 1875

Apr 3 1949

-
-

-

Hurley

Mrs. R.M.

Sep 30 1842

Jan 5 1903

-
-

-

Hurley

Walter Perry

Nov 16 1881

Jul 30 1948

-
-

-

Jernigan

Margorian Wallace

Jul 18 1930

Feb 03 1982

Wilburn C. Wallace & Mary Anna Fonville

16

divorced

Johns

Aubrey

May 24 1887

Sep 24 1887

-
-

-

Johns

Kate Walton

Feb 4 1862

Feb 6 1952

wife of A.D. Sr.dau of Dr. & Mrs. Sam Parry

Jones

Hardy

1824

1897

-
-

-

Jones

Plesent Hyran

1895

1897

-
-

-

Knight

Lillian

Jan 26 1866

No date

-
-

Age 8 weeksdau of Capt. T.J. & Annie Walton Knight

Knight

Mrs. A.M.

May 9 1840

Aug 15 1895

-
-

-

Kraft

Henriette Maria

Jan 11 1896

Nov 22 1987

Unknown Hammes & Margaret Unknown

119

wid/o Anton Kraft

Lacy

Annie L. Mitchell

Oct 25 1866

May 26 1900

-
-

-

Lacy

B.B.

Apr 10 1860

Apt 28 1937

-
-

-

Lacy

Cora E.

Aug 23 1869

Feb 2 1880

-
-

dau of J.T

Lacy

Ellen Lenora

Oct 25 1842

Dec 28 1879

-
-

-

Lacy

Infant son

May 19 1900

May 30 1900

-
-

-

Lacy

Pernecy Holland

Apr 16 1837

Feb 1865

-
-

-

Martin

Apr 29 1903

Oct 18 1989

Wiley Faircloth Martin & Ada Jane Van Norman

116

Mattie Belle Erwin

Martin

Nov 03 1905

Jun 05 1990

John Thomas Erwin & Mattie Elizabeth Rich

69

wid/o M.G. "Jake" Martin

Mitchell

Oct 18 1927

No date

-
-

w: Mary Lou

Mitchell

Mar 2 1932

No date

-
-

w/o Cyrus H.

Mitchell

Dec 17 1955

Jul 11 1982

-
-

S/o Cyrus & Mary Lou

Murray

Sarah

Feb 1 1777

Jan 29 1859

-
-

-

Pace

Jessie Carol

Jun 22 1880

Jun 7 1882

-
-

-

Pace

Ora Ella

Jul 24 1875

Oct 7 1883

-
-

-

Parry

Ada

1860

1862

dau of Dr. S.M. & Rebekah

Payne

Chester Stewart "Duck"

Aug 06 1928

Mar 06 1994

Robert Henry Payne, Jr. & Ivy Mae Madole

29

Ventriss Ann Deason

Payne

Ventriss Deason

Jul 1 1936

No date

-
-

-

Rasberry

Doshie Clementine

Feb 27 1892

Aug 8 1899

-
-

-

Rhea

Beard A.

1929

1977

-
-

-

Rhea

Patricia

1930

1930

-
-

-

Rich

Blanchard

Sep 03 1907

Jan 01 1991

Ellis G. Rich & Elma Lee Hutchins

1

Priscilla Greene

Rich

Cliff

Dec 2 1885

Sep 24 1961

-
-

husband of Ola

Rich

Climmie Ventriss

May 19 1912

Nov 04 1981

Charles C. Allen & Myrtle May Jackson

108

W.J. "Pig" Rich

Rich

Ellis B.

Aug 28 1881

Jan 19 1966

-
-

-

Rich

Ellis Blanton

Oct 06 1945

Jan 06 2007

Blanchard Sterling Rich and Priscilla Olline Myers Green

Divorced

Rich

Ellis G.

Aug 23 1881

Jan 09 1966

A.J. Rich & Mattie Davis

4

M: Elma

Rich

Elma Hutchins

Dec 22 1889

Jan 5 1976

-
-

-

Rich

Elma Lee

Dec 22 1889

Jan 05 1976

Samuel J. Hutchins & Octavie Speights

4

Ellis G. Rich

Rich

Garland

Nov 25 1917

Oct 30 1963

-
-

-

Rich

Infant son of

Jun 28 1906

Jun 29 1906

-
-

C.D. & O.

Rich

Maggie Ola

Mar 16 1890

Aug 04 1943

Andrew Williamson (AL) & Martha Rountree (LA)

47

Clifford Rich

Rich

Mattie F.

Aug 15 1864

Oct 16 1890

-
-

wife of A.F.

Rich

Ola

Mar 16 1890

Aug 4 1943

-
-

-

Rich

Priscilla Olline Greene

Nov 26 1907

Jan 17 1993

I.C. Green & Unknown Adopted

11

wid/o Blanchard Rich

Rich

W.J. "Pig"

No date

No date

-
-

-

Rich

Clifford Davis

Dec 02 1884

Sep 24 1961

A.J. Rich & Mattie Davis

68

M: Ida

Rogers

Sam Wells

Aug 28 1860

1880

-
-

son of W.J. & Sarah

Rogers

Thomas O.

1897

1899

-
-

-

Rogers

W.J.

Sep 26 1831

Jun 4 1872

-
-

-

Ross

A.D. (B)

Dec 18 1888

Oct 17 1941

~

70

Married

Rountree

Allen

1876

1900

-
-

-

Satterwhite

Ann Jane

Apr 7 1928

No date

-
-

-

Satterwhite

William Max

Aug 23 1924

Dec 09 1991

John Satterwhite & Annie Pittman

116

Anna Jane Tiller

Scatterwhite

Anna Jane

Apr 07 1928

Jul 20 2007

Glen Tiller and Thelma Cowart

William Max Satterwhite

Sirmans

Francis

Jun 02 1914

Apr 25 1995

Clifton Davis Rich Ola Williams

64

widowed

Surratt

Ruby T.

1810

1873

-
-

-

Wallace

Aubrey

Jul 5 1888

Dec 31 1933

-
-

-

Wallace

Elmo

Apr 26 1881

Jan 26 1955

~

7

Married

Wallace

Mabel

Aug 18 1886

May 25 1969

Luke Powell & Lula Mae Scott

60

widow

Wallace

Mabel A.

1887

1969

Marker
-

-

Wallace

Marianna

Aug 9 1919

Dec 8 1921

-
-

-

Wallace

Mary Anna

Mar 12 1892

Jul 5 1968

Frances Marion Fonville & Elizabeth Caroline Wright
81

Wilburn Wallace

Wallace

Reuel E.

1882

1955

-
-

-

Wallace

Wilburn C.

Mar 28 1876

Jan 20 1955

Frank Wallace (GA) & Mary Alma Barfield (TX)

4

M: Mary Anna

Walton

Julia

1848

1863

-
-

dau of K. & M.

Walton

Killis

Jun 4 1806

Jun 17 1867

-
-

h/o Margaret

Walton

Margaret

Aug 22 1813

Dec 1 1893

-
-

-

Williams

Myrtis

1897

1902

-
-

-