Britton Cemetery 2009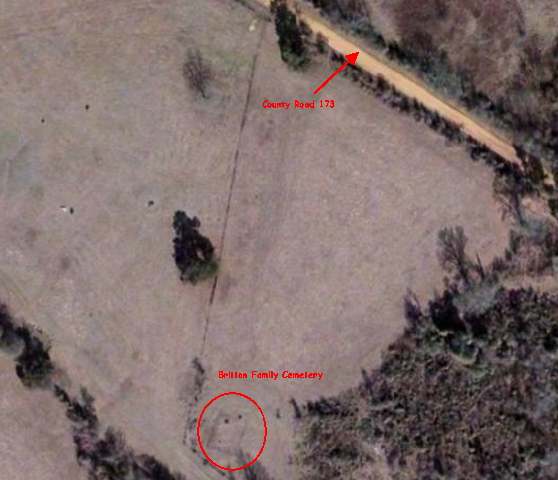 Panola Co Cemeteries of TX
Surveyed by Don Austin ca 1981
Photos by Hap Murphy 2009
Submitted by Gloria B. Mayfield
The following description of the cemetery was given by Don Austin in his privately circulated book "42 Lost Cemeteries":
"Located on gently sloping ground near a creek among some large oak trees and bounded on all sides by a barbed wire fence. Seven graves were identifiable and the rest were marked with iron pipes driven into the ground at the head and foot of the grave. A couple were marked with small funeral home plaques but were illegible.
This is a rare occasion when the exact number of graves is known and in addition every grave is marked in some fashion. The first grave was that of a black woman Sukie Collins marked by a large piece of native rock and at the foot of a huge oak tree. She was believed to have been buried here sometime during the 1870's." Supplemental information on the persons buried in Britton Cemetery was furnished to Austin by the late J. R. Murphy of Carthage TX.
The Britton Family Cemetery (Panola County, Texas) does not have an "entrance" as such. It is located in a cow pasture, approximately 200 yards from County Road 173. It has a chain link fence surrounding it -- mainly to keep cattle out. There is no access road between County Road 173 and the cemetery (Hap Murphy)

This cemetery has been updated, using the Hawthorn Funeral Home Records plus walking records. FH Records are identified by a page number in comments, Use this, plus the death year to locate in the Funeral Home Records. You may find duplicate entries, I left them as such so you can go to the Hawthorn Funeral Home Records for more information. (2009 gbm)
| | | | | |
| --- | --- | --- | --- | --- |
| Last Name | First Name | Birth | Death | Comments |
| Anderson | Maggie E. | Jul 18 1902 | Nov 04 1902 | - |
| Anderson | Noble | No date | No date | Died as a baby |
| Britton | | Jun 16 1857 | Nov 02 1938 | photo by Harold L. Murphy |
| Britton | | May 12 1880 | Jun 09 1915 | son of B.F. & J.A photo by Harold L. Murphy |
| Britton | Infant | No date | No date | - |
| Britton | Infant | No date | No date | - |
| Britton | Infant | No date | No date | - |
| Britton | Infant | No date | No date | c/o Will & Bertha |
| Britton | | 1807 | May 20 1881 | Mexican War photo by Harold L. Murphy h/o Mary |
| Britton | Julia Ann (Floyd) | Jun 11 1861 | Aug 17 1951 | d/o Jay Floyd & Elizabeth Bounds 65 w/o Benjamin F. |
| Britton | | Aug 07 1877 | May 29 1880 | s/o B.F. & J.A. photo by Harold L. Murphy |
| Britton | | Aug 05 1828 | Nov 12 1902 | w/o John M. photo by Harold L. Murphy |
| Collins | Sukie | No date | 1870's | - |
| Murphy | Mary Jane | No date | No date | - |
| Murphy | Unknown | No date | No date | - |
| Tidwell | Infant | No date | No date | - |