Shady Grove Cemetery
Fodice, Houston Co. Cemeteries of TX
Photo by Letty Harrington, Sept. 7, 2001.
Click for Transcription of Shady Grove Cemetery by Letty Harrington
Located 11 miles east of Crockett, Texas off FM 232. It is within the property that is now owned by Jack Jones. There is no access road, nor sign identifying the cemetery. Two acres of land wre deeded on Aug 28, 1886 for the purpose of the grave yard. (Recorded Vol. 38, page 423, Houston County Deed Records. The cemetery is fenced. It is no longer used for fresh grave sites.
Lat: 31°14'46"N, Lon: 095°17'31"W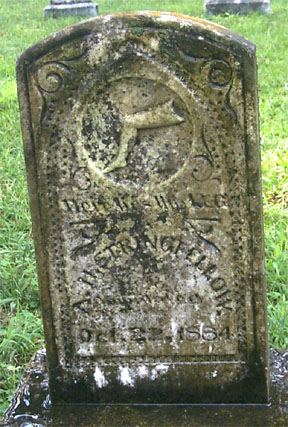 Inscription:
Here lies his leg.
A.H. Stringfellow
Amputated
Oct. 22, 1884
(notice the engraving of the leg above the inscription!)
Alexander Houston Stringfellow, born February 1849 in Tippah County, Mississippi, U.S.A.. He married (1) Sallie A. *? Abt. 1879 in ,Houston County, Texas, U.S.A.. He married (2) Mary Ann Bland June 1895 in , Houston County, Texas, U.S.A..

Alexander Houston Stringfellow was a first cousin to my grandfather, Joseph Jackson McCarty. He was still alive as of 1900 and had been divorced and had remarried, which of course was very unusual for that era. He was a native of Tippah County, MS. I am not sure of the circumstances of his losing the leg but he would have been about age 35 when that event occurred. I gather that he might have been a rounder simply from the tombstone inscription.
comments by Bill McCarty Odessa, Texas

Smith information added by Roy C. Smith [res00h32@yahoo.com]
Old Shady Grove
Smith, Agness (Cooper), b. 1809 S.C., d. --, w/o Jon
Smith, Jon, b. 1810 S.C., d. --, f/o MCP
Smith, Mathew Castle Pinkney, b. 7 Sep 1837 S.C, d. 3 May 1904, s/o Jon & Agness, 3rd GA. Cav. CSA
Smith, Susan, b. 20 May 1841 N.C., d. 6 Sep 1892, w/o MCP, m. GA.
Shady Grove
Information added by Roy C. Smith [res00h32@yahoo.com]
Smith, Annie Mae (Parrish), b. 2 Aug 1892, d. 24 Apr 1920
Smith, Becky (Brannen), b. 31 Jul 1876, d. 10 Jul 1953, 2nd w/o Dave
Smith, Billie Pinkney, b. 24 Aug 1896, d. 17 Apr 1982, h/o Annie Mae, s/o Dave Sea 2 US Navy WWI
Smith, Leroy Jefferson, b. 21 Oct 1872, d. 18 Jul 1941, on marker with Pinckney
Smith, Mary (Fambrough), b. 1872, d. 1915, w/o Dave-Eastern Star
Smith, Mimmie J. (Beckham), b. 14 May 1872, d. 1968, w/o Kirb
Smith, Oliver Lee, b. 15 Sep 1880, d. 22 Dec 1946, "Father", s/o MCP
Smith, Pinckney Ellsworth, b. 8 Jan 1863 GA, d. 1936,, s/o MCP & Susan
Smith, Pinkney Ferd, b. 1 Nov 1903, d. 23 Dec 1983, s/o Lee & Amanda
Smith, Robert Kirby, b. 2 Jan 1865 GA., d. 16 Apr 1956, s/o MCP & Susan
Smith, William David, b. 6 Apr 1870, d. 24 Dec 1952, s/o MCP