Mahoney Cemetery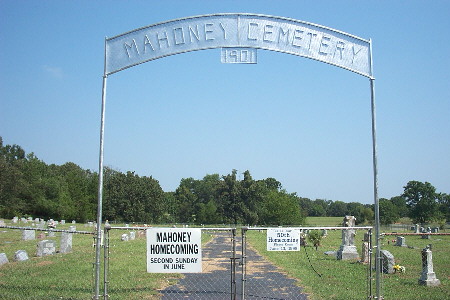 Mahoney, Hopkins Co, Cemeteries of Texas
Submitted by Eunice Mitchell
Photo by John DeBusk
The Mahoney Homecoming is the Second Sunday in June
Mahoney Cemetery , Mahoney Comm, Hopkins County, Texas
Around the year 1900, George W. Mahoney came to Northeast Texas from Washington State and purchased land that had been "Kimberly Ranch" and started to plan for a city that he wanted to build. He hired Joseph Brashear to survey the land and draw up a plat for the town. On the plat, which was registered with the County in 1902, he had drawn in places for a school, two churches and a cemetery. That land was donated to the Community by Mr. Mahoney. The town was not to be - but the small Community, named for him, remains.

The cemetery is still in use and is well kept. It has a committee to oversee it and
records have been kept. The following list has been taken from those records.
The cemetery is east of the old Mahoney Methodist church building. The building is no longer used except for the second Sunday in June each year when many families come back for a Community Home Coming.

To reach the cemetery from Sulphur Springs, Texas drive seven (7) miles East on I 30 to exit 131 (Farm Road 69). Turn North and go three (3) miles on Farm Road 69 to County Road 1635. Turn East and drive aprox. 3/10 mile. The church building and the cemetery are on the North side of the road. I have known most of these families and will give relationships etc. of those that I know about.

Row 1
1 Alma G. Bigham died 1903 (first person to be buried here)
2 Frank. M. Bigham died 1906 (husband of Alma)
3 Myrtle Lillian Mann born 1891 died 1975
5 Grover Skinner
6 Skinner Child
7 Mrs. Runnells
8 Will Altman
9 Safronia Knight Runnells born 1874 died 1938
10 James A Runnells born 1908 died 1946
11 John A. Barnes born 1888 died 1952
12 Leona Runnells Barnes born 1899 died 1980 (wife of John A. Barnes)
13 Mrs Hubert Collier
14 Wesley Hankins (son of Garlan & Lena Smith Hankins)
15 Lenzie Smith born 1901 died 1979
16 Carrie I Lawson Smith born 1900 died 1989 (wife of Lenzie Smith)
17 Edward Smith born & died July 6 1920
19 Garlan R Hankins born 1919 died 1994
20 Lena Fae Smith Hankins born 1919 died 1992 (wife of Garlan Hankins)
21 Elbert M.Voss born 1901 died 1975 (son of Jefferson Davis Voss brother of Daniel Voss)
22 Thelma L Voss born 1902 died 1991 (wife of Elbert Voss)
23 Virginia Voss died Sept. 23 1918 (daughter of Elbert & Thelma Voss)
25 Roger W Smith born 1896 died 1987
26 Willie R Smith born 1902 died 1993 (wife of Roger Smith)
28 Daniel D Voss born 1894 died 1915
31 Dewey Edwards
32 Laranzie Edwards
33 Phil Edwards
35 Huffman baby (listed next to this was Albert Thorp - may be baby's name or father's
name)
36 Vera Edwards born 1893 died 1969
37 Henry Edwards born 1891 died 1954
38 Ruby Edwards Cates born (wife of Allan Cates)
39 Allan Cates born1914 died 1993
40 Lois O Edwards Terry born 1921 died 1985
41 Robert Terry born 1913 died 1984
44 Mrs Perry
47 Leonard Massey born 1911 died 1997 (son of Richard and Bertha McManus Massey)
48 Evelyn Hankins Massey born 1915 died 1989 ( wife of Leonard Massey's wife and
sister of Garlin Hankins)
49 Billy Mack Massey born 1946 died 1988 (son of Leonard and Evelyn Hankins
Massey)
54 Danny A Scott born and died (Apr. 5 1962 (Son of W D & Judy Hopper Scott )

Row 2
1 McClure Child
3 Sandefur Child
4 Beatrice Sandefur
5 Newt C Sandefur born 1907 died 1974
7 Zack or Jack Williams born 1843 died 1910
10 Nolan Terrell born 1894 died 1979
11 Marcella M Terrell born 1896 died 1977 (wife of Nolan Terrell)
13 Lillian Pauline Terrell born 1915 died 1926 (dau. of Nolan & Marcella Terrell)
14 Lawson M Smith born 1910 died 1981
Robert Lynn Smith ashes on # 14 born 1956 died 1983
16 Roy A Jobe born 1894 died 1985
17 Jewel Jobe born 1900 died 1982 (wife of Roy Jobe)
19 Lemeul T Newman born 1866 died 1938
20 Pearlie L Newman born 1893 died 1982 (wife of Lemeul Newman)
21 William Earl Neal
22 Civola Anita Smith Neal born 1922 died 1993 (wife of William E Neal)
25 John T Linker born 1875 died 1935
26 Martha E Hopper Linker born 1880 died 1959 ( wife of John T Linker)
29 Harbor Boy
30 Jim Loyd
31 Ida Smith born 1878 died 1929 (wife of Cal Smith)
32 Cal Smith born 1868 died 1954
33 Joe Edward Shell born 1932 died 1996
35 Willie M Smith born 1897 died 1959 (husband of Elgie McManus Smith)
36 Elgie Lou McManus Smith born 1900 died 1979 She was born Elgie Lou McManus, October 29, 1900, in Atlas, Texas, daughter of John H. & Nancy Emma (Dennis) McManus. She died April 30, 1979 at Bethany General Hospital in Bethany, Ok. She was preceded in death by her father in 1937, her mother in 1975, and her husband, William McKinley Smith "Willie" in May 4, 1959 in Oklahoma City, Ok. he was born Feb. 14, 1897 in Knoxville, TN.
37 Wiliam F Holmes born 1871 died 1939
38 Willie Lewis Holmes born 1878 died 1970
39 Raymond G Holmes b 1906 died 1973
40 Dewitt S Holmes born 1909 died 1992
41 Jack K Holmes
42 Jewel Holmes (wife of Jack K Holmes)
43 Oliver Dodd born 1903 died 1995
44 Helen E Holmes Dodd born 1904 died 1990 (wife of Oliver Dodd)
47 Robert Wayne Boshears born 1947 died 1987
51 John Allen Morris born 1982 died 1986 ( son of Johnny & Cheryl Morris)

Row 3
1 Valley Blisset born 1901 died 1904
2 Ring child
7 Georgia Collins born 1898 died 1925
8 C Paul Collins born 1895 died 1964
9 James William Bell born 1902 died 1967
10 Nellie B Barringer Bell born 1903 died 1982 (wife of James W Bell)
11 John W Lawson born 1902 died 1979
12 Pauline M Bufford Lawson born 1910 died 1990 (wife of John W Lawson
15 Mary Lou Bartley baby born & died Aug 13 1943
16 Curtis Louis Bartley baby born Jan 2 1954 died Jan 4 1954
20 Lloyd A Patterson born 1917 died 1945 (killed in France in WW2 son of Joel C
Patterson)
21 Joel Curtis Patterson born 1882 died 1956
22 Lula Patterson born 1895 died 1969 (wife of Joel C Patterson)
25 Vatie Lee Scarborough born 1907 died 1994 (wife of Henry O Scarborough)
26 Henry Ollie Scarborough born 1902 died 1949 ( son of Henry T Scarborough)
28 Henry Thomas Scarborough born 1856 died 1935
29 Zula Scarborough Phillips born1880 died 1964 (wife of Henry T Scaarborough)
31 Shelton Keelin born 1895 died 1930
32 Lesley Keelin Wallace born 1905 died 1995 (wife of Shelton Keelin)
33 Theodore R Owens born 1902 died 1956
34 Monnie F Owens born 1906 died 1995 (wife of Theodore R Owens)
35 Lena Shell Hogue born 1920 died 1988 (sister of Joe Shell)
36 Jim Keelin born 1854 died 1944
37 Ida Keelin born 1868 died 1934
38 Willard Keelin
39 W T (Tom) Mitchell born 1891 died 1965
40 Lorena C Mitchell born 1894 died 1975 (wife of Tom Mitchell)
41 William Ray (Guy) Mitchell born 1924 died 1985 ( son of Tom & Lorena Mitchell)
42 Rev Harman Keelin born1910 died 1969
43 Hazel G Keelin born 1916
47 John D Massey born 1925 died 1994 ( son of Richard & Bertha Massey)

Row 4
2 James Howard Massey born 1913 died 1993 (son of Jim & Sally Massey)
8 Wm Arthor Johnson born 1893 died 1968
9 Winnie Johnson born 1899 died 1968 (wife of Arthor Johnson)
10 Wayne Johnson
11 Ernest Ray Cooper born 1935 died 1936
12 William C Mathews born 1874 died 1961
13 Zada Lillian Lucas Mathews born 1884 died 1981 (wife of William C Mathews)
14 Charlie Patton born 1909 died 1973
15 Nettie Ann Lawson Patton
17 Dottie Mae Beadles Lawson born 1912 died 1994 (wife of Bryan T Lawson)
19 Willie B. Davis born 1915 died 1997 (wife of Paul Davis)
20 Paul Davis born 1908 died 1968 (son of Henry & Richie Davis)
21 Theo A Linker Davis born 1907 died 1974 (wife of Harlan Davis,dau of John L
& Martha Linker)
22 Harlan A Davis born 1900 died 1954 (son of Henry & Richie Davis)
23 Glenna Rose Davis born 1931 died 1940 (dau of Harlan & Theo Davis)
24 Wayne Ashley born 1920 died 1987
25 Virginia Doris Davis Ashley born 1924 died 1986 (wife of Wayne Ashley and dau
of Henry A & Vera Hoover Davis)
27 John Henry McManus born 1864 died 1937
28 Nancy E McManus born 1877 died 1975
31 Baby Son Voss born 1928 died Jun.25 1928 25 (child of Lester L & Beulah Voss)
32 Vivian Voss born 1922 died 1940 (dau of Lester & Beulah Voss)
33 Lester L Voss born 1888 died 1960 (son of Jefferson Davis Voss and brother of Daniel D Voss)
34 Beulah Manning Voss born 1894 died 1970 (wife of Lester L Voss)
35 Vernon V Voss born 1909 died 1967 (son of Lester L & Beulah Voss)
37 L L Voss (son of Lester Voss)
41 Garlin Townsend born 1915 died 1989
43 George J Townsend born 1882 died 1953
44 Mattie A Johnson Townsend born 1885 died 1981 (wife of George J Townsend)
47 L J (Mutt) Stout born 1918 died 1995
48 Mary Frances Moore Stout born 1919 died 1997 ( dau of Frank & Mary Moore)
49 Bill A Wallace born 1913 died 1968 (husband of Nannie Lou Massey Wallace)
51 Darrell L Massey died 1997 (son of Leonard & Evelyn Massey)

Row 5
1Ring Child
2 Mary Bauman Moore born 1887 died 1948 (wife of Carl F Moore)
3 Carl F Moore born 1887 died 1968
6 Lee Allan (Bill) Jones born 1903 died 1952
7 Grady V Jones born 1914 died 1978
10 Ferd Owens
11 John Luther Briggs Baby
12 Broyles Baby
13 Tommie Hosey George born 1909 died 1980
14 Keneth Gerald Davis Baby
18 Terry Lynn McIllwain born 1958 died 1944 (son of Wayford & Imogene McIllwain)
20 Bell Young born 1878 died 1974
21 John Ed Young born1882 died 1955
22 Guy Earnest Young born 1922 died 1944 (killed in second world war)
23 Willie W (Bill) Young born 1892 died 1974
24 Annie Lee Smith born 1892 died 1981
25 Betty Louise Fletcher born 1938 died 1939
26 Roy D Chester born 1914 died 1936
31 Patton Baby
32 Eula Jane George Singleton born 1914 died 1991
33 Arthur G Click boen 1881 died 1974
34 Minta Click born 1882 died 1949 (wife of Arthur G Click)
35 Stanley R Peters born 1914 died 1961 (husband of Ruby Click Peters)
36 Ruby Click Peters (daughter of Arthur Click)
37 Marion A Day born 1889 died 1957
38 Nannie B Day born 1885 died 1964 (wife of Marion A Day)
39 James Vernon Townsend born 1909 died 1993
40 E A (Jack) Bunch born 1911
41 Dovie L Bunch born 1912 died 1995
42 Lorie J Bunch born 1858 died 1964
43 Gary Lynn Bunch born & died May 1954
46 Eugene George born 1964 died 1988
46 Horace Eugene George born 1934 died 1995
Row 6

1 Maggie King
2 Nannie Lee King
3 Edd Davis Child
4 Grady Jones Baby born & died 1940
5 Nettie Davis Tollison Jones born 1879 died 1966
6 Wm. Henry Jones born 1879 died 1936
7 Travis Tollison born 1908 died 1912
8 Lawton Scott Baby born 7 died Feb. 1 1922
9 Lawton M Scott born 1903 died 1985
10 Pauline Tolleson Scott born 1904 died 1988
11 Burt Davis born 1875 died 1924
13 Henry Davis born 1873 died 1917 (opened first post office in Mahoney)
14 Richie Thomas Davis born 1880 died 1962
15 Raymond Davis born 1911 died 1956
17 William Scott born 1879 died 1959
18 Edna Scott born 1882 died 1983
19 Wayford M (Pete) McIllwain born 1918 died 1977 (son of Clyde M McIllwain)
21 Karen Renee Miller born Feb 22 1959 died Feb 24 1959
24 Willie E Smith born 1918 died 1978
31 John P Henry born 1870 died 1933
32 Shellie E Henry born 1882 died 1956 (wife of John P Henry 1st husband Reiger)
33 Era Patterson born 1900 died 1956
35 Thelma Click Pinion born 1913 died 1989
37 Leroy Click born 1908 died 1986 (son of Arthur & Minta Click & husband. of
Arizona Click)
38 Arizona Voss Click born 1911 died 1977 (dau of Lester & Beulah Voss)
42 C C Holmes born 1880 died 1969
43 Mineola Holmes born 1880 died 1972 (wife of C C Holmes)
47 Mattie Smith born 1911 died 1987 (wife of Lewis Smith)

Row 7
1 John Leanard Lancaster born 1903 died 1904
2 Terry Brazell Boss born 1921 died 1987 ( son of Marley & Connie Boss)
3 Mary L Boss born 1914 died 1988 (wife of Terry Boss)
4 Floyd Shelby Barham born 1892 died 1941
5 Eulous E West born 1909 died 1928
6 W Louie Bearden born 1902 died 1971
7 Tennie Bearden born 1902 died 1959
8 Robert Paul Bearden born 1928 died 1970
10 John Bowman Baby
11 William Durwood Massey born 1924 died 1977 (son of Clyde & Mable Massey)
12 Billy Joe Massey born 1926 died 1928 (son of Clyde & Mable Massey)
13 Troy Jack Massey born 1931 died 1936 (son of Clyde & Mable Massey)
14 Clyde M Massey born 1902 died 1938 ( husb. of Mable Massey)
15 Mable Davis Massey born 1903 died 1958 (dau of Henry & Richie Davis)
17 Mary Brumfield Mitchell ( wife of Myron G Mitchell)
18 Richard H Massey born 1886 died 1952 (hus of Bertha Massey)
19 Bertha McManus Massey (dau of J H & Nancy E McManus)
20 James L Hargis born 1941 died 1994 (hus of Jaunita McIllwain Hargis)
26 Abbie Hillard born 1878 died 1963
27 Wm Carl Webb born 1894 died 1954
28 Olive Webb born 1901 died 1992 (wife of Wm Carl Webb)
29 Johnnie Lee Webb died 1943 (son of Wm Carl & Olive Webb)
31 Hester Ray Jordan born 1902 died 1991
32 Loucille Dickey Jordan born 1907 died 1994 ( Wife of Hester Jordan)
38 Chester Wells born 1905 died 1964
40 Mary E Wells born 1908 died 1947
41 Ruby Ann Strawn born 1943 died 1946
42 Ellen Wells
43 Glena Faye Ainsworth

Row 8
1 Paul Allison born 1895 died 1905
2 Wm. Roscoe Canada born 1891 died 1953 (dau. Maurine Cain's ashes also here)
3 Cora A Roberts Canada born 1896 died 1974
4 Canada Baby born 1917 died Nov 29 1917
5 Emsley B Roberts born 1857 died 1919
6 Nila Roberts born 1862 died 1926
7 J E (Jim) Roberts 1883 died 1952
8 Leo Roberts born 1900 died 1969
9 Henry Frazier Baby
12 Isaac Thomas Barnes born 1922 died 1996 (son of John A & Leona Runnells Barnes)
14 Westley Hankins (son of Garlin & Lena F Smith Hankins)
16 John B Dodd born 1863 died 1947
17 Bell Dodd born 1877 died 1964 (wife of John B Dodd)
18 Albert John Ehrle born 1880 died 1931 (husband of Daisy D Dodd)
19 Daisy D Dodd Ehrle Argenbright born 1896 died 1988 (dau. of John B & Bell Dodd)
20 R Ruby Dodd Shelton Barham (daughter of Budd Dodd)
21 Mellie Mae Dodd born 1907 died 1932
22 Willie L (Bill) Dodd born 1901 died 1993
23 Oma Dodd born 1897 died 1968 (wife of Willie Dodd)
25 Jack Randall Dodd born 1933 (son of Welcome & Beryl Holly Dodd)
26 Alma Brinker King born 1905 died 1977
27 Donald W Boss born 1943 died 1988 (son of William & Bessie Boss)
28 L H Mathews
29 Lilliam Mathews (first husband Lucas wife of L H Mathews)
31 Harold Tim Boss born 1938 died 1940 (son of William & Bessie Boss)
32 Norman J Boss born 1934 died 1962 (son of William & Bessie Boss)
33 William W Boss born 1895 died 1971
34 Bessie L Boss born 1904 died 1962 (wife of William W Boss)
37 Jerry B Holland born 1933 died 1996 (husband of Vonda Jordan Holland)
45 Charles Edward Davis born 1938 died 1987
51 William F Davis born 1918 died 1989 (bro. of John Davis)

Row 9
1 Grace Drummonds
2 Polly Drummonds
5 Marvin E Boss born 1932 died 1989 (son of Marley & Connie Boss)
6 Mary Connie Boss born 1898 died 1988
7 J Oscar Worthen born 1898 died 1959
8 Mary J Worthen born 1883 died 1966
9 Oscar R Worthen Child born 1918 died 1918
10 Pat Prescott Baby
11 Ruby Picket Robarts born 1904 died 1996
13 Virginia L Pierson Scott born 1928 died 1989 (wife of Max E Scott)
14 Harold Henson
15 Helen Valera Henson
20 Morgan Sim Blackmon born 1920 died 1994 (hus. of Hazel M Smith and son of Sim
& Gaynell Dodd Blackmon)
21 Hazel May Smith Blackmon born 1921 died 1979 (dau of Lenzie & Carry Smith)
24 Jack B Dodd born 1863 died 1943
25 Lillie M Lollar Dodd born 1878 died 1964 (wife of Jack B Dodd)
26 Truett A Dodd born 1913 died 1973 (son of Jack and Lillie Dodd)
30 Welcome Dodd born 1910 died 1986 (wife of Beryl Holly Dodd)
31 Beryl Holly Dodd born 1908 died 1989 (aunt of Buddy Holly)
34 J Sam Burgin born 1887 died 1939
35 Ora M Burgin born 1888 died 1959
36 J B Dodd born 1911 died 1995 (son of John B Dodd)
37 Thelma Dodd born 1912 died 1984 (wife of J B Dodd her dau. M Eloise Dawson's
ashes also here)
39 Geraldine Nell Blackman born 1946 died 1996 (wife of Billy Ehrle Blackmon)
40 Benjamin F Martin born 1895 died 1965
41 Ora W Martin born 1896 died 1973

Row 10
1 Mose Salmon Child
2 Mrs N A Boss born 1860 died 1905
3 G W Boss born 1855 died 1936
5 Kennemer Child
6 Donna Boss Leavell born 1888 died 1914
7 Gladys Boss born 1918 died 1920
8 Marley E Boss born 1893 died 1979
9 Lucille Massey born 1910 died 1911
10 Lou Massey Hood born 1868 died 1940 (mother of Jim Massey)
11 D (Jim) Massey born 1890 died 1978
12 Sallie Mae Davis Massey born 1892 died 1964 (sis of Henry Davis)
14 Ethel Mae Holland Hoover born 1903 died 1989 (dau of Thomas Wilson Holland)
15 Chester Andrew Hoover born Jul 161892 died Mar 25 1953 (son of John Hoover)
17 Thomas Wilson Holland born 1859 died 1930
18 Gaynell Dodd Blackmon born 1896 (wife of Sim Blackmon and dau of John & Bell Dodd)
19 Sim Blackmon born 1896 died 1954
21 J Clarence Nichols born 1903 died 1973
22 Mr Nichols
23 Jessie Nichols born 1915 died 1947
27 P A Anderson
33 Helen Marie Ray born 1932 died 1933
34 Paul Buford born 1920 died 1974
35 Olen Buford born 1907 died 1973
36 Martha Ann Burgin born 1854 died 1936
37 John Buford born 1863 died 1938
38 Fannie Buford born 1883 died 1965
39 John D Winfrey
40 Rebecca Winfrey
41 Winfrey Baby
42 Delila Newberry born 1915 died 1954
43 C B (Jelly) Marshall born 1925 died 1992

Row 11
1 Lester Lundy Child
2 Johny Nelson Gann born 1935 died 1988
3 Pansy Lawson Gann born 1938 died 1984 (dau of John W. & Pauline Lawson)
4 Mary Cranford
5 Cranford Child
6 Cranford Child
8 O D McIllwain age 6
9 Therman McIllwain born 1910 died 1911
10 W H McIllwain born 1871 died 1915
Alma McIllwain born February 22, 1912 Sulphur Springs, TX death August 4, 2006 Humble, TX Urn buried in: Row 11 between Susie and W H McIllwain (Paternal Grandparents) OBIT Info by Irene Moore
11 Susie C McIllwain born 1871 died 1957 (mother of Neely & twin McIllwain)
12 Neely McIllwain born 1900 died 1959 (his twin is also buried here)
13 F O McIllwain born 1913 died 1935
14 Jimmie McIllwain born 1893 died 1943
15 Gibbs Baby
16 Jonas G Gibbs born 1876 died 1918
17 Arthur R Pipkin born 1886 died 1973
18 Emmer E Pipkin born 1890 died 1979
19 Edgar Lee Pipkin born 1911 died 1985
20 Ruby Nevada Pipkin
21 Myrtle L White born 1903 died 1937 (wife of Doug W White)
22 Doug W White born 1903 died 1951
25 Hattie Mae McIllwain born 1903 died 1991 (Second wife of Clyde M McIllwain)
26 Clyde Malone McIllwain born 1897 died 1967
27 Bertha E Scott McIllwain born 1900 died 1936 (first wife of Clyde M McIllwain)
30 Helen Johnson born 1918 died 1931
31 Alma Johnson born 1888 died 1943
32 William C Johnson born 1886 died 1967
33 Annie Blanch Johnson born 1900 died 1963
34 Charles Owens
35 Charles Owens' child
36 Charles Owen's child

Row 12
1 John Aldrige (or Waldrige)
2 E Porter born 1855 died 1913
3 Missouri Porter Frazier born 1865 died 1941
4 Travis A Porter born 1915 died 1934
5 Eldina Dodd Porter born 1897 died 1918 (dau of John B & Bell Dodd-1st wife of Jim
Porter)
6 James (Jim) Charles Porter born 1891 died 1973
7 M L (Ella) Porter born 1895 died 1961 (second wife of Jim Porter)
11 Jim Weaver Child
13 Albert B Adams born 1887 died 1959
14 Pearl B Adams born 1893 died 1975
15 Harley & Marley Adams born & died Jul 14 1915
17 Maggie L Kraft born 1899 died 1931
18 Ester Kraft born 1906 died 1020
20 Haskel P Adams born 1919 died 1961
22 William H Dean Jr born 1929 died 1949
23 William Horace Dean Sr born 1905 died 1987
24 Lolita J Adams Dean born 1910 died 1987
26 Berdie Cooper born 1892 died 1925
27 Meda E Beadles Cooper born 1899 died 1979 (wife of Berdie Cooper)
29 Floyd Owens Jr baby born & died 1929
31 Floyd D (Shorty) Owens Sr born 1908 died 1964
33 John H Lawson born 1861 died 1944
34 Laura M Lawson born 1867 died 1940
35 E L (Lige) Lawson born 1906 died 1989

Row 13
1A Gene McCain Child
1 Mr Ledbetter
2 Mrs Ledbetter
3 Dan McCain Child
4 Mrs Sue McCain
5 Jeff Hall
6 Lucille Hall
7 Marie Prescot Child
8 Chester Owen Pipkin born 1915 died 1963
10 William J Pipkin born 1908 died 1972
11 Lola Bell Pipkin born 1914 died 1956
12 Thelma Pipkin Child
13 William Loyd Pipkin Child
14 Billy Jack Pipkin born 1938 died 1976
15 Dock Spephens Child
16 Luther Haddock Child
17 Jimmy Boss Child
18 Lloyd B Adams
19 Lillian Beatrice Anglin Adams born 1918 died 1983
21 Selmon Child
23 Helen Griffin born 1922 died 1936
24 Baby Reba Griffin born 1921 & died 1921
25 L R Griffin born 1900 died 1927
26 Vera Brack
28 Highfield Baby
33 James Thomas Bunch born 1893 died 1965
34 John B Phillips Twins born & died Jul 10 1944
35 W A Bunch born 1863 died 1941
36 Permealy (Melia) Bunch born 1861 died 1824
38 Beulah Van Valien
39 Melissa (Lizzie) E Ross born 1886 died 1947 (wife of Lewis E Ross)
40 Lewis E Ross born 1884 died 1958
41 Norman E (Ted) Ross born 1907 died 1976
42 James H VanValien born 1892 died 1958
43 L M (Bub) Ross born 1910 died 1968
44 John B Phillips died 1997
45 Fannie Bell Ross Phillips died 1998 (wife of John B Phillips)
---