Gafford Chapel Cemetery Obits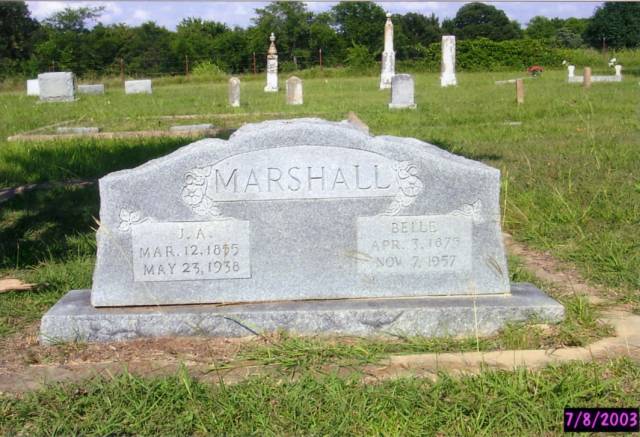 Hopkins Co, Cemeteries of Texas
by Brandon Darrow (BD)
Obits by Elaine Nall Bay and Patricia Nall (ENB)
Located on Hwy 11 near Sulphur Springs
Scroll down to view Obits
| | | | | |
| --- | --- | --- | --- | --- |
| Last Name | First Name | Birth | Death | Comments |
| Marshall | J. A. | Mar 12 1855 | May 23 1936 | h/o Belle |
| Marshall | Belle | Apr 03 1873 | Nov 02 1957 | w/o J. A. |
| Odom | Carl Perry | Oct 24 1912 | Mar 15 2006 | h/o Anna Belle Gregg |
---
Mrs. J.A. Marshall Dies Here Thursday (Greenville Herald Banner)
Greenville - Mrs. J.A. Marshall, 82, died at 6:30 Thursday morning at the home of her daughter, Mrs. J.W. Crisp, 1522 Wolfe City Drive.
She was born April 3, 1875 at Naples, Texas, and was the former Mary Belle Millsap, daughter of Joe Millsap and Cynthia Storey Millsap.
Mrs. Marshall was a member of the Shady Grove Methodist Church. Funeral services will be held there Friday afternoon at 3 p.m. with the Rev. G. B. Bailey and the Rev. Howard White. Officiating Burial will be in Gafford Chapel Cemetery under the direction of James-Coker-Peters Funeral Home.
Pallbearers will be Everett Stovall, H.U. Bagwell, Verna Simmons, Bloom Johnson, L.B. George, and R.H. Dickson. The body will be taken Thursday afternoon to the home of Mrs. Marshall where it will rest until the hour of the service.
Survivors besides her daughter and one son, Howard Marshall, Greenville; 2 grandsons, James Marshall and Lewis Marshall, Jr., Carrollton, Tex.; 5 grandchildren: one brother, Johnny Millsap, Sulphur Springs.
---
J.A. Marshall Dies Monday (Greenville Herald Banner, Tuesday, May 24, 1938)
Prominent Hunt County Resident Dies Monday In Liberty Community
J.A. (Bud) Marshall, 83, longtime resident of Hunt County, died at 6:30 o'clock Monday evening at the home of his daughter, Mrs. J.W. Crisp, in the Liberty community. James Andrew Marshall was born on March 12, 1855 in Arkansas and came to Texas when only 4 years of age with his parents who located south of Greenville in Hunt County. He had since spent most of his life in Hunt County and was one of the most prominent and successful farmers of this section. For the past 19 years he had been a resident of the Shady Grove community. A number of years ago he resided in Greenville and was well known here.
In early life, Mr. Marshall professed religious faith and joined the Methodist Church. He was active in church and community activities as long as his health would permit and rendered a great service to both. He is survived by his widow and three children, Mrs. Ola Crisp, of the Liberty community; H.B. Marshall and Louis P. Marshall, both of Greenville; one brother, Buck Marshall of Sulphur Springs. Funeral services will be held at 2:30 o'clock this afternoon from the Shady Grove Methodist Church, conducted by Rev. P.G. Hightower, of Talco, assisted by Rev. Shooter. Interment will be in the Gafford Chapel cemetery 5 miles west of Sulphur Springs on the Commerce highway. Pallbearers will be Guy Black, L.B. George, H.B. Crisp, B.S. Johnson, Jr., John Akers and Ernest Ethridge.
---
Commerce Journal
Mar 22, 2006
Carl Perry Odom, 93, of Commerce died March 15, 2006, at Presbyterian Hospital of Greenville following a brief illness. The son of Perry Lewis and Mima Mae Gregory Odom, he was born Oct. 24, 1912, in the Gafford Chapel Community. On July 24, 1937, he married Anna Belle Gregg in Commerce. Mr. Odom began work for the Cotton Belt Railroad in Commerce in 1941 and retired after 35 years. His favorite pastime was fishing and enjoying coffee with all his Commerce friends. He was preceded in death by his parents; his wife; one son, Larry Gregg Odom; and one sister, Naomi Knight. Carl is survived by one daughter, Carol Ann Shaw of Temple; one daughter-in-law, Donna Odom of Sulphur Springs; four grandchildren, Chris Shaw of Bastrop, Julie Elliott of Austin, Glenn Odom of Sulphur Springs and Michele Anderson of Dallas; two great-grandchildren, Jared and Jordan Shaw of Bastrop; and one nephew, Bill T. Knight of Commerce. Graveside services were at 11 a.m. Friday at Gafford Chapel Cemetery with Brother Roy Lee Dittmar officiating.
Honorary pallbearers are Billy Gregg, Jimmy Gregg, Ene Ashcroft, Jerry Ben Hargrave, James "Zeke" Adams, George Robinson, J.C. Lake, John Moore, Emmet Wilbanks, Charles Bishop, Bill T. Knight, Kenneth Shaw, Glen Ward, Neal Wright, Roy Barker, Dick Walker, Herman Bennett, Horace Norris and all other coffee drinking buddies and past and present Cotton Belt Railroaders. Jones-Walker & Son Funeral Home of Commerce was in charge of arrangements.
---
---