Pin Oak Cemetery
Hubbard, Hill Co. Cemeteries of TX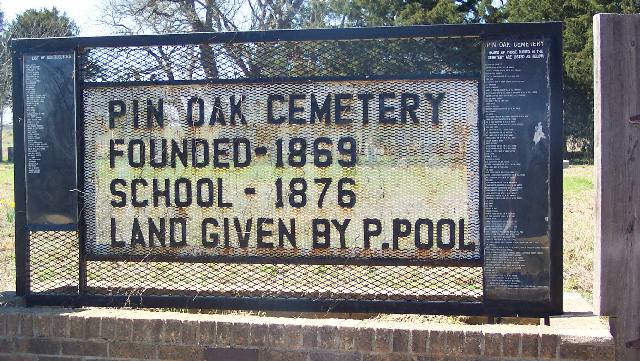 Visual Survey done March 6,2004
All headstones at Cem...
by Belinda and Bobby Beldin


Headstones very old and in BAD shape
(if you have someone buried here you really might want to get out there and get photos these wont be around much longer!!!! alot are already broken) Very old Cemetery

Directions-Hwy 171 in Hubbard ,turn on HCR 3363,go down to Davis (Left)to SW 3rd St.(dirt Road)
go down abt mile on Right( there is a Valley View Cem on left go a little further and Pin Oak is on the right

There is a listing of those buried in Cemetery. on the sign to Cemetery., plus visual inspection found few others not on that list

Pin Oak Cemetery

Bowman, Albert S. --- Jan 9,1883-Feb 10,1883 s/o EE & ME Bowman
Bowman, Katie A.(I.?) --- July 7,1875- May 6,187-( cant read 1879?) d/o EB & ME Bowman
Bowman, Albert S. --- Jan 9,1883-Feb 10,1888 s/o EB & ME Bowman
Barrett, Elizabeth ---- 1810-1881 ( buried between Wood family)
Bland, Martha ------ m/o G.W. Kinard Mar 16,1815-Aug 6,1883
Burnett, Martha Pool --Feb 16,1821-June 11,1885 "Mother"

Cain, Ella Lee --July 8,1873-Oct 12,1876 d/o J.O. & M.L. Cain
Cain, John O. --Apr 30,1884-Feb 15,1883
Carr, Titus -- Feb 1,1829-Sept 16,1881 " born in Green Co.,SC"
Carr, G. ---- no more info ( footstone)
Carr, A. ---- no more info (footstone)
Carradine, J.C. ----- Sep 24,1835-__8,1882
Carradine, Anna O. --- Sep 27,1838-Nov 6,1877
Carson, Mary Alice ---- Jul 29,1877-Oct 19,1883 d/o WP & AA Carson
Chapman, James F. ----- Sep 7,1876-Sep 24,1880 s/o TJ & FJ Chapman
Clark, Bettie --- Died Feb 8,1881 aged 22 yr 1 mo 25 dys d/o PFM & EA Lucas W/O J.L.Clark
Stanford, Asbury Davis ---Feb 26,1874- Nov 13,1879 s/o W.A. & H.J. Stanford
( listed as Asbury Stanford Davis)

Dories, Cleley Jewel --- Feb 3,1901- Nov 28,1905

Early, M.E. ---- Mar 5,1860- Mar 28,1902 w/o John Early
Early, Tomie ----- (didn't find headstone but he is on list of Cem.)
Early, Sarah ---- Nov 29,1897-Aug 26,1898

Griffing, Israel G.----- July 21,1848-Sep 26,1875
Griffing, Sarah Vardeman Cole --- 1810-1893 "Texas Pioneer 1867" (new headstone)

Hale, Mattie R. --- Nov 5,1881-Feb 3,1882 d/o E.D. & M.J. Hale
Hinshaw, W.R. ----- (no headstone but on list of Cem)
Hodge, J.D. ------- (no headstone but on list of Cem)
Hodge, Mary E. --- Apr 28,1842- Sep 21,1881 w/o W.A. Hodge d/o W.J.Hood
Hodge, Frankie ------ Feb 6,__ - Dec 18,188__ s/o W.H. & M.E. Hodge
Hood, Emma Jane ---- (no headstone but on list of Cem d/o W.J.Hood)
Hood, Ida J. ------ Feb 18,1872-Nov 14,1878 d/o S.& C. Hood
Hood, W.J. ---- (no headstone but on list of Cem -born Fairfield District,SC)
Horn, Mrs M.A.E. ---- Aug 26,1839-Oct 1,1882 w/o H.L.Horn ( list has her N.A.E.)
Horn, O.J. ------- (no headstone but on list of Cem s/o H.L. & M.A.E. Horn)
Houston, R.F. ------ May 23,1830-Feb 1,1881 w/o R.S.Houston

James, A.J. ------ Apr 19,1893-May 12,1893 s/o W.R. & M.L.J. James
James, Infant Son ------- B & D Feb 14,1887 s/o W.R. & M.L.J. James
Jones, Adeline Burnett ------ Oct 17,1855-Aug 20,1945
Jones, Little May ------ Jul 4,1883-Sep 28,1888 d/o JR & EA Jones
Jones, Little Albina ----- Oct 22,1880 - NOv 9,1880 d/o JR & EA Jones
Jones, David R.----- Mar 11,1881- May 24,1882 s/o JR & EA Jones

Killough, Annie ---- Apr 10,1791- Jan 11,1874 ( Annie Peeler Killough)
Kinard, Infant Son ---- May 11,1888-Oct 15,1889 s/o G.W. & M.A. Kinard
Kinard, Willie ----- Jan 21,1869-Jun 19,1881 s/o G.W. & M.A. Kinard

Little, Sarah E. ---- (no headstone but on list of Cem - w/o Henry Little)
Luckie, Disy ----- Jan 29,1829-Dec 1887 d/o JK & AP Killough
Lucky, Fannie P. ----- Mar 11,1870-Oct 18,1875
Lucas, Clarence O. -----(no headstone but on list of Cem )
Lucas, E.C. ---------- Aug 10,1850-Oct 16,1884 w/o BM Lucas
Lucas, Eugenia ------- July 9,1870-Aug 8,1871 d/o PF & EA Lucas
Lucas, Ida ----- Jan 20,1881-died 20yrs 7mo w/o NC Lucas( 188_ look like 1)
Lucas, J.M. ----- Nov 13,1834-Dec 6,1878
Lucas, W.A. ---- Aug 5,1864-Feb 14,1884 s/o PFM & EA Lucas
Lucas, Levi ---- Feb 23,1876-Oct 27,1877 s/o BM & EA Lucas
Lucas, Infant ---- Son B & D Feb 7,1879 (beside Levi)
Lucas, Sarah Luvica --- July 19,1895 11 yrs 3mo d/o BM & EA Lucas
Lucas, W. A. ---- Aug 5,1864- Feb 14,1884 s/o PFM & EA Lucas
Lucas, Sarah E. ---- Jun 12,18?? died Aug 12,1889 w/o Henry Lucas
Lusk, G.S. -------- died Feb 6,1883 63yrs

Martin, Elmer ------ Feb 4,1881-Feb 16,1881 s/o JPH & Ann Martin
Martin, Fannie ----- Jun ??,1879- Sep 9,1880 d/o JPH & Ann Martin
Merritt, Infant ----- Daughter B & D Feb 17,1879 d/o SF & AL Merritt
Merritt, Infant ------ Son Apr 10,1878-Apr 17,1878 s/o SF & AL Merritt
Merritt, Leona ----Mar 19,1880- Feb 27,1884 s/o SF & AL Merritt( does say son of)
Merritt, Sam ------ Sep 21,1869- Jul 28,1870 s/o SF & AL Merritt
Mosely, Henderson C. ---- Nov 11,1901- Jan 8,1902 s/o AN & HS Mosely

Paris, L. C.------ Jan 21,1854-Feb 7,1945
Paris, W.C. ----- Jun 15, 1849-Jan 11,1902 ( double headstone with L.C.)
Pate, M.J. ------- (no headstone but on list of Cem)
Pate, Malinda A. ------- died Sep 2, 1882
Pearson, Thomas ------- Sep 1845-Sep 11,1881
Phillips, Sarah Ann ---- 1823-1882 (new headstone)" born Union Co.,SC died Hill Co.,TX, d/o Joseph & Elizabeth Pressley Phillips,married 1)John C. Cooper 2)William Odell"
Poer, David M. ---- Aug 25,1879-Oct 1,1880 s/o AR & SF Poer
Poer, E.C. ------ Nov 12,1870-Nov 4,1873 D/O AR & SF Poer
Poer, David R. --- Feb 2,1816-Dec 24,1875 59 yrs 10 Mo 22 dys
Poer, F. Annie --- Sep 15,1881-Sep 20,1881 d/o AR & SF Poer (could be AB)
Poer, Henry L. ---- Sep 4,1873-Nov 10,1876 s/o AR & SF Poer
Poer, Minnie ---- Mar 5,1883-Nov 8,1883 d/o AR & SF Poer
Pointon, William Henry -- Jul 4,1863- Mar 17,1906 "Woodsman of the World"
Pool, Addie J. McDonald -- Feb 22,1838-Aug 31,1894 2nd w/o PL Pool married Jan 11,1872
Pool, Albina T. Linn -- Nov 22,1827-May 2,1869 1st w/o PL Pool married Nov 11,1852
Pool, Edgar O. ---- Jul 16,1875-Oct 25,1876 s/o WR & EP Pool
Pool, Lafayette --- May 2,1869-Jun 6,1869 s/o RL & AT Pool
Pool, P.L.P. ---- Mar 17,1825-Dec 29,1907 (could be 1909)
Pool, Robert Daniel---- Oct 4,1872-Dec 17,1874 s/o RL & AJP Pool
Powell, G.W. ------ Oct 17,1844- Mar 6,1909
Powell, James K.-- Dec 7,1844-Dec 10,1872 s/o LW & SA Powell " born Crocktaw,MS"
Powell, Julia ---- Jan 14,1845-Jan 14,1913 w/o G.W. Powell
Powell, Sarah A.-- July 6,1819-Feb 27,1882 w/o LW Powell " Born Jefferson Co,GA"
Powell, Louis W. -- July 8,1820-Nov 17,1905 " born Coosa Co.,ALA."
Powell, Tallia I. --Feb 11,1861-Aug 25,1882 d/o LW & SA Powell

Robinson, Jennett --died Sep 23,1882 1yr 4 mo d/o HC & AE Robinson
Robinson, Roy L.----died Nov 1,1873 11yr 8 mo (Doublestone with Jennett)s/o HC & AE Robinson
Rush, Armstead Lafayette -- Apr 12,1856-Dec 29,1878 s/o AW & LW Rush
Rush, Myrtle Ray ----- Apr 3,1881-Apr 1,1886 d/o JA & NJ Rush

Sheets, Lucinda ----- Nov 29,1844-Nov 8,1918
Sheets,Baby -------- Nov 14,1910- Feb 8,1911
Sheets, Rebecca ---- Oct 14,1881-Dec 15,1910 (headstone has all three on it "Mother,Baby,Sister"
Stanford, Asbury Davis --- Feb 26,1874- Nov 13,1879 s/o W.A. & H.J. Stanford

Taylor, M. ---- Mar 3,1875-Mar 21,1875 d/o JL & ML Taylor
Taylor, N. L.--- Feb 10,1883-Mar 29,1883 d/o JL & ML Taylor
Tekell, Plina J. Jouston ----- Nov 10,1858-Jul 31,1879 w/o W.C. Tekell
Trimble, John E.---- Dec 1,1881----broke no more info
Trimble, Mary R. ---- Sep 29,1860- Sept ??(16) 187? d/o JE & SJ Trimble

Vardeman, Little Bossie ---died July 26,1890 6yr 3mo 1 dy s/o GW & MF Vardeman
Vickery,Robert Marvin ---- May 27,1902-Aug 30,1902 s/o James and AJ Vickery)

Walton, Etta C. ---- July 25,1880-Oct 5,1881 d/o JF & ED Walton
Walton, James J. ---- Sep 1,1874-Oct 3,1874 s/o JF & MA Walton
Walton, Thomas F. ----Jan 22,1873-Jul 13,1873 s/o JF & MA Walton
Walton, Mollie A. ----Jun 25,1846-Oct 18,1874 w/o JF Walton
Wood, Terry ---- s/o EB & SA Wood no dates
Wood, Delilah ---- 1805-1877
Wood, Welcome ------no dates s/o EB & SA Wood
Wood ??? infant --( beside Woods but can only read infant no name at all)