Vaughan Cemetery Partial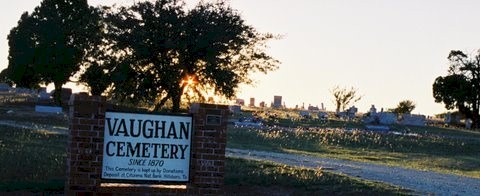 Hill Co., Cemeteries of TX.
Info submitted by Pauline Kennedy Grimes
Vaughan Cemetery (also known as Bell Cemetery) is located about 12 miles west and south of Hillsboro, Texas. Directions to the cemetery: Take Highway 22 out of Hillsboro toward Whitney. In Peoria turn on FM 1947 and go 7 miles to FM 310 turn right about a mile on the right there is a sign for Vaughan Cemetery and you turn onto a dirt road HCR 2440 that takes you by the cemetery.
BURIALS:
Adair, Mary Joreen b. July 9, 1929 d. Aug. 4, 1931

Adams, Daniel b. March 16, 1831 d. July 8, 1895,son of J. H. B. and Rona Adams

Addison, Daniel b. Nov. 29, 1857 d. Oct. 8, 1893

Adkins, Arnold D. b. June 20, 1914 d. April 27, 1970,same stone
Adkins, Frances L. b. Nov. 3, 1916 d. July 2, 1996

Adkins, Rosie b. April 11, 1894 d. Dec. 26, 1951

Adkison, Daniel b. Nov. 29, 1857 d. Oct. 8, 1893

Ainsworth, L. W. b. 1911 d. 1973,same stone
Ainsworth, Beulah Williams b. 1912 d. 1989,same stone
Williams, Ed b. 1905 d. 1944

Allen, James Hillyard b. Feb. 19, 1909 d. Nov. 18, 1990

Anderson, Effie May b. April 28, 1881 d. July 21, 1948,same stone
Anderson, George L. b. June 28, 1872 d. March 13, 1948

Anderson, Vera Lee b. May 2, 1897 d. July 2, 1910,daughter of W. F. and S. C. Anderson

Anderson, Will H. b. July 4, 1875 d. Aug. 18, 1930,same stone
Anderson, Ella Lee b. Oct. 23, 1880 d. Sept. 12, 1955

Anderson, William F. b. March 31,1847 d. Jan. 15, 1928,same stone
Anderson, Sarah G. b. Feb. 14, 1857 d. Feb. 14, 1940

Anderson, Son b. May 7, 1885 d. Aug. 16, 1885,infant son of W. F. and S. C. Anderson
Andrews, Robert Ray b Feb 6, 1935 d Aug 13, 2000, (info by Bobby Andrews)
Andrews, Avonelle Gilmore b May 17, 1930 d June 15, 2008 , (info by Bobby Andrews)

Armstrong, Clarence b. Nov. 19, 1892 d. ?

Armstrong, Kittie Mae b. Sept. 13, 1901 d. April 22, 1982

Archer, Ed B. b. Feb. 21, 1872 d. April 14, 1925,same stone
Archer, Elizabeth b. Jan. 12, 1878 d. June 12, 1967

Archer, Fred b. July 29, 1897 d. June 18, 1979

Archer, Rosie Lee b. June 10, 1897 d. Aug. 25, 1999

Asbell, J. M. b. May 10, 1850 d. Jan. 25, 1930,same stone
Asbell, F. E. b. Jan. 5, 1850 d. Jan. 25, 1930,Father

Ashwander, Ada Anderson b. Dec. 16, 1900 d. April 16, 1973

Atwell, Frank no dates,same stone
Atwell, Price no dates

Autry, W. P. b. May 21, 1834 d. Aug. 17, 1929,Father same stone married for 71 years
Autry, Nancy b. Dec. 8, 1840 d. Feb. 22, 1934,Mother

Autry, W. P. b. Nov. 16, 1860 d. Dec. 26, 1920,same stone
Autry, Alice b. Jan. 10, 1869 d. Feb. 24, 1937,same stone
Autry, Joshaway, Oct. 20, 1906 d. Nov. 12, 1919,Back of the stone reads:,Winnie May 12 1897--Simon Dec. 28 1900 -Nov. 8, 1952--Dock Sept. 26 1904--J. B. Feb. 12 1909- Oct. 10 1910--Willie Aug. 19 1899--Raleigh Nov. 11, 1902- Nov. 22, 1931--Joshua Oct. 20 1906 -Nov. 12 1919-- Boyd Lee Aug. 31 1911 --That is the end of what it says

Autry, Doc b. 1904 d. 1986,same stone
Autry, Faye b. 1905 d. 1994

Autry, Doc E. b. June 15 1926 d. Aug. 1 1961 TEXAS PFC US MARINE CORPS WWII

Autry, J. B. b. Feb. 12, 1903 d. Oct. 10, 1910
son of W. P. and Alice Autry

Autry, Raleigh b. Nov. 11, 1902 d. Nov. 22, 1932

Autry, Simon P. b. Dec. 23, 1900 d. Nov. 8, 1952

Autry, Winnie b. 1897 d. 1953

Averill, Martha J. b. 1864 d. 1944

Averill, Robert L. b. 1864 d. 1949

Averitte, A. J. b. June 25, 1917 d. July 1, 1917

Averitte, Dovie b. March 12, 1885 d. Nov. 23, 1906,wife of J. T. Averitte same stone
Averitte, Infant b. Nov. 22, 1906 d. Nov. 22, 1906
infant of J. T. and Dovie Averitte

Aylor, Ethel b. Feb. 19, 1900 d. Nov. 22, 1906
Bailey, Irene b. Aug. 5, 1900 d. Jan. 2, 1903,daughter of Chas and Mattie Bailey

Baker, Elbert b. 1902 d. 1914

Baker, Robert C. b. July 15, 1895 d. June 7, 1922

Baker, Elizabeth b. Sept. 20, 1873 d. Sept. 10, 1957,same stone
Baker, James K. b. Sept. 19, 1874 d. Jan. 3, 1957

Baker, Tom Bell b. April 9, 1893 d. Oct. 14, 1930

Ballard, James D. b. Oct. 1, 1923 d. April 1, 1987,PVT US ARMY WWII

Ballard, Marie (metal marker) b. 1926 d. 2000

Ballew, Bert b. July 27, 1918 d. Dec. 12, 1947

Ballew, John R. b. July 27, 1877 d. May 26, 1944,same stone
Ballew, Sarah L. b. Jan. 31, 1876 d. ?

Ballew, Minnie b. Dec. 28, 1898 d. Dec. 30, 1899
daughter of J. R. and S. L. Ballew

Banner, Philip
same stone
Banner, Pauline b. Jan. 8, 1924 d. Sept. 17, 1996

Banner, Denise Helen b. Nov. 4, 1950 d. June 6, 1975
Daddy's Girl

Banner, Tillie b. 1883 d. 1976
Rebekka

Barnett, Dwight b. Dec. 17, 1916 d. July 18, 1993
SGT US ARMY AIR CORPS WWII
same stone m. Oct. 5, 1940
Barnett, Mary

Barton, Richard G. b. April 8, 1844 d. April 2, 1891
same stone
Barton, A. J. b. April 8, 1844 d. April 2, 1891
husband of Elizabeth Barton

Barton, Nettie 1973 no other dates
Bass, James R. b. June 28, 1812 d. March 16, 1947
Father
same stone
Bass, Lucy B. b. April 21, 1874 d. March 3, 1947
Mother

Bass, F. I. (Potsy) b. Sept. 7, 1903 d. May 17, 1944
Mason

Bass, Elizabeth Mae b. Oct. 18, 1904 d. April 12, 1994

Batts, Cora Q. b. Jan. 27, 1876 d. ?

Batts, Robert G. b. Dec. 13, 1869 d. May 23, 1925

Batts, Emma May b. Nov. 6, 1903 d. Jan. 22, 1906
daughter of R. G. and C. A. Batts

Bearden, J. F. b. 1860 d. 1934
Father

Bearden, Emma b. 1872 d. 1946
Mother

Bearden, Britton b. Feb. 21, 1891 d. Dec. 18, 1895
son of J. F. and P. E. Bearden

Bearden, Luther E. b. Oct. 15, 1889 d. Dec. 3, 1935
son of J. F. and P. E. Bearden

Bearden, Vergie Irene 1905
daughter of Mr. and Mrs. M. G. Bearden

Beasley, Elma b. 1903 d. 1924

Beavers, Crawford b. Oct. 19, 1885 d. May 22, 1895
son of J. W. and S. E. Beavers

Beavers, Vara Velle b. Aug. 31, 1888 d. June 5, 1895
daughter of J. W. and S. E. Beavers

Beavers, Aubrey b. Oct. 19, 1895 d. May 22, 1835
son of J. W. and S. E. Beavers

Beavers, Son b. July 3, 1897 died Sept. 18, 1897
infant son of J. W. and S. E. Beavers

Beene, G. F. b. Feb. 16, 1847 d. Nov. 23, 1925
Mason

Beene, S. P. b. Sept. 18, 1850 d. Jan. 30, 1931
Mother

Beene, J. H. b. 1811 d. 1894

Beene, Mollie D. b. July 7, 1874 d. Oct. 30, 1930
same stone
Beene, Rufus b. May 9, 1869 d. June 13, 1924

Beene, Walter, b. Nov. 12, 1868 d. Nov. 13, 1945
same stone m. Nov. 18, 1894
Beene, Ella McClure b. June 2, 1876 d. Oct. 24, 1958

Behringer, Pauline b. Aug. 13, 1912 d. Aug. 3, 1918

Bennett, C. M. b. Oct. 3, 1847 d. Aug. 21, 1910

Bennett, Malinda b. Sept. 6, 1849 d. Dec. 24, 1906
wife of C. M. Bennett

Bennett, George F. b. 1874 d. 1936

Bennett, Chas Joseph b. July 30, 1874 d. Dec. 21, 1920
son of D. W. and Lettie Bennett

Bennett, Allie May b. April 24, 1875 d. July 16, 1959

Bennett, Emma Pearl b. Oct. 10, 1885 d. Jan. 3, 1964

Bennett, Martin M. b. July 3, 1911 d. July 25, 1942

Bennett, George F. Jr. b. May 18, 1921 d. Dec. 13, 1927

Bennett, Baby no dates

Bentley, J. Ras b. Feb. 8, 1876 d. July 26, 1946
same stone
Bentley, Hettie D. b.Aug. 3, 1880 d. May 23, 1965

Bledsoe, Rollie F. b. Oct. 27, 1876 d. Oct. 19, 1978

Bledsoe, Henry S. b. April 10, 1850 d. Aug. 27, 1921

Bledsoe, R. A. b. July 16, 1860 d. Sept. 14, 1895
wife of H. S. Bledsoe

Bledsoe, Preston E. b. April 28, 1907 d. May 1, 1929

Bodine, Neva Noland b. July 23, 1888 d. Feb. 16, 1969

Boyd, Gladys, M. b. Nov. 16, 1902 d. July 3, 1935

Bozeman, Son no dates
Infant son of D. E. and Ellen Bozeman

Braley, Iva Lee Bass b. Aug. 4, 1911 d. Dec. 30, 1978

Brannan, Sarah F. b.April 5, 1838 d. June 3, 1899
wife of Willis Brannan

Brannan, Willis b. March 23, 1836 d. April 12, 1907

Breeding, E. A. b. May 16, 1855 d. July 22, 1943
same stone
Breeding, W. T. b. Aug. 30, 1838 d. Jan. 21, 1921

Breeding, Thomas J. b. 1895 d. 1954
same stone
Halford, Juanita Breeding b. 1896 d. 1987

Breeding, Margaret A. b. March 23, 1847 d. June 14, 1909

Breeding, William E. b. May 23, 1866 d. Aug. 6, 1904

Bridges, M. A. b. Oct. 5, 1879 d. Dec. 12, 1911
wife of S. T, Bridges

Britt, Effie Ethel 73 years no date

Britton, Earle W. (Bully) b. Sept. 20, 1910 d. April 17, 1998
son of Edward Britton and Minnie Williams

Brooks, F. M. b. Nov. 10, 1843 d. Feb. 9, 1907

Brooks, Mrs. L. C. b. Feb. 17, 1856 d. Oct. 6, 1915

Brown, Elizabeth, b. May 11, 1834 d. Aug. 16, 1896
wife of W. M. Brown

Brown, Esther b. April 13, 1902 d. no date

Brown, Leslie L. b. June 12, 1894 d. Sept. 14, 1953

Brown, Maudie b. Oct. 14, 1903 d. Feb. 4, 1904
daughter of G. B. and F. E. Brown

Brown, Babe b. April 26, 1881 d. Dec. 19, 1963

same stone m. Aug. 24, 1902
Brown, Ethel b. Aug. 24, 1885 d. Dec. 24, 1960

Brown, Octavia M. b. 1871 d. 1948
aged 77 years

Brown, William F. metal marker b. 1908 d. 1988

Brown, Eldon Aubrey b. March 18, 1929 d. May 24, 1929
son of P. M. and Lizzie Brown

Brown, James Ray b. May 20, 1944 d. June 3, 1971

Brown, Morris b. Oct. 21, 1919 d. May 4, 1987
US ARMY WWII

Brown, Luecreash b. Feb. 3, 1877 d. April 29, 1946
smae stone
Brown, Joe b. Sept. 15, 1870 d. Aug. 10, 1947

Brown, Alvin b. June 12, 1907 d. June 14, 1966
CPL 3706 BASE UNIT AAF WWII
same stone m. Feb. 15, 1930
Brown, Corene b. Sept. 14, 1899 d. April 15, 1999

Brown, Willie Roy b. April 18, 1905 d. Dec. 29, 1976

Brown, Tommie b. Sept. 22, 1899 d. July 12, 1963
same stone
Brown, Lena Mae b. Nov. 3, 1904 d. Oct. 15, 1992

Brown, Carl Lee b. Nov. 28, 1946 d. May, 28, 1967
TX PFC TRP A3 SQ 17 ARMD CAV

Buchanan, Soleta b. Sept. 17, 1839 d. Jan. 21, 1915
wife of I. F. Buchanan

Buchanan, I. F. b. April 3, 1816 d. Nov. 11, 1907

Bunch, Jim D. Sr. b. April 16, 1905 d. July 20, 1970
Father
same stone
Bunch, Clara Mae b. Dec. 19, 1900 d. July 21, 1962
Mother

Bunch, Jim D. Jr. b. March 12, 1931 d. May 12, 1933R
Bunch, John D. b. July 29, 1866 d. April 14, 1934

Bunch, Lois E. b. Jan. 15, 1871 d. June 16, 1916

Bunch, Sarah C. b. July 25, 1845 d. Jan. 3, 1931

Bunch, Will D. b. March 3, 1894 d. June 11, 1909

Burnett, Frank b. June 9, 1902 d. July 3, 1994
same stone m. Feb. 2, 1932
Burnett, Geraldine May 25, 1997

Burris, John D. b. March 31, 1916 d. ?
same stone
Burris, Bonnie b.Oct. 3, 1926 d. May 7, 1967

Burns, Bonnie b. Oct. 3, 1826 d. May 7, 1967

Burt, Joe b. July 9, 1886 d. May 1, 1966
same stone
Burt, Inez B. July 10, 1888 d. ?

Burt, Leslie b. 1890 d. 1966
same stone
Burt, Virginia J. no dates
Butcher, Johnie Adam b. May 12, 1898 d. Sept. 12, 1977
same stone m. Wed. Aug. 13, 1918
Butcher, Gladys b. July 19, 1899 d. Aug. 9, 1988

Butts, Jane b. Jan. 14, 1888 d. Dec. 22, 1966
same stone
Butts, R. A. (Jack) b. Jan. 2, 1887 d. Nov. 2, 1953

Butts, Mary M. b. March 22, 1865 d. Oct. 31, 1938
Mother
Callaway, Lillian Elizabeth b. March 26, 1883 d. Dec. 2, 1980

Callaway, William C. b. Sept. 1, 1900 d. Sept. 21, 1967

Cameron, Thomas E. (Guy) b. Oct. 10, 1886 d. Nov. 13, 1964
same stone married Aug. 7, 1943
Cameron, Frieda Dean b. Aug. 4, 1897 d. Oct. 4, 1962

Campbell, Cynthia C. b. Dec. 18, 1885 d. Sept. 15, 1914
W. O. W.

Cantrell, Joseph C. b. April 29, 1872 d. June 5, 1936
Father
same stone
Cantrell, Missouri E. b. Feb. 11, 1878 d. Oct. 14, 1937
Mother

Cantrell, Charlie H. b. Nov. 11, 1900 d. April 11, 1904
son of J. C. and M. E. Cantrell

Cantrell, Grover C. b. Nov. 25, 1902 d. June 10, 1980

Cantrell, Grace B. b. Oct. 18, 1908 d. Jan. 31, 1987

Carrico, H. G. b. March 11, 1854 d. Nov. 15, 1923
same stone
Carrico, Lavonia M. b. Feb. 4, 1862 d. Dec. 7, 1925

Casey, Ella, b. Dec. 21, 1879 d. Jan. 19, 1905

Cassell, Gary W. Sr. metal marker b. 1948 d. 1999
Cathey, Wiley Jackson Sr. b. Aug. 29, 1900
same stone m. Feb. 1, 1933
Cathey, Wilma Brooks b. Sept. 12, 1904 d. April 14, 1990

Cato, Katie M. b. Dec. 23, 1897 d. March 13, 1977

Cauble, J. L. b. March 25, 1843 d. Dec. 14, 1937
same stone
Cauble, Sarah Jane b. July 23, 1849 d. Sept. 8, 1909
wife of J.L. Cauble

Cauble, P. C. b. Oct. 21, 1863 d. Feb. 12, 1918
Father

Cauble, W. H. b. Nov. 24, 1867 d. Nov. 10, 1950
same stoneR Cauble, Fannie b. Oct. 8, 1873 d. Dec. 28, 1950

Cauble, D. S. b. July 22, 1879 d. Dec. 9, 1923

Cauble, Dora b. May 25, 1894 d. Jan. 5, 1898
daughter of J. L. and S. J. Cauble

Cauble, Olen b. Feb. 6, 1896 d. Oct. 30, 1896
son of W. H. and F. Cauble

Cauble, W. H. b. April 27, 1899 d. April 17, 1947
Son

Cauble, Clayton b. Feb. 7, 1913 d. May 15, 1973

Cauble, Ada Lee b. July 7, 1883 d. Feb. 14, 1982

Cauble, Fred C. (Buddy) b. April 14, 1893 d. March 3, 1952

Chapman, Oliver R. b. April 11, 1854 d. Feb. 14, 1935
same stone
Chapman, Martha Jane b. June 22, 1853 d. Nov. 15, 1923
same stone
Chapman, Leonadis B. b. Jan. 15, 1883 d. Aug. 14, 1952

Chappell, J. R. b. Jan. 8, 1869 d. Jan. 17, 1950

Chappell, Kate b. Aug. 2, 1874 d. Jan. 15, 1912
wife of J. R. Chappell

Chappell, J. R. b. Aug. 10, 1908 d. Aug. 27, 1908
son of J. R. and H. C. Chappell 17 days old

Chappell, Joe Thomas b. July 28, 1910 d. Jan. 13, 1911

Chappell, John Olin, b. Sept. 29, 1918 d. Nov. 15, 1970
TEXAS TEC 5 287 FA OBSRN BN WWII

Childers, Addie b. April 29, 1854 d. Dec. 7, 1938
Mother
same stone
Childers, J. H. b. April 2, 1841 d. Nov. 14, 1907
Father

Childers, Byron Edward b. Jan. 12, 1886 d. Aug. 22, 1974

Childers, Florence Lucille b. Aug. 19, 1906 d. Oct. 14, 1907
daughter of W. E. and Josie Childers

Childress, Byron Edward b. Jan. 12, 1881 d. Aug. 22, 1974

Childress, Flossie Baker b. May 23, 1896 d. Feb. 3, 1978

Chilton, Joseph D. d. April 27, 1941
TEXAS PVT 133 MGBN 36TH DIV WWII

Chism, G. A. b. April 10, 1870 d. July 30, 1899
W. O. W.

Clark, Butcher no dates

Clark Hannah b. July 4, 1811 d. July 4, 1890

Clark, Chas A. b. Oct. 20, 1846 d. Jan. 17, 1928

Clark, Eliza Ann, b. Oct. 30, 1856 d. March 20, 1896

Cleghorn, Amanda McIlroy b. Oct. 3, 1867 d. May 15, 1944

Cleghorn, J. R. b. Sept. 25, 1853 d. July 24, 1947
Father

Collier, Milt J. b. June 1, 1848 d. Jan.31, 1936

Collier, Fannie E. b. Oct. 13, 1850 d. Aug. 10, 1894

Collier, Mollie B. b. Feb. 11, 1861 d. Dec. 14, 1922

Collier, Edgar b. Aug. 28, 1877 d. no date

Collier, Nathan D. b. Dec. 12, 1879 d. no date

Collier, Lillie Mae b. May 20, 1886 d. March 9, 1929

Collier, Abba b. July 27, 1888 d. Sept. 13, 1888

Collier, Bascom b. Dec. 17, 1889 d. Sept. 13, 1891

Collier, Oscar b. Dec. 17, 1889 d. Dec. 8, 1903

Collier, Ida E. b. Sept. 28, 1893 d. Oct. 24, 1894

Collier, Ruby Mae b. June 26, 1903 d. June 27, 1903

Collier, Bryan b. Oct. 23, 1904 d. July 23, 1915

Collier, Ava Lon b. May 6, 1914 d. Sept. 27, 1923

Colville, M. D. b. Dec, 9, 1830 d. Sept. 1912
same stone
Colville, Matilda b. Nov. 8, 1836 d. July 2, 1927

Colville, James August b. Nov. 2, 1855 d. Feb. 2, 1944
same stone
Colville, Mattie Walker b. June 9, 1861 d. March 18, 1944

Colville, Pryor Duncan b. 1865 d. 1951

Colville, Alex b. 1867 d. 1944

Colville, James b. April 13, 1887 d. July 6, 1912

Colville, Joe b. Aug. 13, 1887 d. Feb. 10, 1967

Conaway, J. C. died 1898 age 51

Conaway, Marion Lynn b. June 14, 1898 d. May 30, 1899
son of W. J. and Lelia Conaway

Cook, G. C. b. Dec. 20, 1824 d. Sept. 12, 1905

Cook, John H. b. July 26, 1876 d. June 1960
same stone married Feb. 12, 1903

Cook, Roxie Dean b. July 23, 1885 d. April 24, 1947

Cox, William Oliver Wilson b. 1916 d. 1939
same stone m. July 7, 1935 Cox, Fannie Lorene Jones
Our children Dollie Ann, David Walter, Delton Lee

Coyell, Mozelle Dovie Hammer b. Jan. 4, 1901 d. Aug. 22, 1974

Crane, Syble B. b. Sept. 2, 1906 d. June 16, 1941

Crosby, Shirley b. 1934 d. 1998

Crow, Mary A. b. Jan. 9, 1893 d. April 9, 1982

Crow, Son b. Nov. 20, 1916 d. Dec. 13, 1916
Infant son of H. D. Crow

Crowell, Tommie C. b. July 25, 1862 d. March 24, 1932
same stone
Crowell, Andrew C. b. Nov. 16, 1847 d. Jan. 15, 1929

Crowell, Mumphred H. b. March 7, 1850 d. Oct. 4, 1939
Father
same stone
Crowell, Charity F. b. Nov. 16, 1857 d. June 4, 1942
Mother

Crowell, Oscar H. b. Feb. 10, 1885 d. Aug. 19, 1958

Cunningham, M. Kanzada b. July 6, 1866 d. Feb. 6, 1908

Cunningham, Marvin S. b. Nov. 3, 1892 d. March 19, 1973
same stone m. Sept. 19, 1927
Cunningham,Mary Ann b. Nov. 5, 1909 d. Aug. 8, 1978

Curtis, William T. b. March 29, 1866 d. March 14, 1929

Curtis, John C. b. Nov. 1, 1873 d. Sept. 28, 1903
Dandridge, Nat b. Sept. 7, 1881 d. Oct. 1, 1929
Father

Dandridge, Myrtiss R. b. Dec. 6, 1891 d. Nov. 22, 1962
Mother

Dandridge, Earl W. b. Oct. 14, 1923 d. June 8, 1924

Daniel, Barbara M. no dates

Daniel, Seral E. b. March 19, 1870 d. 1912

Daniel, J. C. b. Nov. 20, 1870 d. July 5, 1931

Daniel, Sherman b. Nov. 26, 1911 d. Jan. 14, 1932

Davis, Lee H. b. 1874 d. 1944
Mason

Davis, Ninnie b. 1877 d. 1962

Davis, Cliffie Mae b. Dec. 3, 1914 d. Feb. 8, 1997
same stone
Davis, Tom I. b. Nov.21, 1896 d. Feb. 13, 1973
same stone
Davis, Frida L. b. Nov. 16, 1905 d. July 16, 1933

Davis, Gladys b. June 15, 1897 d. Nov. 15, 1921
Wife of Reps Davis and mother of Hershall Davis

Davis, Son b. Dec. 12, 1901 d. Feb. 17, 1902
Infant son of L. H. and Ninnie Davis

Davis, Bettie Williams b. Dec. 29, 1902 d. June 19, 1939

Dean, Thomas J. b. 1847 d. 1932
same stone
Dean, Georgia A. b. 1864 d. 1956

Dean, Sam A. d. Nov. 20, 1944

Dean, Lydia McClure b. Dec. 15, 1902 d. June 7, 1995
Deen, S. C. b. Jan. 5, 1823 d. Oct. 31, 1898
mason
same stone
Deen, Mary R. b. Nov. 24, 1831 d. Nov. 29, 1888
Rebekka
same stone
Deen, William b. July 21, 1866 d. Nov. 20, 1880

Dickerson, Kenneth b. 1933 d. 1934
Our Baby

Dickert, Sallie A. b. June 29, 1857 d. Sept. 9, 1895
wife of T. F. Dickert

Diggs, Daniel b. April 12, 1868 d. March 1, 1960

Diggs, Donnie Lee b. June 22, 1874 d. March 3, 1942

Diggs, Richard Morgan b. July 4, 1872 d. Oct. 14, 1950
same stone
Diggs, Rhoda C. b. April 11, 1879 d. Dec. 11, 1960

Diggs, Albert C. (Pete) b. April 13, 1909 d. Feb. 21, 1985
same stone ,. Feb. 14, 1936
Diggs, Eunice Lee b. Feb. 20, 1911 d. Nov. 5, 1978

Diggs, Robert C. b. June 2, 1937 d. Dec. 30, 1995
same stone m. May 16, 1988
Diggs, Margie A.

Downing, Florence b. June 29, 1871 d. April 3, 1890
daughter of J. J. and E. F. Downing

Driver, Elizabeth b. Aug. 31, 1856 d. June 5, 1901
wife of Thomas A. Driver

Driver, Anderson W. b. June 29, 1871 d. Jan. 28, 1901

Duff, W. S. b. Aug. 8, 1863 d. Jan. 26, 1911
same stone
Duff, Ala E. b. May 8, 1866 d. Feb. 17, 1900

Duff, Walter S. b. Jan. 19, 1894 d. Jan. 8, 1914

Duke, Mattie Maye b. April 9, 1905 d. Sept. 19, 1905
daughter of D. T. and A. D. Duke

Dugger, Lottie McIlroy b. July 29, 1914 d. April 17, 1993
Eldridge, Anna May b. Jan. 13, 1903 d. Aug. 14, 1903
daughter of F. and Zada Eldridge

Eldridge, John E. b. Aug. 2, 1897 d. Jan. 10, 1898
son of F. and Zada EldridgeR
Eldridge, Zada b. March 7, 1876 d. Dec. 28, 1906
wife of Fenner Eldridge

Elkins, C. L. b. May 18, 1882 d. Feb. 15, 1893
same stone
Elkins, J. A. b. Oct. 17, 1878 d. Nov. 7, 1880
son of Wm. and Katie Elkins

Elkins, Katie V. b. Feb. 20, 1893 d. May 24, 1893

England, Daniel b. April 7, 1846 d. July 14, 1909

England, Della Aug. 11, 1880 d. July 30, 1899
wife of N. O. England

England, N. O. b. Feb. 8, 1877 d. Sept. 9. 1902
W. O. W.

England, Carl b. Jan. 11, 1899 d. Sept. 18, 1899
son of N. O. and Bettie England

England, Lucinda b. June 14, 1846 d. Jan. 6, 1897
wife of D. England

Epting, Adam Brazos b. Feb. 8, 1877 d. Dec. 9, 1902
same stone
Epting, Eliza Catherine b. Nov. 7, 1887 d. May 21, 1964

Epting, Beech b. April 22, 1879 d. Sept. 26, 1962

Epting, Nina l. b. Sept. 12, 1884 d. March 9, 1958

Epting, Dessie D. b. Nov. 12, 1906 d. Nov. 26, 1986
daughter of Beech and Nina Epting

Epting, John E. b. March 11, 1877 d. july 25, 1886
son of T. L. and S. E. Epting

Epting, T. L. b. April 26, 1845 d. Feb. 18, 1930
CSA CO M 20 SOUTH CAROLINA INF

Epting, Sarah Elizabeth b. Nov. 23, 1847 d. Dec. 3, 1887
wife of T. L. Epting

Epting, Sarah C. b. Dec. 22, 1883 d. Jan. 3, 1887
daughter of T. L. and S. E. Epting

Epting, son b. and d. Jan. 24, 1891
infant son of T. L. and Gussie Epting

Epting, Thomas Edward b. July 13, 1905 d. Feb. 25, 1948

Erwin, Mary I. 27 years and 9 months d. Sept. 30, 1882
wife of D. B. Erwin

Estes, Wills H. b. April 25, 1904 d. Jan. 21, 1905
son of J. H. and Cinda Estes
Farris, Malcolm Asbell b. 1904 d. 2000

Farquhar, Nellie metal marker b. 1912 d. 1996

Faglie, Mary Allie b. Oct. 4, 1887 d. Jan. 29, 1992

Faglie, Eddy F. b. Oct. 2, 1887 d. July 19, 1944

Faglie, W. D. b. Dec. 26, 1911 d. April 7, 1981

Faglie, Curtis b. April 27, 1918 d. July 19, 1944
TEXAS PFC 13 INF 8 DIV WWII

Faubion, Hilda M. b. Feb. 28, 1912 d. Feb. 19, 2000

Fennel, James W. (Bill) b. June 9, 1909 d. March 25, 1984
Father
same stone
Fennel, Virgie M. Stacey b. Aug. 15, 1901 d. Jan. 3, 1989
Mother

Fenter, Bob b. Nov. 7, 1883 d. June 17, 1942

Fenter, Ruby C. b. Sept. 16, 1897 d. June 18, 1973

Fenter, Jack Beene b. Jan. 16, 1926 d. Jan. 19, 1926

Finley no other marks

Finley, Ruth b. 1892 d. 1980
same stone
Finley, Emmett b. 1883 d. 1940

Forrest, Marion A. b. Oct. 11, 1869 d. Nov. 27, 1945
Father
same stone m. Nov. 8, 1896
Forrest, Callie b. April 12, 1876 d. July 24, 1966
Mother

Forrest, Floyd b. Aug. 17, 1899 d. Feb. 11, 1937

Forrest, Ola b. April 3, 1904 d. Aug. 13, 1938

Forrest, Anna b. July 22, 1915 d. Nov. 9, 1971

Forrest, Weldon b. June 24, 1912 d. March 19, 1973
TEXAS PFC ARMY AIR FORCE WWII

Foster, Elijah b. April 18, 1848 d. Dec. 26, 1944

Foster, Martha C. b. April 15, 1846 d. Feb. 19, 1931

Foster, Thomas G. b. Jan. 31, 1885 d. Nov. 4, 1941
same stone W.O.W.
Foster, Essie b. April 2, 1890 d. March 11, 1956

Foster, Beunah L. b. Oct. 13, 1899 d. Sept. 6, 1900
daughter of W. I. and C. C. Foster

Foster, Infant 1912 Infant of T. G. and E. Foster

Foster, Thomas Elmer b. Aug. 17, 1913 d. April 23, 1993

Foster, S. W. b. Sept. 28, 1849 d. Oct. 3, 1889
husband of S. E. Foster
Gardner, Dinkie L. b. Jan. 22, 1896 d. March 22, 1967
same stone m. July 13, 1916
Gardner, Roy M. Nov. 21, 1894 d. Dec. 10, 1967

George, Billy age 56 years

George, Jack aged 74 years

George, Mary age 46 years

Gibson, Chris b. Dec. 12, 1878 d. Dec. 27, 1965
same stone
Gibson, India b. April 1, 1884 d. Sept. 13, 1964

Gifford, Robert M. b. Nov. 3, 1893 d. Oct. 13, 1918

Gilmore, C. W. not dates
CO D FOURTH TEXAS CA 2 CSA

Gilmore, Nancy Adah b. Nov. 3, 1858 d. Jan. 18, 1912
wife of C. W. Gilmore

Gilmore, Mrs. age 74 years
Gilmore, Solon Arthur b July 4, 1897 d Sept 15, 1971 (info by Bobby Andrews)
Gilmore, Essie Marlar b Sept 9, 1903 d Dec 30, 1987 (info by Bobby Andrews)

Gilmore, Upton b. Feb. 14, 1882 d. Jan. 2, 1939
son of C. W. and Nancy Adah Gilmore

Gilmore, Jessie A. b. Jan. 13, 1895 d. Aug. 26, 1977
SGT US ARMY WWII

Gillum, Sallie b. Feb. 13, 1829 d. April 29, 1898
same stone
Gillum, David b. April 20, 1929 d. April 29, 1907

Glass, Burlie b. Aug. 1, 1884 d. Oct. 3, 1884
son of J. T. and A. A. Glass

Glass, Johnny D. b. Dec. 22, 1919 d. Nov. 29, 1993
same stone m. Sept. 13, 1942
Glass, Dorothy M. b. Oct. 28, 1921 d. May 30, 1988

Goff, Walter Glenn b. Feb. 2, 1914 d. Oct. 8, 1993
same stone m. Nov. 23, 1935
Goff, Ruth Williams b. Dec. 29, 1916 d. July 28, 1992
same stone
Goff, Johnnie Glenn b. March 7, 1937 d. Feb. 2, 1939

Gordon, Flora M. b. May 27, 1857 d. Dec. 10, 1935

Gordon, Carrie Louise b. June 16, 1885 d. July 1, 1962
same stone m. Dec. 2, 1903
Gordon, John Daniel b. March 3, 1880 d. June 10, 1947

Grant, J. H. b. May 16, 1857 d. July 5, 1926
same stone
Grant, L. M. b. June 14, 1861 d. Dec. 13, 1956

Grant, James I. b. April 4, 1859 d. Nov. 5, 1933
Father

Grant, Annie L. b. June 7, 1868 d. Feb. 16, 1949

Grant, Ewel b. Feb. 18, 1901 d. Sept. 29, 1906
son of J. H. and L. M. Grant

Grant, Gladys b. Sept. 17, 1906 b. March 31, 1936
Mother

Grant, Perry D. b. March 30, 1908 d. Oct. 13, 1984

Grant, Geneva (Diggs) b. Feb. 26, 1915 d. May 29, 1992

Gray, Lovis b. Aug. 9, 1873 d. Nov. 29, 1934

Green, Dudley S. b. Sept. 3, 1913 d. May 10, 1972
Mason

Green, Annie Laura b. March 29, 1893 d. April 6, 1990

Gregory, Edward P. b. Nov. 11, 1898 d. Jan. 26, 1973
same stone
Gregory, Bertha May b. Aug. 13, 1901 d. May 12, 1997

Greenhill, K. M. b. July 21, 1880 d. Oct. 14, 1959
Papa
same stone m. Dec. 30, 1900
Greenhill, Fannie Jane b. May 25, 1884 d. Aug. 19, 1965
Mama
6
Greenhill, Mary M. b. March 4, 1902 d. Jan. 19, 1919

Greenhill, W. W. b. Oct. 23, 1903 d. Oct. 30, 1903

Greenhill, Charles Edward b. Aug. 10, 1908 d. Dec. 23, 1999
same stone m. Wed. Dec. 10, 1932
Greenhill, Lula Vivian

Greenhill, Fred Kenneth b. Sept. 8, 1912 d. Feb. 19, 1918

Griffin, William David Family
Carmille b. 1907 d. 1922
same stone
W. D. b. 1870 d. 1944
same stone
Cora b. 1876 d. 1957

Griffin, Warner W. b. Nov. 27, 1885 d. Sept. 7, 1905

Griffin, Vincent R. b. Dec. 7, 1898 d. April 9, 1905
son of J. G. and A. E. Griffin

Griffith, Mattie M. b. Nov. 22, 1865 d. Jan. 2, 1906
wife of R. D. Griffith
Griffith, Emmett L. b. Aug. 30, 1904 d. Aug. 8, 1905
son of R. L. and M. M. Griffith

Griffith, Lena Belle b. Dec. 16, 1907 d. March 25, 1909
daughter of R. L. and Jennie Griffith

Guthrie, W. N. b. 1850 d. 1886

Guy, Pearl M. b. May 15, 1889 d. Dec. 5, 1975
same stone
Guy, Albert D. b. Jan. 9, 1882 d. Feb. 22, 1943

Guy, Baby D. C. b. and d. July 31, 1939
Halford, R. L. b. July 20, 1893 d. March 18, 1972
same stone
Halford, Zelda Mae b. July 27, 1897 d. Jan. 21, 1961

Halford, Juanita Breeding b. 1896 d. no date

Halford, William Hollis b. Feb. 18, 1924 d. Jan. 28, 1945

Hammell, Bobbie metal marker b. March 19, 1940 d. March 20, 1993
age 53

Hammer, E. B. b. Jan. 28, 1810 d. April 17, 1881

Hammer, Mark D. b. 1851 d. 1920
same stone
Hammer, Georgia L. b. 1851 d. 1915

Hammer, David C. b. Aug. 10, 1854 d. Oct. 11, 1924
Mason
same stone
Hammer, Minerva b. Nov. 28, 1857 d. Nov. 28, 1935

Hammer, William b. Nov. 10, 1874 d. Aug. 6, 1937

Hammer, Maibelle b. March 15, 1881 d. June 5, 1937

Hammer, Arthur O. b. Dec. 1, 1885 d. April 2, 1965
same stone
Hammer, Lottie Ann b. March 10, 1886 d. June 16, 1935

Hammer, Marcella C. b. Aug. 9, 1876 d. Oct. 30, 1877
son of D. C. and A. M. Hammer

Hammer, Erma G. Buddie b. Oct. 14, 1881 d. Oct. 13, 1921
same stone
Hammer, Susie E. b. Oct. 2, 1884 d. July 29, 1973

Hammer, Josie Netix b. July 22, 1890 d. May 20, 1974

Hammer, Josie Netie b. July 22, 1893 d. May 20, 1974
daughter of David and Minerva Hammer

Hammer, Curly b. July 29, 1895 d. July 23, 1904

Hammer, Ruby b. March 2, 1901 d. April 9, 1901

Hammer, Eugene b. Oct. 21, 1901 d. Aug. 28, 1903

Hammer, Jessie Mark b. April 8, 1904 d. Oct. 26, 1904

Hammer, David Baltos b. Aug. 3, 1904 d. Nov. 11, 1926

Hammer, Georgia b. July 18, 1906 d. July 18, 1909
daughter of A. C. and L. A. Hammer

Hammer, Ina Merel b. Jan. 9, 1914, d. Nov. 5, 1916

Harmon, John P. b. 1851 d. 1919

Harmon, Alvaretta b. 1862 d. 1948

Harmon, Rufus b. 1882 d. 1961

Harmon, Rufus b. April 4, 1882 d. Feb. 13, 1964

Harmon, Maybelle b. 1884 d. 1909

Harmon, Annie b. 1886 d. 1964

Harmon, Thomas E. 1888 d. 1918

Harmon, Emily b. 1904 d. 1904

Harmon, Norah b. 1892 d. 1912
same stone
Harmon, Infant son

Hardison, Ibbie b. March 15, 1878 d. April 24, 1952

Hardison, John L. b. March 19, 1868 d. July 14, 1930

Hardwick, J. H. b. Dec. 10, 1863 d. Dec. 10, 1907

Hardwick, Mary E. b. Dec. 6, 1875 d. April 9, 1906

Harper, J. D. b. May 31, 1914 d. Dec. 3, 1971

Harper, Jimmie Ray b. March 24, 1934 d. May 6, 1935
son of Mr. and Mrs. J. D. Harper

Harris, Archie B. b. Feb. 12, 1849 d. Aug. 4, 1926
same stone m. Dec. 26, 1878
Harris, Mattie b. June 22, 1860 d. Jan. 21, 1946

Harris, Mattie b. Oct. 28, 1885 d. Aug. 20, 1886
same stone
Harris, Myrtle b. Oct. 14, 1881 d. Aug. 1882

Harris, Stella b. Jan. 15, 1887 d. March 30, 1901

Harris, Jessie M. b. Oct. 19, 1884 d. Jan. 29, 1971

Harris, Edgar b. Feb. 12, 1880 d. March 14, 1939

Harris, Roie M. b. June 22, 1884 d. Dec. 8, 1970
same stone m. July 9, 1905
Harris, Jessie M. b. Oct. 19, 1884 d. Jan. 29, 1971

Harris, Lem b. March 7, 1900 d. March 20, 1971

Harris, Ellen b. July 16, 1878 d. May 27, 1905
wife of J. H. Harris

Harris, Delbert Carl b. Nov. 15, 1906 d. March 8, 1963

Harris, R. B. b. 1848 d. 1915

Harrison, Brice Martin b. May 30, 1867 d. Sept. 20, 1949
same stone
Harrison, Rosetta E. b. Aug. 28, 1872 d. Jan. 1, 1970

Harrison, D. G. b. Sept. 20, 1839 d. Oct. 3, 1914

Harrison, Martha A. b. Feb. 3, 1938 d. Jan. 20, 1914

Harrison, Miss Mary Alice Lee b. May 10, 1874 d. Nov. 5, 1940

Harrison, Miss Anner D. b. June 6, 1861 d. Jan. 12, 1940

Hartis, William V. b. Nov. 16, 1873 d. May 6, 1950

Hartis, Myrtle Irene b. Aug. 31, 1881 d. May 6, 1950
wife of W. V. Hartis

Hartis, E. H. Buster b. June 7, 1908 d. Dec. 15, 1979
PFC US ARMY WWII

Hartis, Mary Evelyn b. Sept. 13, 1911 d. Dec. 20, 1989

Hatfield, Minnie Ola b. Nov. 15, 1889 d. 1892
daughter of J. J. and L. A. Hatfield

Hawk, James Bedford b. April 6, 1910 d. Nov. 28, 1993
MM 1 US NAVY WWII
same stone m. Oct. 11, 1931
Hawk, Lovell McKenzie

Hawkins, Julia A. b. June 23, 1830 d. Sept. 23, 1903

Hawkins, Ellen (nee Mosley) b. March 18, 1861 d. May 29, 1909

Hawkins, Ovid b. Nov. 21, 1886 d. July 22, 1908
son of B. H. and M. S. Hawkins

Hawkins, Benjamin b. April 12, 1909 d. Sept. 4, 1909
same stone
Hawkins, Infant Son b. Jan. 14, 1904 d. Jan. 23, 1904
sons of B. H. and M. S. Hawkins
Hawkins, B. H. b. April 24, 1862 d. March 30, 1090

Hawkins, Mary Malissa b. Oct. 13, 1894 d. Nov. 21, 1899

Hawthorne, Mary Lois Crow b. March 30, 1922 d. March 18, 1995

Harvey, Reuben B. b. Sept. 26, 1882 d. Sept. 18, 1982
PVT US ARMY 13 CALVARY
same stone m. X-mas Day 1910
Harvey, Myrtle Burleson b. Nov. 24, 1891 d. Aug. 3, 1985

Henderson, Mary Malcy b. Feb. 3, 1793 d. Feb. 9, 1880 (info by David Henderson)
Henderson, Roxie d. Aug. 8, 1941
same stone
Legg, Bula E. b. March 25, 1881 d. Jan. 17, 1967

Helms, A. L. b. July 1, 1857 d. Oct. 15, 1924
same stone
Helms, Mary Lou b. Aug. 5, 1858 d. Jan. 30, 1939

Helton, Peyton b. Jan. 13, 1883 d. Aug. 9, 1956
Father
same stone
Helton, Roxie b. Jan. 15, 1886 d. April 2, 1975
Mother

Helton, Fannie Mae b. Sept. 28, 1909 d. Jan. 25, 1981
same stone
Mikeska, Lena H. b. April 26, 1912 d. Jan. 23, 1990

Helton, Blanche b. Feb. 16, 1903 d. March 9, 1903
daughter of G. B. and L. L. Helton

Helton, Fannie b. April 5, 1872 d. Dec. 2, 1903
wife of W. L. Helton

Helton, George B. b. 1868 d. 1943

Helton, Lida L. b. 1875 d. 1961

Helton, G. F. b. Jan. 2, 1900 d. Jan. 25, 1900
son of G. B. and L. L. Helton

Helton, G. B. b. 1904 d. 1909

Henderson, William R. b. Aug. 20, 1873 d. Feb. 20, 1896
son of W. R. and E. A. Henderson

Henderson, Angie b. Aug. 8, 1887 d. Oct. 10, 1887
daughter of W. R. and M. M. Henderson

Henderson, Edith b. 1904 d. Feb. 21, 1905
daughter of E. W. and M. M. Henderson

Henderson, Ellis Ione b. June 1, 1909 d. Nov. 23, 1912
daughter of E. W. and M. M. Henderson

Henderson, Infant son b. Feb. 23, 1908 d. Feb. 24, 1908
Infant son of E. W. and M. M. Henderson

Henderson, Maggie M. b. Dec. 21, 1858 d. Aug. 15, 1887
wife of W. R. Henderson

Herod, James Lee b. Feb. 26, 1867 d. April 28, 1955

Herron, Ida b. Feb. 28, 1881 d. March 23, 1935
wife of A. F. Herod

Herron, Albert Finis (Bud) b. July 17, 1879 d. Feb. 25, 1957

Herron, Ruth E. b. Jan. 20, 1904 d. July 22, 1999
same stone
Herron, Abb F. b. April 9, 1901 d. Feb. 9, 1958

Hill, Dr. W. R. b. April 22, 1846 d. Jan. 28, 1919
Father

Hill, Mrs. A. E. b. July 9, 1855 d. July 22, 1923
Mother

Hill, Melissa b. April 24, 1881 d. Nov. 6, 1901
wife of Lester Hill

Hill, John D. b. 1849 d. 1925

Hill, Emma B. b. July 21, 1874 d. March 6, 1907
wife of W. T. Hill

Hill, G. R. b. Aug. 19, 1891 d. Oct. 26, 1900
son of G. D. and G. E. Hill

Hite, Lucille b. Dec. 22, 1918 d. Jan. 12, 1927

Hite, Gerald Lafayette b. June 3, 1923 d. Dec. 16, 1927
son of Mr. and Mrs. J. C. Hite

Hite, George L. b. April 24, 1874 d. July 21, 1939
Our darling husband
same stone
Hite, Nora C. b. March 20, 1880 d. Jan. 18, 1927
same stone
Hite, Winnie D. b. May 23, 1891 d. no date

Hopson, William N.
same stone m. July 17, 1958
Hopson, Ruby M. Estes b. July 9, 1940 d. Nov. 2, 1973

Hornsby, Clara Jane b. July 11, 1877 d. Jan. 6, 1929

Hornsby, Namon Elder b. June 23, 1919 d. Nov. 2, 1973
PFC US ARMY WWII

Hornsby, Infant son 1925R Infant son of Mr. and Mrs. Pat Hornsby

Howard, B. no dates

Howell, C. W. b. Dec. 21, 1852 d. Feb. 15. 1889

Hudson, Albert Sidney b. Feb. 16, 1883 d. Oct. 24, 1972

Hudson, Amanda E. b. Jan. 24, 1843 d. June 13, 1912
wife of J. R. Hudson
same stone
Hudson, J. R. b. Jan. 20, 1836 d. Sept. 10, 1902

Hudson, Winnie b. 1899 d. 1953
wife of Dudley Hudson

Hudson, Simon B. b. 1862 d. 1921
same stone
Hudson, Sue A. b. 1856 d. 1942

Hudson, Jim C. b. 1890 d. 1959
same stone
Hudson, Georgia A. b. 1894 d. 1948

Hudson, Buford, b. July 27, 1911 d. June 4, 1974
Mason

Hudson, Helen b. Dec. 17, 1882 d. July 23, 1921

Hudson, Cul b. 1906 d. 1936
Mason

Hudson, David Arthur b. Jan. 11, 1971 d. Dec. 1, 1943

Hudson, Dudley b. 1880 d. 1960
Mason

Hudson, Mittie b. 1880 d. 1917
wife of Dudley Rebeka
On the back of the stone:
George, Bernice, Cul, Blanch, Buford, Bonnie, Bryan

Hudson, Infant son no dates
Infant son of Nettie D. Hudson

Hudson, Nettie D. b. Sept. 27, 1881 d. Aug. 11, 1925

Huffstutler, Baby Ellie b. 1905 d. 1908

Hunter, Maude L. b. July 27, 1891 d. June 25, 1984
same stone
Hunter, Otis M. b. July 2, 1893 d. Aug. 9, 1975

Hutson, Ivan H. b. 1912 d. 1973

Hunt, George H. b. May 15, 1900 d. Sept. 12, 1928

Hunt, Dr. John D. b. Aug. 8, 1867 d. Oct. 25, 1948
same stone
Hunt, Sarah L. b. Dec. 27, 1873 d. Aug. 24, 1930
Ihlenfeld, Charlie b. July 14, 1872 d. Sept. 16, 1927

Ihlenfeld, Ethel b. May 23, 1890 d. Dec. 11, 1966
wife of Charlie
Ihlenfeldt, Helena b. July 14, 1868 d. Dec. 11, 1966

Ihlenfeldt, Helen W. b. June 24, 1905 d. Oct. 13, 1942

Ihlenfeldt, Herman b. April 20, 1870 d. June 11, 1930

Ihlenfeldt, Wm Howard b. Oct. 5, 1932 d. Oct. 21, 1932

Inmon, Florence b. Feb. 23, 1901 d. June 15, 1901
daughter of W. J. and C. C. Inmon

Inmon, Martha V. b. March 4, 1870 d. March 3, 1958

Inmon, Johnie H. b. Jan. 25, 1905 d. Jan. 10, 1910
son of W. J. and C. C. Inmon

Inmon, W. J. b. Jan. 1, 1868 d. 1943

Inmon, Cynthia C. b. 1848 d. July 13, 1912
wife of W. J. Inmon

Inmon, Infant son 1910
Infant son of W. J. and C. C. Inmon

Inmon, Frank Wiley b. April 2, 1893 d. July 2, 1978
same stone
Inmon, Sybil Burleson b. April 6, 1895 d. March 21, 1931

Ivy, Sallie A. b. Aug. 25, 1861 d. 1886
wife of J. B. Ivy
Jackson, Henry b. July 31, 1898 d. Dec. 28, 1938

Jackson, Pearl b. March 20, 1879 d. Aug. 22, 1949

James, J. C. b. Oct. 17, 1878 d. Jan. 14, 1914
age 37 years

James, Lula H. b. Jan. 15, 1873 d. Feb. 9, 1925

Janda, Frances b. Aug. 22, 1934 d. Oct. 15, 2000
wife of Louis Janda

Jennings, Grace Judd b. Feb. 15, 1878 d. May 21, 1964

Jennings, J. A. b. March 7, 1861 d. March 12, 1897
wife of W. H. Jennings

Jennings, William H. b. Nov. 7, 1861 d. July 1, 1942

Jobe, Eudora F. b. Nov. 25, 1869 d. Oct. 28, 1923
Mother
same stone
Jobe, James E. b. Sept. 26, 1866 d. no date
Father

Johnson, Mattie E. b. May 5, 1865 d. Jan. 25, 1919
same stone
Johnson, J. Walter b. April 8, 1862 d. Feb. 25, 1952
on the back of stone:
These our are children: Lonnie, Grace, Cooper, Virgil, Jimma,
Ruby and Johnie

Johnson, Perry b. May 8, 1859 d. Nov. 1, 1947
Father Mason
same stone
Johnson, Hannah b. March 28, 1864 d. Dec. 17, 1944
Mother
On the back of the stone: Our children: Lillian, Edgar, Ethel, Gladys, Undine, Sylvester,
Vasco, and Joe

Johnson, Dela b. Oct. 24, 1898 d. Sept. 30, 1923
wife of Joe and mother to Prather

Johnson, Edgar Thomas b. May 13, 1895 d. May 7, 1896

Johnson, Ellen Undine b. Jan. 28, 1902 d. May 27, 1905
daughter of T. P. and J. H. Johnson

Johnson, J. B. b. Sept. 16, 1851 d. Oct. 1, 1933
Mason

Johnson, John F. b. Sept. 31, 1877 d. Nov. 1, 1917

Johnson, Lonnie Lee b. July 28, 1884 d. Sept. 3, 1885
son of J. W. and M. E. Johnson

Johnson, M. E. b. Oct. 6, 1851 d. Jan. 30, 1894
wife of J. B. Johnson Rebeka

Johnson, Nancy b. May 5, 1821 d. May 22, 1916
wife of T. B. Johnson

Johnson, Thos R. b. May 13, 1825 d. March 16, 1906

Johnson, W. C. b. Sept. 2, 1889 d. June 11, 1890
son of T. P. and H. J. Johnson

Johnson, Clarence b. 1886 d. 1964

Johnson, Dora b. Feb. 14, 1869 d. Jan. 2, 1951

Johnson, Tommie b. Jan. 29, 1907 d. June 24, 1912

Johnson, Margaret b. 1888 d. 1975

Johnson, Raney b. Oct. 15, 1867 d. Oct. 25, 1943

Jones, Adolphus b. Sept. 12, 1857 d. Oct. 12, 1899

Jones, Amanda b. Jan. 21, 1867 d. March 20, 1964
wife of B. W. Jones

Jones, Hazel Tinker b. April 2, 1898 d. Oct. 17, 1899
daughter of Adolphus and Anna Jones

Jones, Gordon b. June 27, 1877 d. March 28, 1898
son of S. T. and T. L. Jones

Jones, Robert David b. May 13, 1892 d. Aug. 6, 1893
son of A. H. and Anna Jones

Jones, Thomas W. b. Nv. 15, 1883 d. Feb. 1, 1885
son of T. W. and N. A. Jones

Jordon, Wiley W. b. Feb. 12, 1889 d. Aug. 9, 1948
same stone
Jordon, Nona A. b. Sept. 13, 1892 d. Sept. 16, 1939

Ju?laug, Tianna Edwards (metal marker) 1983

Julian, Pearl b. July 19, 1883 d. June 3, 1927
same stone
Julian, Joseph b. Oct. 11, 1879 d. Sept. 18, 1938

Julian, Jewel Phillis b. Feb. 6, 1901 d. July 27, 1902
daughter of J. P. and A. P. Julian
Kanzada, M b. July 6, 1866 d. Feb. 6, 1908

Kendrick, James Olanda Jr. b. Feb. 4, 1896 d. Nov. 20, 1961

Kendrick, Wilburn Aubrey b. May 8, 1909 d. Aug. 21, 1949

Kendrick, Mildred C. b. March 27, 1913 d. Oct. 4, 1987

Kendrick, James O (Bud) b. 1866 d. 1942
same stone
Kendrick, Geneva A. b. 1874 d. 1957

Kendrick, Carl C. b. April 6, 1900 d. June 28, 1991

Kendrick, Era May b. Dec. 2, 1891 d. Jan. 6, 1919
m. Nov. 21, 1915 Vernon Kendrick

Kendrick, Charles C. b. Nov. 20, 1859 d. Feb. 15, 1942

Kendrick, Charles Pierce b. Oct. 8, 1901 d. Jan. 9, 1904
son of C. C. and J. H. Kendrick

Kendrick, Julia Hattie b. 1879 d. 1962

Kendrick, Emma E. b. Aug. 10, 1866 d. March 6, 1893

Kendrick, Ella b. March 27, 1873 d. Oct. 9, 1897

Kendrick, Isham W. b. Sept. 11, 1860 d. Aug. 9, 1916

Kendrick, John D. b. Nov. 24, 1843 d. Oct. 23 1918
same stone
Kendrick, Mrs. L. E. b. Nov. 19, 1853 d. March 4, 1932

Kendrick, Johnnie F. b. March 2, 1881 d. Oct. 12, 1883
son of I. and E. Kendrick
same stone
Kendrick, Infant daughter Sept. 11, 1899
Daughter of I. and E. Kendrick

Kendrick, Mary Ellen Foster b. Nov. 3, 1863 d. Nov. 13, 1921

Kendrick, Mattie Guest b. June 10, 1876 d. March 8, 1939

Kendrick, Son b. and d. Nov. 23, 1912
Infant son of J. D. and L. E. Kendrick

Kendrick, Mollie E. b. June 8, 185? d. Sept. ?, 1948

Kendrick, Willis d. April 1, 1949 age 3 months and 10 days
son of J. W. and Mattie Kendrick

Kendrick, Willie H. b. Feb. 10, 1888 d. Feb. 20, 1894
son of J. D. and L. E. Kendrick

Kendrick, William F. b. Oct. 29, 1886 d. Oct. 12, 1889
son of I. E. and E. Kendrick

Kendrick, Winniw May b. 1907 d. 1933

Kennedy, Jessie b. Jan. 24, 1887 d. May 25, 1980
same stone m. Jan. 7, 1906
Kennedy, Luther M. b. July 1, 1884 d. Feb. 30, 1941
Kennedy, Mary Frances Spruell b. Feb. 1, 1892 d. July 29, 1976

Kennedy, Sallie Jean Vanderford
same stone
Kennedy, Tarlton T. W. b. April 2, 1908 d. Feb. 14, 1993

Kennedy, L. Neil b. Nov. 29, 1909 d. Oct. 14, 1995
same stone m. Wed. June 17, 1953
Kennedy, Nettie V. b. June 14, 1910 d. July 28, 1992

Kennedy, Luther Marvin b. 1884 d. 1914

King, Jordan (metal marker) b. 1997 d. 1998

King, John W. b. Oct. 18, 1873 d. May 8, 1930
Father
same stone
King, Sulie M. b. March 12, 1881 d. no date
Mother

King, Infant son April 29, 1906
son of J. W. and Sula King

King, Robert b. 1850 d. 1928
CO H 3rd TENN MTD INF

Kirkland, Fannie b. March 24, 1872 d. Aug. 3, 1895
wife of W. H. Kirkland

Knox, Bettie b. Dec. 11, 1856 d. Jan. 9, 1906
wife of G. W. Knox

Knox, Lollie Mae b. April 19, 1904 d. Nov. 19, 1905
daughter of M. and S. G. Knox

Knox, Nancy b. May 10, 1817 d. Jan. 12, 1885
wife of Joseph Knox

Knox, William Clinton b. April 15, 1894 d. June 24, 1895
son of M. and S. G. Knox

Knox, Willie G. Jan. 22, 1900 age 54
Lackey, Milton E. (Buck) b. Dec. 11, 1857 d. Jan. 18, 1948

Lackey, J. A. b. Sept. 27, 1856 d. Feb. 22, 1912
wife of M. E. Lackey

Lackey, Roy b. Aug. 19, 1830 d. June 17, 1966

Lackey, Arlie no dates
Infant son of M. E. Lackey

Lackey, Norma no dates
daughter of M. E. Lackey

Lafferty, Roy H. b. July 4, 1897 d. July 12, 1899

Lafferty, Eunice A. b. Feb. 21, 1916 d. March 10, 1916

Lafferty, Mary E. b. Jan. 5, 1894 d. Feb. 7, 1908
same stone
Lafferty, Austin D. b. May 5, 1872 d. April 21, 1927
same stone
Lafferty, Roberta J. b. May 21, 1878 d. Dec. 21, 1954

Lamb, John L. b. May 21, 1866 d. April 4, 1925
W. O. W.

Layne, Robert (Bo) b. Feb. 26, 1919 d. Feb. 19, 1981
same stone m. Sept. 27, 1940
Layne, Christine

Layne, Dale E. b. April 15, 1949 d. July 19, 1992

Layne, Vasser Warwick b. Nov. 9, 1907 d. Jan. 9, 1917

Lee, Clarence T. b. Aug. 16, 1882 d. June 27, 1963

Lee, Mr. L. b. Feb. 9, 1837 d. Sept. 29, 1911

Lee, Mrs. S. E. b. Aug. 15, 1841 d. Sept. 7, 1910

Lee, Minnie E. b. May 23, 1886 d. March 31, 1959

Lee, J. C. b. Aug. 1, 1925 d. June 12, 1985
SGT US ARMY WW II

Lee, F. D. (Tiny) b. Feb. 16, 1921 d. March 6, 1976

Lee, Horace b. Feb. 24, 1926 d. Aug. 8, 1988
same stone
Lee, Alma

Legg, A. C. d. July 4, 1901

Legg, Bula E. b. March 25, 1881 d. Jan. 17, 1967

Legg, Carl b. Oct. 28, 1888 d. May 19, 1897
son of I. C. and Ella Legg
same stone
Legg, Isaac b. April 2, 1878 d. Jan. 27, 1897

Legg, Jennie d. Oct. 26, 1910

Legg, N. S. b. Feb. 12, 1941 d. March 28, 1995
wife of A. C. Legg

Legg, Simeon b. March 16, 1806 d. Sept. 19, 1886

Lewis, Cyntha J. b. Oct. 22, 1864 d. Feb. 19, 1894

Lewis, Mary Tennie b. Oct. 3, 1859 d. Feb. 19, 1894

Liles, E. J. b. 1868 d. 1916
Father

Liles, Fay C. b. 1903 d. 1930
Daughter

Long, Pearl Grace b. Nov. 20, 1889 d. Sept. 16, 1946
Mother

Long, Jesse M. b. July 14, 1891 d. July 22, 1963
Daddy

Long, Elvira V. b. Aug. 7, 1853 d. July 20, 1936
Mother

Lynn, Kate S. b. April 6, 1899 d. Sept. 26, 1899

Lynn, S. E. b. April 14, 1865 d. Sept. 2, 1899
wife of S. W. Lynn
Mahoney, Walter G. b. Oct. 5, 1902 d. Feb. 23, 1992
same stone
Mahoney, Hazel M. b. Feb. 7, 1907 d. April 14, 1988

Mahoney, Ellen Marie b. Jan. 23, 1930 d. Jan. 28, 1930

Mahoney, Furney Lemuel b. July 20, 1908 d. Jan. 21, 1992
US ARMY WWII
same stone
Mahoney, Olive Ruth b. March 23, 1916 d. July 29, 1979
same stone
Mahoney, Bobbye Gayle b. Aug. 16, 1940 d. Sept. 15, 1979

Mahoney, Mary Frances
same stone
Mahoney, Willie Lee b. Aug. 6, 1904 d. Dec. 11, 1987
same stone
Mahoney, Lucille b. Sept. 4, 1907 d. Dec. 7, 1934

Mahoney, Frances L. b. Feb. 2, 1877 d. May 24, 1954
same stone
Mahoney, Martha Lydia b. Nov. 6, 1883 d. April 3, 1968

Maler, Katherine b. Oct. 20, 1919 d. Nov. 22, 1944

Maler, Albert R. b. Oct. 20, 1906 d. May 9, 1996
same stone
Maler, James E. D. b. March 10, 1913 d. May 11, 1986

Marshall, William Thurman b. Dec. 3, 1899 d. April 9, 1900
son of B. R. and E. C. Marshall

Martin, M. Jewel b. Oct. 5, 1927 d. Oct. 12, 1933
daughter of J. O. and Fannie Martin

Martin, Hollen A. b. June 23, 1917 d. Oct. 19, 1918
son of J. O. and Fannie Martin

Martin, E. Mable b. Sept. 9, 1903 d. Aug. 24, 1908
daughter of J. O. and Fannie Martin

May, Dudley L. b. Nov. 27, 1891 d. July 5, 1949
same stone
May, Clara R. b. July 31, 1893 d. March 23, 1974

May, Vermell Z. b. Jan. 9, 1854 d. Nov. 26, 1930

May, Glenda Dale b. Feb. 1, 1943 d. June 18, 1995

May, Cecil P.
same stone m. June 8, 1933
May, M. Ruth b. Aug. 12, 1915 d. June 14, 1990

May, Mellie A. b. Sept. 12, 1895 d. Feb. 23, 1980
same stone m. Sept. 12,1895
May, Samuel R. b. Jan. 11, 1888 d. Feb. 21, 1970

Mayes, John C. b. Nov. 25, 1819 d. April 8, 1891

Mayes, M. Jane b. Jan. 12, 1828 d. April 3, 1905
wife of John C. Mayes

Mayes, W. K. b. July 3, 1867 d. May 2, 1895
son of P. G. and R. E. Mayes

Mays, Claude B. (Pep) b. Oct. 24, 1886 d. Oct. 26, 1956
Mason

Mays, Martha Ann b. Oct. 27, 1889 d. Oct. 22, 1911
Supreme Forest Woodmen Circle

McAlister, Infant son Oct. 12, 1898
Infant son of Mr. and Mrs. Albert McAlister

McAlister, J. Albert b. Nov. 16, 1875 d. Oct. 22, 1904
same stone
McAlister, Ida L. b. Feb. 24, 1875 d. June 23, 1964

McCall, Daisy b. April 4, 1888 d. July 4, 1889
daughter of H. H. and A. W. McCall

McClure, James Wallace b. Oct. 6, 1873 d. Jan. 8, 1956

McClure, Jesse Marvin Nov. 25, 1910 d. Sept. 12, 1916
Son of J. W. and Della McClure

McClure, J. S. b. April 22, 1836 d. Dec. 27, 1909

McClure, Mary J. b. Sept. 25, 1838 d. Sept. 23, 1902
wife of J. S. McClure

McClure, Lillie Dell b. Aug. 5, 1878 d. Feb. 26, 1965

McClure, Infant Feb. 12. 1904
Infant of J. W. and Deler

McIlroy, Samuel Benjamin b. Oct. 27, 1860 d. Feb. 9, 1910

McIlroy, Annie Acton b. July 7, 1890 d. May 6, 1929
Mother

McIlroy, Dallas b. June 13, 1899 d. Nov. 24, 1965
Father

McIlroy, Anna May b. Sept. 19, 1895 d. March 31, 1970

McIlroy, Infant son b. March 2, 1928 d. March 2, 1928
Infant son of Dallas McIlroy

McIlroy, Lewis b. Sept. 7, 1897 d. July 13, 1973
same stone
McIlroy, Della b. June 13, 1897 d. Sept. 11, 1930

McKay, Infant son b. and d. Oct. 17, 1902

McMillin, Era Myers b. Feb. 2, 1922 d. Dec. 27, 1996

Meeks, Isum W. b. Nov. 20, 1899 d. June 10, 1970
TEXAS PVT 1851 SVC COND UNIT WWII

Messer, James C. b. June 30, 1861 d. Sept. 9, 1938

Messer, Sara E. b. June 11, 1864 d. May 2, 1947

Mikeska, Henry A. b. Feb. 29, 1908 d. Sept. 9, 1943
TEC 5 143 INF DIV WWII

Miller, Betty Louise b. Jan. 9, 1933 d. June 7, 1934

Miller, Frankie b. Sept. 18, 1857 d. Feb. 21, 1928
same stone
Miller, William T. b. March 30, 1853 d. Dec. 20, 1944

Miller, Mary Ora b. Dec. 18, 1886 d. Feb. 13, 1956

Miller, John T. b. Feb. 12, 1876 d. Sept. 21, 1951
same stone
Miller, Susie A. b. Feb. 17, 1873 d. June 9, 1946

Miller, W. D. b. July 5, 1879 d. Feb. 27, 1961

Miller, Mildred L. b. July 15, 1908 d. May 4, 1964
same stone
Miller, W. T. (Jack) b. Aug. 30, 1900 d. June 27, 1979

Miller, Luther F. b. Aug. 20, 1881 d. April 22, 1941

Miller, Alige b. Oct. 27, 1889 d. April 13, 1891
same stone
Miller, Frankie b. March 20, 1897 d. Jan. 6, 1900
same stone
Miller, Infant daughter b. July 17, 1888 d. Aug. 27, 1888
of F. and W. T. Miller

Mills, Cyntha E. b. Aug. 10, 1825 d. April 3, 1906

Mills, Drusilla b. July 21, 1836 d. Aug. 30, 1887

Mitchell, Julia b. Sept. 25, 1876 d. Nov. 18, 1892
daughter of C. H. and L. A. Mitchell

Molidor, Fred C. b. Jan. 25, 1899 d. Sept. 7, 1943
same stone
Molidor, Gladys L. b. Feb. 26, 1912 d. Sept. 8, 1943

Monroe, Phebe b. Nov. 13, 1883 d. March 27, 1899
daughter of W. W. and W. Monroe

Monroe, W. T. b. June 16, 1879 d. Feb. 9, 1905

Monroe, Rev. W. W. b. July 4, 1855 d. Feb. 16, 1903

Montgomery, Mage B. b. 1882 d. 1957
same stone
Montgomery, S. Maud b. 1884 d. 1962

Mooney, Allie Segrest b. Dec. 20, 1883 d. July 15, 1973
Wife of Rev. L. D. Mooney. Mother of: Mary Wright Burleson,
Dorothy Hestilow, Logan Crider.

Moore, James Durwood b. July 20, 1920 d. Feb. 1, 1969
SGT TEXAS INF WWII

Moore, Deborah Lynn b. April 27, 1953 d. Dec. 1, 1953

Moore, Arron L. b. 1889 d. 1965
same stone
Moore, Ora M. b. 1897 d. 1955

Moore, Jewel N. b. Aug. 9, 1905 d. June 1, 1905
daughter of J. A. and G. O. Moore

Moore, Timothy b. Dec. 4, 1881 d. April 28, 1908

Morgan, Frances Dean no dates

Moses, Arthur L. b. 1892 d. 1955
Dad

Moses, Lutie W. b. Jan. 24, 1889 d. April 29, 1941
Mother

Moseley, John Hill b. 1867 d. 1942
same stone
Moseley, Anna E. b. 1873 d. 1955

Moseley, Daisy b. 1902 d. July 30, 1903

Moseley, Esther Jane Foster b. March 24, 1867 d. March 5, 1895
wife of J. W. Moseley

Moseley, J. W. (Wid) b. 1867 d. 1942
Father

Moseley, Infant b. 1904 d. July 11, 1905
Infant daughter of J. H. and Anna Moseley

Moseley, Sam b. Dec. 27, 1874 d. Dec. 27, 1874

Moseley, William Earl b. Oct. 3, 1904 d. Jan. 27, 1905
son of J. W. and M. B. Moseley

Moseley, Mary A. b. Dec. 15, 1833 d. Oct. 13, 1922

Murphee, John Luther b. Jan. 4, 1878 d. Feb. 24, 1947
same stone
Murphee, Nealie Francis b. Sept. 22, 1880 d. June 29, 1945

Murrah, Sidney Bryan b. Oct. 5, 1896 d. 1896

Murrah, William L. b. 1859 d. 1908
same stone
Murrah, Laura A. b. 1863 d. 1940

Myers, Frank Felix b. Jan. 6, 1903 d. March 21, 1938

Myers, William b. Oct. 15, 1852 d. Oct. 3, 1940
same stone
Myers, Rebecca Jane b. Aug. 29, 1865 d. June 16, 1935

Myers, Fronie M. b. Dec. 30, 1894 d. Jan. 7, 1899
daughter of W. M. and R. J. Myers

Myers, George G. b. Nov. 11, 1899 d. Jan. 12, 1900
son of W. M. and R. J. Myers

Myers, Oza Jewel b. Jan. 27, 1908 d. Nov. 22, 1909
daughter of W. M. and R. J. Myers

Myers, Sandra Evette b. 1943 d. 1961
daughter of Era Williams Myers
Navara, Odessa b. Jan. 26, 1918 d. Aug. 5, 2000
same stone
Navara, Ed b. Dec. 21, 1909 d. July 27, 1988

Nelson, William A. b. Nv. 13, 1884 d. Feb. 24, 1940
same stone m. 1900
Nelson, Nancy E. b. Dec. 16, 1882 d. Nov. 9, 1979

Nelson, Willie Hugh Jr. (Wild Bill) b. May 12, 1958 d. Dec. 24, 1991

O'Brien, Fred b. March 20, 1909 d. July 3, 1972

Olive, George P. b. Feb. 18, 1880 d. Oct. 28, 1899

Ortiz, Bereo-Falleci El Nrol 1932

Owens, Bobby Ray b. July 11, 1929 d. March 12, 1941
Son
Owens, William R. b. March 3, 1893 d. Feb. 9, 1949
Pace, Polly Nola b. Feb. 27, 1899 d. Jan. 13, 1902

Parham, Dennis M. Nov. 25, 1886 d. April 6, 1978

Parham, Jessie Lee b. May 27, 1895 d. Oct. 30, 1936
wife of D. M. Parham
W. O. W.

Parham, Annie Lee b. July 10, 1862 d. Aug. 6, 1954
same stone
Parham, Ben C. b. Nov. 12, 1855 d. Feb. 28, 1930

Parham, Clyde M. b. Sept. 13, 1901 d. Sept. 10, 1929

Parham, Dewitt b. 1900 d. 1901

Parham, James O. b. 1817 d. 1883
same stone
Parham, Nancy b. 1834 d. 1916

Parham, John P. b. July 6, 1891 d. Nov. 27, 1917

Parham, Infant Dec. 31, 1863
Infant of W. R. and L. A. Parham

Patterson, John Dial b. Feb. 18, 1850 d. Sept. 2, 1930
same stone
Patterson, Elender Mathis
wife
Children: Dallas, Josephine, Lowery, John W. Lura B. M. Elizabeth
Mary, Mack, Nancy.
Dedicated by granddaughter Bessie Brooks

Patterson, J. D. b. 1877 d. 1940

Patterson, John Troy b. Oct. 22, 1929 d. July 9, 1993
same stone m. Dec. 10, 1949
Patterson, Dorothy Lee
Parents of Terri Lee

Patterson, James D. b. 1877 d. 1940
Father

Patterson, O. D. Feb. 18, 1918

Paul, Estell b. June 20, 1914 d. June 27, 1934

Paul, Dorothy b. May 19, 1910 d. March 7, 1931

Paul, Joseph W. b. 1875 d. 1904
same stone
Paul, Martha A. b. 1877 d. 1957

Payne, Jasper N. b. 1876 d. 1962

Payne, Hattie B. b. 1875 d. 1944

Payne, Clark b. Jan. 14, 1890 d. April 8, 1890
age 2 months and 24 days son of M. M. and Sallie Payne

Payne, Myrtle b. Sept. 14, 1877 d. Dec. 27, 1895
daughter of M. M. and Sallie Payne

Pearce, Dow b. Aug. 16, 1893 d. Sept. 9, 1904
son of D. N. and M. J. Pearce

Pearce, Nora A. b. Aug. 23, 1889 d. July 8, 1943
wife of Joseph S. Pearce

Peek, A. L. b. Jan. 31, 1842 d. Jan. 31, 1909

Peek, Pheobe J. b. Dec. 28, 1844 d. Sept. 17, 1914

Unknown Peek no dates

Peel, Glenda Densman b. Sept. 25, 1952 d. June 16, 1984

Peeples, Joann b. Sept. 17, 1861 d. Feb. 23, 1924
same stone
Peeples, M. B. b. Jan. 7, 1855 d. May 26, 1938

Penny, Beatrice Gordon b. June 8, 1910 d. Feb. 2, 1939

Pepper, Clinton E. b. 1879 d. 1947
same stone
Pepper, Eula Elva b. 1885 d. 1938

Pepper, Geofry Olin b. Sept. 10, 1905 d. Dec. 10, 1949R
son of C. E. and E. E. Pepper

Perkins, Mary Evelyn b. Dec. 30, 1890 d. Oct. 13, 1949
same stone
Perkins, Joe Plummer b. Aug. 31, 1882 d. Oct. 13, 1949

Petty, Crockett b. Feb. 23, 1882 d. June 23, 1970

Petty, J. H. b. April 9, 1849 d. Oct. 30, 1889

Petty, Mattie A. b. May 24, 1872 d. Feb. 18, 1891
daughter of J. H. and L. A. Petty

Petty, Nathan T. b. April 22, 1884 d. June 11, 1887

Petty, Viola Miss b. Nov. 1, 1877 d. Aug. 25, 1965

Peterson, Robert Alvin b. Feb. 18, 1947 d. Aug. 24, 1987
SGT US MARINE CORPS VIETNAM

Phillips, William Earl b. July 29, 1893 d. June 17, 1963
same stone m. April 20, 1919
Phillips, Nancy May b. May 6, 1900 d. Dec. 29, 1978

Phillips, Sarah R. b. Oct. 4, 1863 d. Sept. 24, 1949

Phillips, W. M. b. March 7, 1858 d. July 1, 1963

Pilgram, Mary T. b. July 1, 1895 d. Feb. 1, 1965
same stone
Pligram, Ewing P. b. Aug. 13, 1896 d. June 13, 1957

Pilgram, Hall b. April 10, 1913 d. Dec. 27, 1960

Pilgram, Oscar P. b. April 22, 1872 d. Dec. 21, 1947
same stone
Pilgram, Annie M. b. Dec. 7, 1879 d. July 8, 1956

Pilgram, Otis L. b. July 20, 1899 d. Aug. 23, 1959

Pilgram, Dewaine b. March 21, 1909 d. Dec. 25, 1951

Pilgram, Tollie b. Feb. 4, 1901 d. May 10, 1935

Pilgram, O. P. Jr. b. Dec. 25, 1906 d. June 23, 1929

Pilgram, Willie b. Feb. 4, 1901 d. May 10, 1935

Pitts, Mattie I. b. April 27, 1858 d. Nov. 10, 1939
wife of John G. Pitts

Pitts, John G. b. March 31, 1853 d. Nov. 23, 1938
same stone
Pitts, Levi b. April 4, 1851 d. Feb. 16, 1931

Pitts, Mrs. Willie Lou b. June 17, 1887 d. Feb. 18, 1920

Plunkett, Hazel Irene
same stone
Plunkett, A. B. b. July 11, 1913 d. Aug. 18, 1920

Plunkett, Roy L. b. April 20, 1921 d. Dec. 23, 1974
PFC US ARMY

Plunkett, Grace K. b. May 24, 1893 d. March 17, 1982

Plunkett, Walter Alvin b. June 25, 1918 d. Feb. 3, 1984
same stone
Plunkett, Ila Marie

Plunkett, J. Carl b. Oct. 12, 1904 d. July 8, 1944
same stone
Plunkett, Tommie Lee b. Jan. 19, 1904 d. Dec. 19, 1994

Plunkett, Catherine Watson b. Sept. 17, 1829 d. Jan. 8, 1897
wife of John Plunkett m. Jan. 28, 1847

Plunkett, Charley b. Aug. 21, 1884 d. May 11, 1902
son of R. R. and M. A. Plunkett

Plunkett, Martha Alice b. 1855 d. 1933
Mother

Plunkett, Robert Rice b. 1852 d. 1932
Father

Plunkett, Josephine Rebecca b. Sept. 18, 1883 d. Feb. 18, 1940
Mother

Plunkett, Robert Lee b. Nov. 21, 1880 d. Jan. 6, 1969
Father

Prewitt, John W. b. May 28, 1860 d. April 17, 1934
same stone
Prewitt, Ida b. Dec. 25, 1870 d. Sept. 30, 1956

Price, Thomas Archie no dates
same stone
Price, Eluft no dates

Pritchett, Turner P. b. Feb. 11, 1882 d. Aug. 2, 1965
Papa
same stone
Pritchett, Mary A. b. Feb. 5, 1883 d. May 11, 1967
Mama

Pritchett, Charlie M. b. 1878 d. 1953

Prichett, Harry b. Feb. 5, 1893 d. May 11, 1967

Pritchett, Doug (metal marker) b. Sept. 27, 1920 d. April 3, 1928

Pritchett, Lula Margaret b. 1877 d. 1944

Puckett, Robert C. b. March 15, 1886 d. June 5, 1954
same stone
Puckett, Ella Frances b. Oct. 13, 1889 d. Feb. 8, 1936

Puckett, Alva b. 1900 d. 1921

Puckett, Mary J. b. 1863 d. 1932

Puckett, William L. b. 1853 d. 1925

Puthuff, Elder E. A. b. Aug. 26, 1850 d. Feb. 12, 1920
same stone
Puthuff, Edna Fox b. Feb. 12, 1852 d. no date

Puthuff, W. L. b. Feb. 17, 1878 d. Jan. 11, 1907
b. in Greenville, Texas and d. at Abbott

Putman, Dudley G. b. 1902 d. 1979
same stone
Putman, Willie Mae b. 1904 d. 1995
Rainbolt, J. J. b. Jan. 18, 1853 d. Jan. 28, 1932

Reed, Fred b. May 30, 1889 d. June 17, 1945
same stone
Reed, Margaret b. Aug. 4, 1892 d. Jan. 18, 1975

Reed, Opal G. b. March 26, 1906 d. Oct. 25, 1985
same stone m. July 15, 1927
Reed, Dewey L. b. March 3, 1898 d. Dec. 29, 1951

Reinhart, Infant Son b. Sept. 18, 1894 d. Sept. 18, 1894
Infant son of Mr. and Mrs. J. W. Reinhart

Riddles, Bernard A. b. Nov. 24, 1890 d. Nov. 2, 1952
PVT CO E 143 DIV TEXAS WWI

Riddles, Elmer J. b. Feb. 1, 1912 d. Sept. 8, 1935

Riddles, L. M. b. May 20, 1867 d. Dec. 3, 1932
Father
same stone
Riddles, N. E. b. Oct. 20, 1872 d. Sept. 12, 1935
Mother

Ross, Charlie Herman b. Jan. 29, 1917 d. Feb. 11, 1976
F1 US NAVY WWII
same stone
Ross, Floy Halford

Rush, George Fredrick (Bud) b. Jan. 9, 1952 d. Jan. 23, 1998
SP4 US ARMY VIETNAM
Schofield, Bettye, Paula b. June 24, 1929 d. Feb. 8, 1995

Scruggs, Berry F. b. May 31, 1870 d. Aug. 8, 1913

Scruggs, Jessie W. b. June 13, 1906 d. Aug. 9, 1961
same stone
Scruggs, Katie I. b. Jan. 29, 1902 d. Dec. 24, 1965

Scruggs, M. C. b. Oct. 15, 1842 d. Nov. 8, 1903
wife of W. A. Scruggs

Scruggs, W. A. no dates
32 TEXAS CAV CSA

Segrest, James Burt b. 1855 d. 1936
Father
same stone
Segrest, Mary E. b. 1859 d. 1937
Mother

Segrest, L. M. b. June 9, 1853 d. May 31, 1915
wife of D. S. A Segrest

Shannon, L. Z. b. 1862 d. 1932
Father

Shannon, Mollie b. 1870 d. 1949
Mother

Shannon, Mrs. M. J. b. Aug. 31, 1834 d. April 22, 1917

Sherman, Daniel b. Nov. 26, 1911 d. Jan. 14, 1932

Sides, Paul b. July 23, 1897 d. June 13, 1959
same stone
Sides, Willie b. Sept. 16, 1902 d. Oct. 28, 1986

Sides, H. T. (Tom) b. July 13, 1894 d. Nov. 25, 1982

Sides, Mr. T. A. b. Jan. 14, 1827 d. June 30, 1912
same stone
Sides, Mrs. M. S. d. Dec. 2, 1911 age 79 years

Sides, Crump H. b. Nov. 21, 1899 d. Oct. 15, 1969

Sides, Mae b. April 16, 1895 d. Jan. 30, 1925
wife of H. T. Sides

Sides, Lucy b. April 9, 1898 d. March 4, 1961
wife of H. T. Sides

Sides, Faye b. July 23, 1897 d. June 13, 1959

Sides, Wayman b. March 20, 1923 d. April 9, 1923
son of H. T, and Mae sides

Smith, Cynthia Stanphill b. Jan. 3, 1855 d. Nov. 4, 1905
same stone
Smith, Robert Green b. Jan 25, 1849 d. May 10, 1922

Smith Baby no dates

Smith, Chester b. Dec. 26, 1896 d. Aug. 7, 1898
son of R. G. and C. C. Smith

Smith, Cora Maud d. Aug. 7, 1882
daughter of R. G. and C. C. Smith

Smith, James L. b. Oct. 18, 1877 d. Aug. 22, 1885
son of R. G. and C. C. Smith

Smith, Minnie V. b. 1875 d. 1938
Mother

Sparks, Lois Belle b. Feb. 23, 1890 d. May 1, 1892
daughter of W. F. and E. L. Sparks

Spencer, Brittlee Raye b. Aug. 15, 1988 d. April 15, 1997

Spivey, Elbert J. b. Feb. 11, 1890 d. Aug. 27, 1982
PVT US ARMY WWI

Spivey, Hulda b. 1867 d. no date
same stone
Spivey, Jay b. 1864 d. 1929
Mason

Spivey, Estelle b. 1903 d. 1919
daughter of Mr. and Mrs. F. S. Atwell

Spruell, Thomas N. b. 1854 d. 1931
same stone
Spruell, Mary F. b. 1861 d. 1918

Spruell, John T. b. 1880 d. 1916

Spruell, Oran Gerald b. Oct. 5, 1931 d. Aug. 3, 1951
W. O. W.

Spruell, Sam P. b. Oct. 26, 1882 d. June 27, 1984

Spruell, Ruby E. b. June 13, 1896 d. Feb. 27, 1948
Mother W. O. W.

Stacy, John Wesley b. Jan. 3, 1895 d. Dec. 6, 1963

Stanford, Hariston b. Oct. 17, 1910 d. March 31, 1959

Stanford, Leta A. b. Nov. 30, 1868 d. July 1, 1914
same stone
Stanford, William A. b. Feb. 4, 1863 d. Dec. 30, 1933

Stanford, Mildred b. Nov. 13, 1868 d. March 31, 1959

Stanphill, Charles A. b. Oct. 25, 1846 d. Oct. 21, 1916
same stone
Stanphill, Frances A. b. Nov. 12, 1858 d. Feb. 16, 1947

Stanphill, C. A. b. Sept. 3, 1882 d. Oct. 22, 1882
son of C. A. and F. A. Stanphill

Stanphill, James b. April 22, 1822 d. Aug. 10, 1903

Stanphill, Katherine b. 1893 d. 1922
wife of J. D. Stanphill

Stanphill, Tom b. Nov. 18, 1881 d. July 27, 1957

Stanphill, Infant daughter Sept. 25, 1907
Infant daughter of W. F. and E. E. Stanphill

Steele, Jay, L. b. June 8, 1906 d. April 29, 1983

Steele, Florence M. b. March 6, 1911 d. Jan. 30, 1991

Steele, Sarah Jo b. NOv. 20, 1934 d. Dec. 13, 1935


Steele, Ebbie Mae Sanford b. Sept. 3, 1887 d. Sept. 28, 1918
wife of Joseph Lafayette Steele
Back of stone says: Mother of E. Chrystell, Hazel and R. Crockett

Steele, Hazel Lee b. Sept. 28, 1909 d. Aug. 31, 1924
daughter of Joseph and Ebbie Mae Steel

Steel, Mary Ann Parham (Molly) b. Feb. 15, 1861 d. Feb. 21, 1945
same stone m. Sept. 19, 1878
Steel, James Lafayette b. June 18, 1854 d. May 17, 1935
On the back of their stone:
Parents of: R. L., A. L., Joseph Lafayette, and Thomas Crockett


Stevens, Robert M. b. Oct. 13, 1891 d. June 3, 1928
same stone
Stevens, Sallie E. b. Oct. 2, 1894 d. Sept. 26, 1966
Tanner, William Roy b. April 7, 1897 d. Jan. 20, 1978
same stone
Tanner, Jessie C. b. April 1, 1903 d. Nov. 28, 1993

Tanner, William Clyde b. Dec. 27, 1922 d. Oct. 9, 1993
same stone
Tanner, Katherine Faye b. April 14, 1922 d. May 6, 1996

Tanner, Thomas Fred b. Jan. 1, 1898 d. Feb. 11, 1976
same stone
Tanner, Alice Lou b. Aug. 18, 1906 d. June 1, 1999

Tanner, B. L. b. 1851 d. 1924
same stone
Tanner, Lucy H. b. 1854 d. 1933
his wife

Tanner, Frank H. b. June 21, 1893 d. March 21, 1953

Tanner, Rena b. May 29, 1904 d. Dec. 13, 1953

Taylor, Aubrey b. March 1, 1903 d. March 22, 1919
son of G. W. and Ada Taylor

Taylor, Ida Fedelia b. July 24, 1871 d. July 27, 1904
same stone
Taylor, James David b. May 10, 1865 d. Sept. 12, 1946

Taylor, Wilson M. b. Feb. 6, 1846 d. March 10, 1906
same stone
Taylor, Emily b. Aug. 18, 1847 d. May 6, 1919

Taylor, G. W. Wash b. Sept. 1, 1866 d. Jan. 7, 1949

Taylor, Ada Morton b. June 1, 1874 d. Nov. 7, 1925
wife of G. W. Taylor

Taylor, Charley R. b. 1888 d. 1951
same stone
Taylor, Nettie b. 1912 d. 1996

Taylor, Betty Joyce b. and d. March 29, 1932

Taylor, Samuel M. b. Aug. 18, 1875 d. Aug. 17, 1955
same stone
Taylor, Viola A. b. Feb. 23, 1881 d. Aug. 27, 1955

Taylor, Artie E. b. May 18, 1900 d. April 6, 1912

Taylor, Dircia Alice b. April 2, 1911 d. Oct. 30, 1913
daughter of G. W. and Ada Taylor

Taylor, Hessie Ray b. Sept. 8, 1904 d. April 18, 1907

Taylor, J. Barney b. Sept. 25, 1902 d. Sept. 16, 1903

Taylor, Johnnie V. b. June 25, 1897 d. Sept. 15, 1901
son of W. D. and L. A. Taylor

Taylor, Webb F. b. May 6, 1901 d. Sept. 14, 1901
son of W. D. and Ada Taylor

Teague, Marion B. b. June 26, 1852 d. Sept. 14, 1884
Mason
Terrell, Armede G. b. March 12, 1915 d. Oct. 6, 1997

Terrill, Albert (Pat) b. Dec. 25, 1893 d. March 2, 1985

Terry, Charles W. b. Aug. 23, 1924 d. Feb. 23, 1931
son
R Terry, Lena b. 1903 d. 1996

Terry, Bill b. 1898 d. 1988

Terry, Luella b. 1902 d. 1910

Terry, Billy Ray no dates

Terry, Oma L. b. April 10, 1904 d. Sept. 16, 1921

Thompson, Jessie E. b. Aug. 16, 1860 d. Aug. 30, 1955
same stone
Thompson, Eva H. b. Dec. 1, 1865 d. May 1, 1942

Tindle, Jesse T. b. April 5, 1905 d. Dec. 3, 1905

Tindle, Betty b. Oct. 16, 1912 d. Oct. 21, 1914

Tindle, Frank F. b. Dec. 18, 1915 d. July 22, 1916

Townsen, William J. April 11 no other dates
Infant son of W. S. and Nancy Townsen

Trammell, Edna b. Jan. 27, 1871 d. Aug. 10 1900
wife of Eph Trammell

Triplett, Baby Boy b. 1929 d. 1929

Triplett, Bonnie Boyd b. 1921 d. 1925

Triplett, Mary Frances b. 1921 d. 1925

Triplett, Carl A. b. Aug. 25, 1891 d. Feb. 10, 1934

Triplett, Max Perry b. June 22, 1916 d. Dec. 24, 1991
LT US NAVY WWII

Triplett, Clara b. June 9, 1902 d. Dec. 3, 1902

Triplett, Elva b. Jan. 19, 1888 d. Nov. 5, 1964

Triplett, Floyd L. b. Oct. 31, 1881 d. March 5, 1948
same stone
Triplett, Mable b. Aug. 11, 1882 d. April 5, 19498

Triplett, Robert M. b. and d. Sept. 10, 1906
son of John and Elva Triplett

Triplett, Floyd L. Jr. b. Dec. 6, 1911 d. Sept. 8, 1969
PVT CO L 22 INF WWII

Triplett, John M. b. March 16, 1885 d. April 13, 1957

Triplett, W. F. b. April 22, 1876 d.Dec. 2, 1953

Triplett, Nora E. b. Sept. 8, 1880 d. April 1904
wife of W. F. Triplett

Triplett, Sarah M. b. May 25, 1878 d. Jan. 19, 1953
wife of W. F. Triplett

Triplett, Nelson C. b. March 9, 1904 d. May 29, 1948

Tripp, Annie M. b. Oct. 14, 1868 d. Nov. 3, 1910

Tripp, Charles F. b. June 11, 1847 d. April 11, 1943

Tucker, Victoria b. 1852 d. 1892
Mother
same stone
Tucker, Joseph P. b. 1837 d. 1921
Father
same stone
Tucker, Ida Prinnie b. 1884 d. 1986
Daughter

Tucker, Hattie Johnson b. Nov. 1872 d.Oct. 12, 1918
wife of John D. Tucker b. in Hopkins Co., Texas

Tucker, John D. no dates

Tucker, Minerva Chatham d. Jan. 12, 1935
wife of John P. Tucker m. Nov. 1901 Bexar County, Texas

Turner, Edwin James (Snappy) b. Sept. 18, 1908 d. June 28, 1999

Turner, Mattie Elizabeth b. Nov. 6, 1874 d. July 13, 1950

Turner, W. A. b. Sept. 30, 1874 d. May 5, 1940

Turner, Rosalene b. May 9, 1872 d. Aug. 25, 1936
same stone
Turner, William W. b. July 29, 1863 d. Jan. 7, 1942
Underwood, C. H. b. May 29, 1880 d. Sept. 3, 1939
Father

Underwood, George W. b. Feb. 2, 1860 d. Aug. 7, 1907
W. O. W.

Underwood, Kitty b. Nov. 11, 1860 d. March 16, 1927
Mother

Underwood, Mattie E. b. Nov. 14, 1865 d. Aug. 17, 1904
wife of J. H. Underwood

Underwood, Little Ruth Marie no dates

Uzzel, Mary P. b. 1875 d. 1929
same stone
Uzzel, Geo W. b. 1867 d. 1925

Uzzel, Jason Deshay b. 1844 d. 1890

Uzzel, J. T. b. Jan. 19, 1864 d. Sept. 13, 1936
same stone
Uzzel, Mary E. b. Dec. 26, 1868 d. Nov. 2, 1927

Uzzel, Infant daughter b. Oct. 3, 1888 d. Oct. 3, 1888
Infant daughter of Mr. and Mrs. J. T, Uzzel

Uzzel, Myrtle b. Feb. 12, 1896 d. May 30, 1896
daughter of Mr. and Mrs. J. T. Uzzel

Uzzel, Willie b. NOv. 14, 1882 d. Dec. 14, 1882
son of Mr. and Mrs. J. T. Uzzel
Vazque, Bartolome NACIO. EL. DIA 24 DE AGOST ODE 1911
Y FAIL ECIO EL AGOSTO. DE 1932

Vaughan, Tommie Epting b. Feb. 8, 1945 d. March 6, 1995
Loving daughter of Thomas E. Epting

Vaughn, J. W. b. Feb. 11, 1839 d. March 10, 1909

Vaughan, Archie b. Jan. 31, 1888 d. July 28, 1888
son of J. W. and C.A. Vaughn

Vaughan, Cynthia b. Nov. 22, 1846 d. April 14, 1880
wife of J. W. Vaughn age 41 years, 4 months and 22 days

Vaughan, A. G. b. July 9, 1872 d. April 2, 1902

Vaughan, Audie b. Nov. 2, 1870 d. April 29, 1900
wife of Mat - daughter of E. W. and M. L. Thomas
age 23 years 5 months and 27 days

Vaughan, Geo A. b. April 3, 1812 d. March 8, 1889

Vines, Mrs. M. A. b. Feb. 19, 1862 d. Feb. 16, 1960

Vinson, Billy Charles b. 1931 d. 1933 age 19 months

Vinson, Stanley L. b. Dec. 27, 1897 d. Feb. 6, 1944

Vinson, Velma Marie b. May 15, 1900 d. Nov. 11, 1922

Vincent, Infant Son Nov. 30, 1922
Infant son of S. L. Vinson and wife
Wade, Alice b. Dec. 5, 1893 d. May 29, 1946

Wade, Joseph Henry b. July 1, 1882 d. Aug. 5, 1922

Walker, Zada May b. Nov. 17, 1876 d. March 4, 1895
wife of W. J. Walker age 18 years, 3 months and 17 days
same stone
Walker, Infant Son b. and d. March 3, 1895
Infant son of W. J. and Z. M. Walker

Walker, Sarah E. b. 1869 d. 1928
same stone
Walker, W. J. (Bill) b. 1872 d. 1956
Mason

Walker, S. J. b. Jan. 9, 1873 d. Oct. 5, 1902
son of S.H. and C. H. Walker

Ward, James Olander b. April 15, 1855 d. May 11, 1940
same stone
Ward, Charlotty b. Oct. 3, 1859 d. Jan. 9, 1952

Ward, Alvin, b. 1900 d. 1902

Warren, John Henry b. Sept. 18, 1881 d. Aug. 30, 1946
W. O. W. same stone
Warren, Martha C. b. Jan. 10, 1883 d. Aug. 26, 1974

Warren, Clarabel b. March 10, 1910 d. Oct. 8, 1913
daughter of J. H. and M. C. Warren

Warren, Glen Dean b. Nov. 20, 1905 d. Feb. 8, 1906

Watson, George W. b. Oct. 15, 1874 d. March 4, 1945
same stone
Watson, Lollie b. Sept. 10, 1882 d. April 2, 1957

Watson, Mary Alice b. 1872 d. 1944
same stone
Watson, Denis D. b. 1872 d. 1939

Watson, Elvis b. Feb. 3, 1901 d. June 14, 1905
son of D. D. and M. A. Watson

Watson, Lonnie Belle b. July 30, 1882 d. Jan. 19, 1903
wife of J. F. Watson and daughter of R. H. and M. G. Taylor
same stone
Watson, Josie Belle b. Jan. 7, 1903 d. March 9, 1903
daughter of J. F. and L. B. Watson

Watson, Fannie V. b. Nov. 6, 1851 d. March 12, 1904
wife of G. W. Watson

Watson, G. W. b. July 12, 1848 d. April 13, 1890
husband of F. V. Watson

Watson, Jack b. Oct. 26, 1878 d. July 19, 1904

Webb, Leona Myrtle b. Sept. 1, 1881 d. Feb. 12, 1886
daughter of M. D. and Mollie Webb
same stone
Webb, Loretta Meta b. June 13, 1890 d. Nov. 1892
daughter of M. D. and Mollie Webb
same stone
Webb, Infant daughter b. June 10, 1885 d. July 12, 1885
daughter of M. D. and Mollie Webb

West, Allie b. April 26, 1886 d. Sept. 15, 1902
daughter of Mrs. Ellen West

Whalen, Martin b. Nov. 6, 1900 d. Sept. 15, 1902

Whalen, Ronnie H. b. Aug. 3, 1943 d. April 21, 1997
same stone
Whalen, Linda M.

Whalen, Preston M. Jr. b. March 9, 1928 d. March 28, 1995
TEC 4 US ARMY

Whalen, William Lee b. Nov. 2, 1921 d. Nov. 11, 1997
same stone
Whalen, Dorothy Joe b. Dec. 20, 1921 d. Dec. 16, 1986

Whalen, Winston Lee b. May 6, 1959 d. Aug. 4, 1984

Whalen, Johnie James b. Feb. 16, 1925 d. May 22, 1926

Whalen, Weldon W.
same stone m. Sept. 28, 1942
Whalen, Bettye Sue b. March 2, 1924 d. Feb. 16, 1998

Whalen, Preston M. Sr. b. July 8, 1896 d. June 21, 1987
same stone
Whalen, Lee Vines b. Jan. 5, 1903 d. June 1, 1972

Whalen, Winona b. Dec. 7, 1907 d. June 6, 1957
same stone
Whalen, Martin b. Nov. 6, 1900 d. Sept. 13, 1985

Whalen, Les W. b. Dec. 27, 1930 d. Dec. 29, 1991
PFC US ARMY

White, Sally Epting b. May 23, 1903 d. April 25, 1981

White, Roy E. b. Feb. 20, 1900 d. July 16, 1913

White, M. D. (Mick)
same stone
White, Marie C. b. Aug. 1, 1925 d. March 16, 1993

White, John Charles b. May 19, 1936 d. Nov. 19, 1981

White, John Eugene b. 1914 d. 1936
Son

White, Addie Clyde b. 1890 d. 1966
Mother
same stone
White, Milton P. b. 1880 d. 1948
Father

Whitener, Fannie L. b. March 10, 1886 d. Feb. 27, 1944
wife of John A. Whitener

Whitlock, John C. b. 1883 d. 1918
same stone
Whitelock, Pheobe C. b. 1879 d. 1940

Whitmere, Nannie Olevia b. Feb. 23, 1894 d. March 4, 1973

Whitmere, Fred W. b. June 29, 1904 d. Oct. 17, 1918

Whitmere, James Willard b. Feb. 1, 1865 d. Oct. 29, 1932

Whitworth, Nettie b. 1871 d. 1924
same stone
Whitworth, James H. b. 1869 d. 1937

Whitworth, Joe B. b. 1902 d. 1924

Williams, Allston Lee b. July 19, 1912 d. Nov. 8, 1997
same stone m. Dec. 25, 1935
Williams, Dora Lee b. April 29, 1915 d. Dec. 15, 2000

Williams, Mack Marion b. Dec. 12, 1916 d. Sept. 5, 1938

Williams, Walter E. (metal marker) b. 1878 d. 1955

Williams, Mrs. Alma (metal marker) b. 1884 d. 1957

Williams, James Harroll b. May 12, 1919 d. March 25, 1992

Williams, Frances F. (Bud) b. 1880 d. 1940
same stone
Williams, Eva T. b. 1892 d. 1951

Williams, Donald R. b. Aug. 14, 1933 d. June 15, 1987

Williams, Josephine Patterson b. Feb. 20, 1880 d. Sept. 14, 1965
Children: Birtie, Earnest, Lucile, Boyd, Bessie, Ruth, Myrtle,
Dedicated by Bessie

Williams, John Dudley b. March 1, 1878 d. Nov. 6, 1945

Williams, (Thomas) Audie b. Nov. 8, 1910 d. Aug. 10, 1927

Williams, Pasty Lou b. Sept. 14, 1941 d. Jan. 14, 1994

Williams, Indiana b. 1846 d. 1930

Williams, Laura b. 1862 d. 1933

Williams, Oscar D. b. 1870 d. 1946

Williams, B. G. b. Oct. 31, 1897 d. Aug. 10, 1892
same stone
Williams, Effie b. Feb. 27, 1886 d. March 7, 1887

Williams, J. I. b. Aug. 31, 1882 d. June 23, 1950

Williams, John R. b. June 14, 1899 d. Feb. 18, 1917
son of Mr. and Mrs. J. I. Williams

Williams, Sam S. b. Oct. 5, 1899 d. Sept. 23, 1960
son of J. H. and Catherine Williams

Wilcox, Lonzo C. b. April 21, 1916 d. Jan. 19, 1919
son of Mr. and Mrs. J. L. Wilcox

Willie, Albertha b. May 12, 1881 d. Oct. 24, 1885
daughter of Dr. and Mrs. A. L. Willie

Willie, Holliee b. May 10, 1858 d. Sept. 22, 1891
wife of Dr. A. L. Willie

Willie, J. Verna b. Nov. 7, 1887 d. May 7, 1896
son of Dr.A. L. and M. E. Willie

Wills, Ben no dates

Wilmoth, George L. b. Feb. 14, 1840 d. July 21, 1888

Wilson, Raleigh b. March 5, 1911 d. June 5, 1996
same stone
Wilson, Odell McKenzie b. March 12, 1913 d. March 24, 1998

Wilson, Homer J. b. Dec. 16, 1879 d. April 18, 1946

Wilson, Horace Jones d. May 28, 1964 age 57 years old

Wilson, Lillie M. b. March 14, 1883 d. Aug. 12, 1959

Wood, Col. F. H. b. March 18, 1827 d. Nov. 26, 1909

Wood, Mrs. J. E. b. Dec. 11, 1826 d. July 28, 1910

Woodard, Jesse W. b. April 12, 1915 d. July 28, 1910
TEXAS PVT US ARMY WWII

Woodard, Ruby b. Nov. 16, 1911 d. July 17, 1997

Woodard, Roy Frank b. Jan. 27, 1904 d. Feb. 12, 1972

Woodard, Chas A. b. Sept. 27, 1887 d. July 3, 1969

Woodard, Lula B. b. Sept. 14, 1877 d. June 6, 1940

Woodard, W. C. b. Sept. 22, 1882 d.Oct. 4, 1919

Woodroof, Geneva b. Nov. 11, 1876 d. May 21, 1899

Woodruff, Holland D. b. Nov. 9, 1917 d. April 22, 1946

Woodruff, George P. Jr. b. Oct. 21, 1923 d. Oct. 7, 1998
Son

Woodruff, George P. b. June 1, 1894 d. Dec. 21, 1947
Father

Woodruff, Henrietta b. Aug. 12, 1896 d. April 22, 1940
Mother

Wooten, Annie May b. Nov. 11, 1890 d. April 8, 1974

Wright, Cammie Augustia b. Oct. 26, 1893 d. Nov. 10, 1895
Yarborough, David M. b. Aug. 27, 1852 d. April 5, 1926
same stone
Yarborough, Ada E. b. Nov. 12, 1856 d. Sept. 4, 1954

Yarborough, Jess B. b. 1919 d. 1923
Garland, Texas

Young, Forrest G. b. Nov. 12, 1893 d. Jan. 4, 1965

Young, Julia b. May 4, 1855 d. Oct. 23, 1929
same stone
Young, Joseph T. b. Aug. 6, 1847 d. June 25, 1933

Young,, Sam D. b. April 1, 1877 d. June 25, 1933

Young, M. D. b. Aug. 13, 1889 d. Dec. 1, 1907
son of J. T. and Julia Young

Young, Mary V. b. March 28, 1881 d. Aug. 10, 1883
daughter of J. T. and Julia Young
same stone
Young, Oscar F. b. April 21, 1879 d. Jan. 27, 1888
son of J. T. and Julia Young

Younger, Jewel Epting b. March 4, 1911 d. Jan. 9, 1995
same stone m. We. Feb. 16, 1929
Younger, Oran C. b. June 6, 1908 d. July 13, 1981

Younger, America b. March 1, 1867 d. Aug. 28, 1937

Younger, J. G. b. Jan. 23, 1860 d. Dec. 15, 1928
---