Stockholm Cemetery
Hidalgo Co. Cemeteries of TX
Submitted by Cindy Shaffer
Photos by Adam B.
Visited in 2001 by Cindy Shaffer and her daughter and grandson, Amanda Golden Emery and Steven K. Golden (age 8)..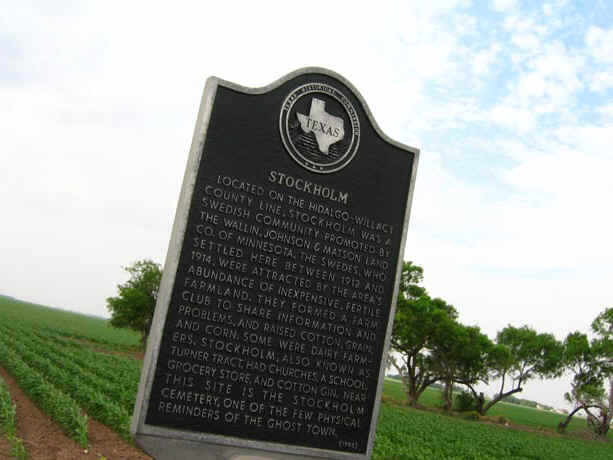 Stockholm Cemetery was surveyed as part of the Ranch Cemetery Survey of 1987 of the Hidalgo County Historical Commission. A Texas Historical Commission marker is located about 1/4 mile from the cemetery, inscription as follows:
********************
Stockholm

Located on the Hidalgo-Willacy County Line, Stockholm was a Swedish community promoted by the Wallin, Johnson and Matson Land Co. of Minnesota. The Swedes, who settled here between 1912 and 1914, were attracted by the area's abundance of inexpensive, fertile farmland. They formed a farm club to share information and problems, and raised cotton, grain and corn. Some were dairy farmers. Stockholm, also known as Turner Tract, had churches, a school, grocery store and cotton gin. Near this site is the Stockholm Cemetery, one of the few physical reminders of the ghost town. (1985)
The cemetery is fenced in front with an iron fence and brick corner stones. There were a lot of young trees planted. Upon entering the main gate, the cemetery is divided into north and south portions. We have included the portion, row and grave number in this transcription.


Row
Last Name
First Name
Birth
Death
Comments
N4-3
Backlund
Oscar
1873
1947
-
N4-6
Cleeper
Ira, Jr
1968
1969
corner post
S1-2
Hammerbeck
Christine
1862
1940
-
S1-3
Hammerbeck
Gust.
1862
1943
-
N5-2
Hedberg
John
Feb 23 1964
Apr 30 1952
h/o Hulda M.
N5-2
Hedberg
Hulda M.
Dec 11 1870
Feb 16 1959
w/o John
N3-2
Johnson
Jonas P.
Oct 17 1883
Mar 21 1937
h/o Johanna C. (double marker)
N3-2
Johnson
Johanna C.
Nov 15 1857
May 05 1934
w/o Jonas P. "At Rest"
N1-1
Luttring
Andrew J.
1876
1951
h/o Marie C.
N1-1
Luttring
Marie C.
1874
1944
w/o Andrew J.
N2-1
Magnuson
Carl J.
Jan 21 1853
Nov 27 1951
h/o Hidida, "For Ever With the Lord"
N2-1
Magnuson
Hiidla Ohlison
May 02 1865
Sep 26 1953
"He the Pearly Gate Has Opened"
N4-5
Miller
Ira
1911
1956
-
N3-1
Miller
Q.O.
1882
1972
h/o Nettie L. (double marker)
"Absent, Not Dead"
N3-1
Miller
Nettie L.
1886
1946
w/o Q.O.
S2-1
Pearson
Carl Otto
1874
1944
"Father"
S2-1
Pearson
Family
-
-
"Because I live, Ye shall live also. John 14-19"
"Earth hat no sorrow, that heaven cannot health"
S2-1
Pearson
Charlotta K.Backlund
1876
1947
"Mother"
N5-1
Peterson
Mary
1876
1949
-
N4-1
Rolin
George E.
Feb 28 1905
Mar 08 1927
N4-2
Rolin
Henry J.
Jan 05 1871
Aug 14 1935
-
S1-1
Sallas
Ella Mae Hammerbeck
Jul 21 1904
Jul 26 1990
-