MERCEDES BAPTIST CEMETERY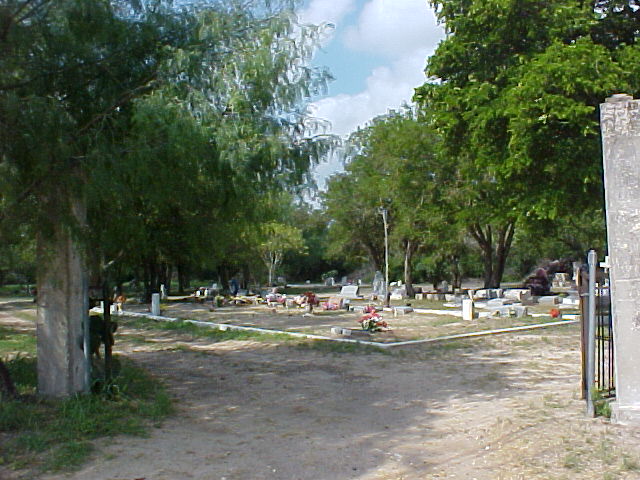 Cementerio Bautista de Mercedes
Hidalgo Co. Cemeteries of Tx
Submitted by Frances Isbell
With Permission of Hidalgo Co. Historical Commission (2006)
To Search : Edit, Find, type in name, click on Find next
---
Cementerio Bautista de Mercedes
With permission of Hidalgo County Historical Commission 2006
LOCATION: In Mercedes on Anacahuitas Street .75 miles west of Texas Avenue, across dirt road east of and bordering Our Lady of Mercy Catholic Cemetery.
SURVEY: Partially surveyed April 2006 by Fran and John Isbell.
HISTORY: The Primera Iglesia Bautista Mexicana de Mercedes (First Mexican Baptist Church of Mercedes) was organized about 1918. Among their first members were Mercedes residents Joseph H. and Maria Howell and their eight children (Casimiro, Paulino, Jacinto, Albert, William, Henry Jr., Maria and Joseph H.). Joseph H. Howell Sr., born in Port Isabel, was the son of Albert Charles Howell, indentured in New York, who ran away at the age of 16 because of mistreatment. In New Orleans, he joined the Confederacy, was captured, imprisoned on a ship, and escaped to Mexico.
On June 30, 1939, the First Mexican Baptist Church of Mercedes purchased about two acres for a cemetery from Faith Lutheran Church (formerly Ebenezer Lutheran Church founded in Mercedes in 1911, which moved to Weslaco in 1931). The location was adjacent to and west of Our Lady of Mercy Catholic Cemetery and across the street from Immanuel Lutheran Cemetery, in southwest Mercedes.
Twelve members of the congregation donated amounts from $2.00 to $30.00 to make up the purchase price of $100 for the property. Donors were : J. H. Howell, Rodolfo Garcia, Julian Zepeda (listed twice), Regino Robledo, Paulino Avila, Pedro Hernandez, J. K. Riese, Billie Tilery, Jake Fossler, P. G. Kenly, and Apolonio Gonzales. Jacob Fossler, a member of the Immanuel Lutheran Church, apparently contributed to help his Baptist neighbors acquire the "other" Lutheran Cemetery.
A cemetery committee headed by Apolonio Gonzalez published rules in 1961. They provided that all relatives of decedents were morally obliged to pay for or help maintain the cemetery, exempted indigent widows and orphans from fees, limited interment to members of the church, and established burial fees of $12.00. Crosses, religious statues, tall trees, wooden houses, animal pens and rubbish heaps were prohibited.
The Baptist Cemetery was cleaned a few years ago by a youth group. Currently it is maintained by Juan Garcia and Lupe Palacios. Juan Garcia has been caring for the cemetery since 2002; he is not a member of the congregation, but has family members interred there.
The cemetery is bare earth, in the tradition of Mexican-American ranch cemeteries in Hidalgo County, shaded by large ebony and mesquite trees. A curb surrounds the large Howell-Pumarejo plot at the entrance. Hurricane fencing runs along the north side (Anacahuitas Street). The wrought iron entrance gate is broken. Brush on south and east separate the cemetery from nearby ranches. There are approximately 350 graves.
Pastor in 2006 was Guillermo Fuentes of Mercedes.
LAST NAME
FIRST NAME
BIRTH DATE
DEATH DATE
COMMENTS
PUMAREJO
JOSE
18MAY 1894
5APR 1949
A1 LARGE PLOT,CURB
PUMAREJO
LEE
11OCT 1925
16MAY 1953
A2 S1 USN, WW2, PLOT
HOWELL
BRITTANY RAE
3APR 1993
9AUG 1994
A3 PLOT, FHM GARCIA- TREVIÑO
HOWELL
OSCAR
14FEB 1940
1OCT 1995
A4 PVT USA VIET NAM
PUMAREJO
FAUSTINO G.
30DEC 1921
23SEP 2002
A5 TEC 5, USA,

WW2; PLOT
PUMAREJO
ARTURO
2JUN 1956
20AUG 1992
B1, PLOT; SGT USAF
PUMAREJO
SANTOS G.
-
-
B2 PLOT
PUMAREJO
SANTOS
28MAR 1919
25AUG 1977
B3 PLOT, PFC USA WW2
PUMAREJO
FORTUNATA H.
23APR 1935
29DEC 1993
B4 PLOT
HOWELL
SENAIDA G.
5JUN 1923
19NOV 1991
B5 PLOT; DOUBLE W/CHARLIE
HOWELL
CHARLIE E.
10NOV 1919
14AUG 1982
B6 PLOT; DOUBLE W/SENAIDA; TEC5, USA, WW2
HOWELL
JOSEPH H.
1879
1951
B7; PLOT
HOWELL
MARIA ESCOBEDA
1877
1948
B8; PLOT; FOOTSTONE
HOWELL
CASIMIRO E. "FATHER"
1904
1966
B9 DBL W/CARMEN;
HOWELL
CARMEN S. "MOTHER"
1912
1989
B10 DBL. W/CASIMIRO
HOWELL
JACINTO E.
16AUG 1905
31DEC 1967
B11
PUMAREJO
EZEQUIEL G.
31JAN 1917
1DEC 1944
B12 PVT 18 INF, 1ST INF DIV. WW2; PLOT W/CURB ROWS A&B
HOWELL
ALBERT E.
1909
1989
B13 DBL W/MAGDALENA
HOWELL
MAGDALENA
1914
1999
B14 DBL W/ALBERT E.
HOWELL
MARIA
7SEP 1940
8SEP 1940
B15/16 [TWINS]
HOWELL
MARTHA
7SEP 1940
8SEP 1940
B15/16 [TWINS]
HOWELL
CRISTINA
23AUG 1939
16MAY 1947
B17; CURB AROUND ROWS A&B
PALACIOS
JOSE ANTONIO
25MAR 1899
26OCT 1979
C1
AVILA
FELICITAS TREVIÑO
14JAN 1922
-
D1; MARRIED 24SEP 1938; DBL W/GEORGE M.
AVILA
GEORGE MEDINA
14SEP 1918
8JAN 1990
D2; DBL W/ FELICITAS
GONZALEZ
TOMASITA D.
22SEP 1900
13NOV 1983
D3; FLAME-SHAPED GRAY GRANITE;
GONZALEZ
APOLONIO
10FEB 1894
24NOV 1971
D4
UNKNOWN
-
-
-
D5; CONCRETE BASE
UNKNOWN
-
-
-
D6; CONCRETE BASE
UNKNOWN
-
-
-
D7 GRAY GRANITE SLAB, NO MARKING
UNKNOWN
-
-
-
D8 GRAY GRANITE SLAB; "MERCEDES' AT FOOT
PALACIOS
LAURA
18AUG 1875
17JUN 1952
D9
PALACIOS
TOMASA S.
22DEC 1877
11FEB 1960
D10
UNKNOWN
-
-
-
D11 GRAY SLAB W/CRUCIFIX; ILLEGIBLE
GARCIA
RODOLFO C.
18DEC 1900
22APR 1995
D12; DBL W/PAULA
GARCIA
PAULA D.
21MAR 1905
22OCT 1994
D13; DBLW/ RODOLFO
UNKNOWN
-
-
-
D14
TREVIÑO
MARTHA B.
10NOV 1938
6AUG 1976
X1
GALLAGA
RICARDO T.
18JUL 1899
26SEP 1973
X2
UNKNOWN
-
-
-
Y1 AGE 85; FHM GARCIA-TREV.
SAENZ
DANIEL G.
16MAR 1888
24JUN 1972
Y2 WOODMEN OF WORLD
UNKNOWN
-
-
-
Y3 ILLEGIBLE
UNKNOWN
-
-
-
Y4 ILLEGIBLE
CONDE
MERQUIADES
25DEC 1898
3APR 1977
Y5 CROSS INSET WHITE MARBLES
GONZALEZ
-
13APR 18__
10OCT 19(63?)
Y6
GONZALEZ
SANTIAGO
1919
AUG
Y7
VENTO
AMADO SR
13SEP 1897
19JUL 1973
Y8
GARCIA
MARIA
-
-
Y9 WOOD +
UNKNOWN
-
-
-
Y10 FHM; CHILD?
TREVIÑO T.
LEONOR, SRA
28JUN 1898
10MAR 1980
Y11 HIJAS Y FAMILIA
TREVIÑO
VALENTIN
16FEB 1896
24MAR 1966
Y12 ESPOSA, HIJAS,HIJOS
FONSECA
MANUEL
1SEP 1920
29JAN 1955
Y13
SAUCEDA
GABRIELA
11MAR 1880
11FEB 1964
Y14
GONZALEZ
CONSUELO
29APR 1903
20MAR 1986
Y15 DOUBLE W/ JOSE LUZ
GONZALEZ
JOSE LUZ
15DEC 1901
2MAR 1971
Y16 DOUBLE W/CONSUELO
UNKNOWN
-
-
-
Y17
TREVIÑO
VICTORIANO
23MAR 1878
5MAR 1963
Y18
MARTINEZ
EVANGELINA MADRE
1APR 1912
23JUL 1992
Y19
MARTINEZ
MANUEL PADRE
24DEC 1913
4JAN 1973
Y20 DOUBLE W/GUADALUPE G.
MARTINEZ
GUADALUPE G. ABUELITA
12DEC 1888
30MAY 1963
Y21 DOUBLE W/MANUEL
M[ARTINEZ]
GUADALUPE G. DE
12DEC 1888
30MAY 1962(sic)
Y-22 [PHOTO]
UNKNOWN
-
-
-
Y23
REYES
JESUS, PADRE
14MAR 1896
30JUL 1964
Y24 DOUBLE W/ MARIA
REYES
MARIA
25DEC 1908
21APR 1971
Y25 DOUBLE W/ JESUS
SERRA
---
-
-
Y26
SERRA
SOLEDAD G.
1SEP 1891
16OCT 1963
Y27 DOUBLE W/ MANUEL
SERRA
MANUEL
15APR 1872
30APR 1950
Y28 DOUBLE W/ SOLEDAD
UNKNOWN
-
-
-
Y29 WROUGHT IRON +, PLOT FENCED W/ WIRE STRAND
UNKNOWN
-
-
-
Y30
UNKNOWN
-
-
-
Y31
---