HANDY CEMETERY
Hidalgo Co. Cemeteries of Tx
Submitted by Frances Isbell
Photos by Nora Sanchez
With Permission of Hidalgo Co. Historical Commission (2006)
To Search : Edit, Find, type in name, click on Find next
---
LOCATION: South of Donna, and 3.9 miles west of Run on US 281 (Military Highway). Turn south on dirt road. Cemetery is 75 feet north of levee.
SURVEYED: Joe Fallin and Dale Swartzmiller on December 8, 1977, for McAllen Genealogical Society.
HISTORY: Handy Cemetery is located on the old Esperanza (Sp. "hope") Ranch of Thomas James Handy (1845-1927), a Union soldier who was stationed at Las Cuevas during the Civil War. Sgt. Handy, 4th Wisconsin Cavalry, carried the Union mails along the Military Highway between Brownsville and Laredo.
On April 25, 1866, he married Angelita Cavazos, daughter of Salvador Cavazos and San Juanita Anzaldua of Asadores (Sp. "pokers") Ranch (now Run, Texas). They had seven children: Albert (m. Melchora Yarritu), George (m.2 Elena Cantu), Chauncey (m. Eduvijes Treviņo), Thomas Milton (m.Lucia Molina), Ida (M. Robert Lee Campbell), Edward (unm.), and Eloisa 1880-1939 (m.Daniel Muņoz 1877-1960).
In 1876, he bought 3300 acres extending from the Rio Grande to north of the present city of Alamo. He raised livestock, and sold hides to tanners in Chicago. During the bandit troubles of 1915-1916, a regiment of U.S. soldiers was stationed at the ranch.
After Thomas James Handy passed away in 1927, his son Thomas Milton Handy tended the land. Eventually, the ranch was divided among Handy heirs. By the 1960s, most family members had moved into towns, and the land was sold, much of it to the City of Alamo. The cemetery, 50x75 feet, was tended by a grandson.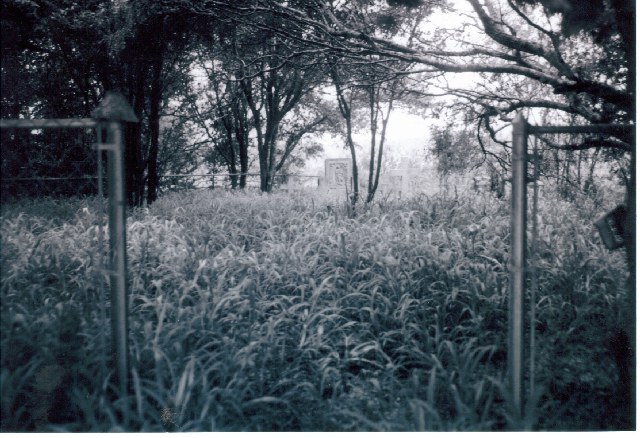 | | | | | |
| --- | --- | --- | --- | --- |
| LAST NAME | FIRST NAME | BIRTH DATE | DEATH DATE | COMMENTS |
| CAVAZOS | | 1844 | 1925 | W/O THOMAS JAMES HANDY |
| CRUZ | CIPRIANO | - | 27 FEB 1975 | - |
| HANDY | | 1843 | 1927 | H/O ANGELITA CAVAZOS; SGT 4TH WISCONSIN CAVALRY 1861-1866 Info by Sam Ybarra |
| HANDY | | 1902 | 1977 | GRANDSON OF THOS. J. HANDY |
| HANDY | | 28 JUL 1881 | 18 MAR 1966 | W/O THOS MILTON HANDY |
| HANDY | | 1 JUN 1870 | 23 JUL 1966 | H/O OF LUCIA M. |
| UNKNOWN | - | - | - | SEVEN UNMARKED |
| Y, | S.T. | - | 25MAY 1964 | [FHM] |