San Jose Cemetery
Abram, Hidalgo Co. TX
Submitted by San Jose Cemetery Association
For More information on this cemetery contact the: San Jose Cemetery Association at (956)-581-0000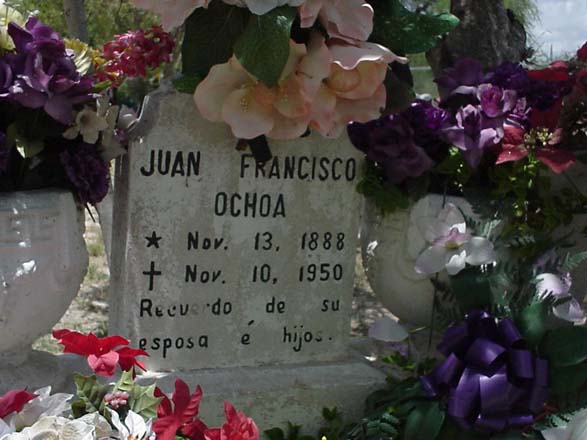 The Ochoa family was an original Reynosa colonial family. They are descendants of Jose Tomas Ochoa and Rafaela Zamora or of Maxima Ochoa who married Jose Eugenio Longoria and of Ygnacio Ochoa who Married Maria Maxima Longoria.
Ygnacio Ochoa along with his Longoria in laws was one of the founders of Ojo de Agua Ranch now Abram, Texas. Ygnacio owned porcion 49 which he inherited from his father who purchased it from the original grantee.
Clemencia Gallardo born 1838 died 1900 is one of the oldest marked gravesites. She is buried next to her husband Ysidro Longoria.
SAN JOSE CEMETERY
Abram, Texas
Dedicated to the Longoria, Ochoa, Villarreal, Sandoval, Mercado, Chapa, Dillard, de Luna, and many other families whom have laid their loved ones to rest here. All united by blood and roots to this peaceful community El Rancho Ojo de Agua. (Now Abram, Hidalgo County, Texas.)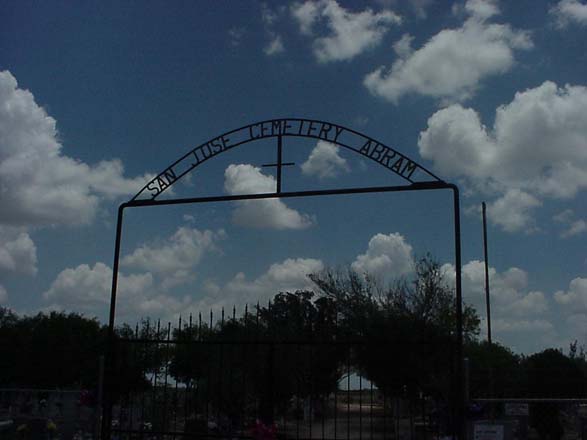 The original land for the cemetery sat on tract 38 which was 1.28 acres. This land was owned by the Longoria's. Later tract 37 which was 3.0 acres was donated by Adelaido Villarreal son of Manuel Villarreal and Maria Rosalia de la Garza. Adelaido was married to Rosa Longoria. The land on adjacent tract 37A was granted to the heirs of Rosa Longoria. It is assumed that the land was originally granted to Adellaido's wife Rosa Longoria. The Longoria's are all descendants of Juan Rosas Longoria who had a ranch on the South side of the river in 1750.
It is unclear as to how this private cemetery became a county cemetery. Perhaps the county assumed it was a public cemetery and because nobody spoke up its private ownership was lost. Maybe it was taken over by the county for taxes.
Other links: Back to the Longoria's from Reynosa Home page Back to the Villarreal Homepage
The History of the Cemetery has to start with a lesson on the History of the area. The cemetery is located in the ancient town commons of Reynosa or Los Ejidos de Reynosa Viejo. This area was first settled in 1747 by Spanish colonist's which arrived with Jose de Escandon to settle the Northernmost frontiers of New Spain.
In 1757 by the acts of the Generals visit land grants were partitioned off to the families. These Porciones fronted the river and some fronted the Ejidos or town commons.
The Mexican Government granted the town commons to the descendants of the original colonist's in 1841 in order to stop an influx of immigrants onto these lands.
These descendants have been in this area for over 250 years. For many years the American government did not recognize these grants until it finally received confirmation by US government on 8/15/1870.
By the late 1800's the area had become a small ranching and trading center for the local population. The ranch Ojo de Agua was well established by that date. Most of the early relatives of these folks lie across the river in Reynosa Diaz or San Gregorio de Camargo or Diaz Ordaz
Jose Ysidro Longoria Born 1825 Died 1898 at Ojo de Agua he is the oldest dated gravesite. The Longoria's were descendants of Juan Rosas Longoria whom in 1757 had a ranch established on the South side of the river. The ranch was called Paraje de Dolores.

The cemetery was built on Land donated by the family of Diego Longoria and Esmerehilda Longoria to bury the descendants of their parents Ysidro Longoria and Clemencia Gallardo and Jose Anselmo Longoria and Maria de los Santos Ochoa.

Diego Longoria Born 1850

Salvador Chapa b:1873 and Josefina Longoria b:1884
| | | |
| --- | --- | --- |
| | Abram Dillard married Manuela Villarreal a descendant of original Reynosa Colonist 's. Manuela was daughter of Rafael Villarreal brother to Adelaido Villarreal she was also a Niece of Nasaria Longoria sister of Jose Ysidro Longoria. Nasaria Longoria married Jose Gregorio Villarreal. This is the Villarreal connection to the cemetery. Gregorio's son was Francisco Villarreal who Married Juana Flores. This Villarreal family still resides in the Abram area many Villarreales are buried in the cemetery. | |
| Seferino Villarreal | All these Villarreales are descendants of Manuel Villarreal. | Abram Dillard |