CHIHUAHUA RANCH CEMETERY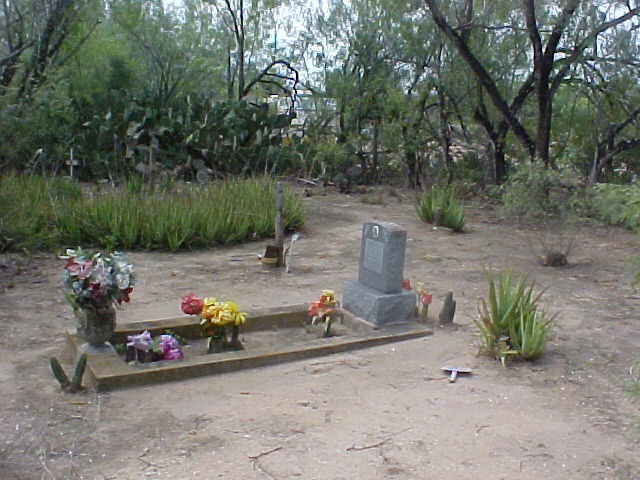 Hidalgo Co. Cemeteries of Tx
Submitted by Frances Isbell
With Permission of Hidalgo Co. Historical Commission (2006)
LOCATION: Chihuahua is six miles west of Mission. From Mission on US Business Highway 83, cross FM 1427 at Perezville (power plant on south), and continue west about 1.5 miles. When Business 83 curves north to join the Expressway, stay on paved Ojo de Agua Road along railroad track. Cross tracks, go under power line and through Chihuahua village. Where pavement ends, turn south on gravel road .5 mile. After curve, cemetery is behind abandoned house on east side of road, adjacent to but not inside the Nature Conservancy Preserve.
SURVEY: Bill MacWhorter and Brecht Isbell September 11, 2006.
HISTORY: Chihuahua Ranch (2.000 acres) was purchased by Ramon Vela (1859-1926) about 1910, becoming part of the vast (40-ranchos) Laguna Seca Ranch complex founded by his father Macedonio Vela in 1867. It lies within the Ejidos or town commons of Reynosa Vieja. The name is a Tarahumara Indian word meaning "place of two waters," for the two rivers which join at the city of Chihuahua , in Mexico.
Ramon Vela moved his family to the site from Laguna Seca Ranch, twenty miles northeast. In 1910 Vela built a two-story brick colonial home beside the railroad track, and housing and store facilities for his employees, and a school which he supported.
An expert, energetic rancher, Ramon Vela eventually acquired seven ranches including Chihuahua, where he raised cattle and bred horses. He contributed largely to the success of the Laguna Seca Ranches in the early 20th century.
The Sam Fordyce branch of the St. Louis, Brownsville and Mexico Railway passed the settlement, and the stop at that location was named Chihuahua. Vela had many corrals there, where cattle destined for Dodge City, Kansas, were loaded. Chihuahua reached its height during the first three decades of the 1900s.
Upon the death of Vela in 1926 his heirs pursued other interests, and the old homestead and property were sold in the late 1940s. The house was razed, and no trace remains of the stately home or village. The railroad still passes by but has no stop or siding facilities.
The Nature Conservancy acquired 349 acres of Chihuahua Ranch in 1991 and 1992, known as the Chihuahua Woods Preserve. U.S. Fish and Wildlife properties are adjacent also on original ranch holdings.. .
Chihuahua Cemetery is partially surrounded by an old fence measuring 70x100 feet.. . Much of the grounds are covered by dog cholla, a cactus which is very hazardous to walk through, but the immediate area surrounding the eight graves still visible is cleared..
.
| | | | | |
| --- | --- | --- | --- | --- |
| LAST NAME | FIRST NAME | BIRTH DATE | DEATH DATE | COMMENTS |
| GARCIA | ROBERTO | 29 SEP 1932 | 13 OCT 1958 | GRANITE MKR, CURB, PICTURE |
| GARCIA | J……INEZ | - | 28 FEB 1950 | CONCRETE CROSS; RI DE JUAN? |
| COON | ELENOR | - | - | THIN WOOD CROSS |
| UNKNOWN | - | - | - | 3 WOODEN POSTS |
| UNKNOWN | - | - | - | SUNKEN CROSS |
| UNKNOWN | - | 17 FEB 1925 | 6 DEC 1927 | FHM |
---
---