Stephenson/Harris Cemetery
Navasota, Grimes Co. Cemeteries of TX
Submitted by Jimmy D. Harris
The directions:. Take State Highway 6 north from Hempstead for about 18 miles to FM 2. Take a right on FM2 and go east for about 4.2 miles. Turn right on County Road 323 then proceed about 3.0 miles until County Road 325 intersects CR 323 as CR 323 makes a sharp turn to the right. Take a left on CR 325 and go about 0.3 miles to the gate to #5347 CR 325. The cemetery is about 1500 feet south of the road.

I am attaching a picture that shows my great grand father and great grandmother's graves as well as my grand father and grandmothers grave (the double headstone). If you look closely you can see my great granddad's Civil War marker at his feet.
My great grandfather fought at the Battle of San Jacinto when he was 16
years old and later fought in the second part of the Revolution in 1841-1842
and served as a Captain of the Grimes County Gray's during the Civil War.
His family received one of the Mexican land grants from Stephen F. Austin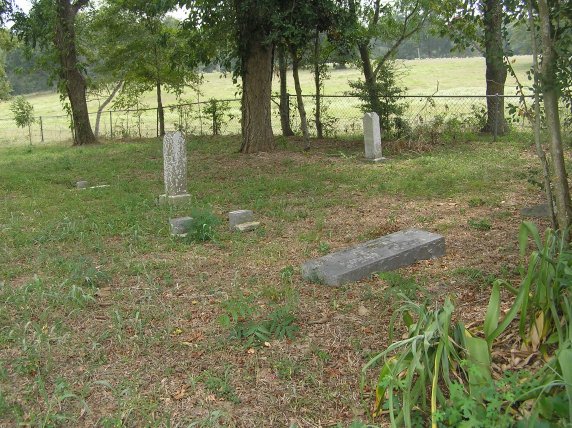 The two tall gravestones are James Bell Stephenson on the left and Malissa Jane (Maxwell) Stephenson on the right.

The double gravestone in the front is for Washington Green Harris Jr. and his wife Louisa (Stephenson) Harris.

Names of Deceased - Stephenson/Harris Cemetery As of 6 Sept. 2005
Name Born Died
1. James Bell Stephenson 13 Oct 1820 28 Sep 1905
2. Melissa Jane (Maxwell) Stephenson 14 Nov 1826 31 May 1866
3. Washington Green Harris, Jr. 1856 1938
4. Louisa (Stephenson) Harris 06 Oct 1861 1943
5. Alga Green "Pete" Harris 10 Sep 1898 07 Aug 1950
6. Susie Loraine (Danford) Harris 17 Oct 1899 10 Jan 1990
7. Winfred Lafayette "Mutt" Marshall 19 Sep 1913 02 Nov 1978
8. Ricky Dale Marshall 1949 1949
9. Cynthia Dawn Harris 22 Mar 1959 27 Mar 1959
10. Olive Stephenson 29 Mar 1866 14 Nov 1866
11. Oliver Stephenson 29 Mar 1866 19 Jun 1866
---