San Isidro Cemetery
Fort Bend County, Cemeteries of TX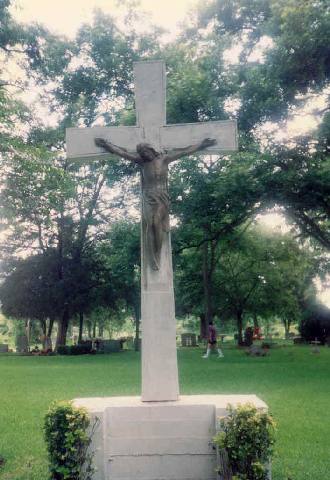 Submitted by: Lois Kennedy
Photos by Yolanda Guerrero (YG)
Cemeteries of Texas: Veda Bragg Mendoza
Location: Take Hwy 6 south of Sugarland to William Trace. Turn left and continue past Highland to Lexington. Turn right to the dead end. Turn left on Lever. The cemetery is on the left past Oyster Creek Bridge.
This is a photo of the cross at San Isidro Cemetery, Fort Bend County, Texas. I had taken my father, when he was about 95 there so he could lay flowers on his parents' and aunt's graves. This photo is from a Houston Chronicle article dated 11/15/98. The three crosses in the background mark the gravesites of Ponciano Guerrero, Francisca Gonzales Guerrero, and Felipa Guerrero (Francisca is not on the list).
I/s/o – Infant Son of M-M – Mr. & Mrs. D/o – Daughter of S/o – Son Of
One photo is of my dad after we had walked across the condemned bridge . The bikers in the background are heading for the bridge over Oyster Creek. Access to the cemetery via the bridge is no longer allowed.
| | | | | |
| --- | --- | --- | --- | --- |
| Last Name | First Name | Born | Died | Comments |