Arledge Ridge Cemetery Obits
Fannin Co. Cemeteries of TX
Submitted by Elaine Nall Bay
Bradshaw, Golden, Murley Obituaries
Scroll down to Find Obit

Barr, Jimmie Roy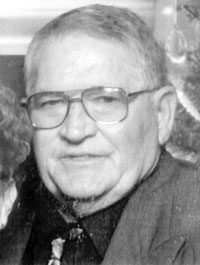 Oct. 18, 2007 - Funeral services for Jimmie Roy Barr, age 68, of Bonham, will be held at 2 p.m. Thursday, Oct. 18, 2007 at First Christian Church under the direction of Wise Funeral Home of Bonham. Pastor Rick Edwards and Rev. W. C. "Bill" Beasley will officiate. Burial will follow in Arledge Ridge Cemetery. Jimmie passed away Saturday morning, Oct. 13, 2007 at his residence.
Jimmie was born May 25, 1939 in Randolph, Tex., son of Roy Barr and Kathleen Trapp Barr. He was a graduate of Leonard High School and Paris Junior College with an Associates degree. He married Juanema Brown, June 5, 1959 in Leonard. Jimmie served as a hospital corpsman with the U.S. Navy 1957 – 1961.He retired from Sam Rayburn Memorial Veterans Center after 29 years as a recreational and physical therapy assistant and later worked in the deli at Brookshires. Jimmie was a member of First Christian Church. He loved to play golf and spend time with his grandchildren. He was preceded in death by his parents and a daughter, Juanema Gail Barr.
Surviving are his wife, Juanema Barr of Bonham; sons, Kyle Barr and wife, Stephanie of Bonham, Ken Barr and wife, Tricia of Oak Point, Tex.; daughter, Kira Murley and husband, Curtis of Carrollton, Tex.; brothers, Sam Barr and wife, Ruth of Fairfax, Virginia and Larry Barr of Greenville; sister, Mary Ann Lumpkins and husband, Craig of Garland; grandchildren, Jayden and Camryn Barr of Bonham and Connor and Landry Murley of Carrollton and best friend of 50 years, David Wakefield and wife, Lou of California.
Pallbearers will be Roy Galyon, Gary Anderson, Rod Ralls, Tim Falgot, Scott Hayes, and Bobby Brownfield. Honorary pallbearers will be Harold Ashlock, Billy Grimes, Kathy Gregory, Herman Corley, Don Smithson, Kenneth Dale and Dwayne Vaughn.
Memorials may be made to First Christian Church. The family will receive friends at Wise Funeral Home from 7 to 9 p.m. Wednesday night, Oct. 17.Online guests may register at www.wisefuneralhome.com. ~ ~ ~ The Leonard Graphic, October 2007
---
Bradshaw, Joe L.
Funeral services for Joe L. Bradshaw, 70-year-old Bailey resident, are scheduled at 2 p.m. Wednesday in the Turrentine-Jackson-Morrow Funeral Home chapel in Leonard with Rev. Jim McIntire officiating. Burial will be in Arledge Ridge Cemetery. Visitation is from 6 to 8 p.m. today at Turrentine-Jackson-Morrow Funeral Home chapel in Leonard. Mr. Bradshaw was born Jan. 19, 1938, to Willie Clay and Addie Irene Caldwell Bradshaw. He was a large equipment mechanic and was a member of Grove Hill Methodist Church. Survivors include a son, Robert Lee "Bobby" Bradshaw of Sulphur Springs; a son and daughter-in-law, Jerry Lynn and Delilah Bradshaw of Greenville; a daughter and son-in-law, Linda Kay and Jeff Martin of Bailey; sister Patsy Sue Malone of Hereford; a brother, Billy Loyd Bradshaw of Amarillo; two grandchildren, Blayne and Randen Martin of Bailey; and special friend Theresa Hill of Wolfe City. His parents preceded him in death. To convey condolences or to sign an on-line register, visit
www.TJMFuneral.com. ~ ~ ~ The Herald Banner, Thursday, April 3, 2008
Bradshaw Joe L.
April 3, 2008 - Funeral services for Joe. L. Bradshaw, 70 of Bailey, are scheduled for 2 p.m., Wednesday, April 2 at the Turrentine-Jackson-Morrow Funeral Chapel in Leonard. Rev. Jim McIntyre will officiate. Burial will be in the Arledge Ridge Cemetery. Family visitation was held Tuesday, April 1, from 6-8 p.m. at the Turrentine-Jackson-Morrow Funeral Chapel in Leonard.
Mr. Bradshaw was born Jan. 19, 1938, son of Willie Clay Bradshaw and Addie Irene Caldwell Bradshaw. He was a large equipment mechanic and a member of the Grove Hill Methodist Church.
He is survived by a son, Robert Lee "Bobby" Bradshaw of Sulphur Springs, Tex.; a son and daughter-in-law, Jerry Lynn and Delilah Bradshaw of Greenville, Tex.; a daughter and son-in-law, Linda Kay and Jeff Martin of Bailey, Tex.; a sister, Patsy Sue Malone of Hereford, Tex.; a brother, Billy Loyd Bradshaw of Amarillo, Tex.; two grandchildren, Blayne and Randen Martin of Bailey, Tex. and a special friend, Theresa Hill of Wolfe City, Tex.
He was preceded in death by his parents.
Turrentine-Jackson-Morrow Funeral Home of Leonard is in charge of arrangements. To convey condolences or to sign an on-line register, please visit
www.tjmfuneral.com. ~ ~ ~ The Leonard Graphic, Tuesday, June 10, 2008
---
Golden, Davis "Dickie"
Rev. Davis "Dickie" Golden, 78, of Greenville passed away Friday, March 28, 2008, at a local hospital. A celebration of life service is at 10 a.m. today at First Baptist Church of Greenville with Rev. Garvon Golden and Rev. Terry Blankenship officiating. Burial is in Arledge Ridge Cemetery in Bonham. Visitation is from 10 a.m. to service time today at the church. Rev. Golden was born to William H. and Erma Boone Golden on July 5, 1930, in Cass County. He married the love of his life, Virginia Leight Pardue, on Aug. 11, 1950, in Texarkana. He pastored many Baptist churches in Texas over a span of 45 years. He was a devoted husband, father, pastor and friend to everyone he met. Rev. Golden is survived by three sons, Larry Golden and wife Rhoda of Forney, Garvon Golden and wife Cindy of South Dakota, and Dwain Golden of Ector; daughter, Penny Little and husband Gary of Greenville; brother, David Golden of Memphis, Tenn.; eight grandchildren, three great-great grandchildren and two on the way; and many nieces and nephews. He was preceded in death by his parent; his wife, Virginia, on March 25, 2008; three sisters and nine brothers. Family members are pallbearers. Memorials may be made to the First Baptist Church Children's Department of Greenville. West Oaks Funeral Home of Sulphur Springs is in charge of arrangements. ~ ~ ~ The Herald Banner, Wednesday, April 2, 2008
---
Golden, Virginia Leigh
Virginia Leigh Golden, 75 of Greenville slipped away into eternity early morning March 25, 2008, in her home. A celebration service of her life is at 1 p.m. Saturday at First Baptist Church of Greenville with Rev. Gary Little and Rev. Terry Blankenship officiating. Burial is in Arledge Ridge Cemetery in Bonham. The family will receive guests for a time of reflection from 10 to 11 a.m. Saturday. Virginia was born to parents Willie Pardue and Ethel Kilgore on March 13, 1933, in Maude. She married the love of her life, Davis (Dickie) Golden on Aug. 11, 1950, in Texarkana; they were married 57 years. She graduated from Paris Jr. College and was a very accomplished seamstress. She was a devoted wife, mother and pastor's wife, and stood by the side of her husband in ministry as they pastored several Baptist churches for more than 45 years. She is survived by her husband; sons Larry Golden and wife Rhoda of Forney, Rev. Garvon Golden and wife Cindy of North Dakota and Dwaine Golden of Ector; a daughter, Penny Little and husband Gary of Greenville; a brother, Ray Pardue and wife Denise of Baton Rouge, La.; one sister, Mary Finto and husband Carl of San Antonio; eight grandchildren and three great-grandchildren and two on the way. She was preceded in death by her parents; four brothers, Claude Pardue, Frank Pardue, Allen Pardue and Don Pardue; and one sister, Ann Henderson. Memorials may be made to the First Baptist Church Children's Department of Greenville. Grandsons and special relatives are pallbearers. West Oaks Funeral Home of Sulphur Springs is in charge of arrangements,
www.westoaksfuneralhome.com. ~ ~ ~ The Herald Banner, Sunday, March 30, 2008
---
Murley, Odie Mae "Monjie"
Funeral services for Odie Mae "Monjie" Murley, 87, of Emory, were held Thursday, May 29, in the chapel of Wilson-Orwosky Funeral Home. Rev. Joe Perkins officiated.
Burial was at Arledge Ridge Cemetery near Bonham. Pall-bearers were Scott Barton, Nick Murley, Mitch Murley, Matt Nixon, Ralph Sanchez and Jason Sanchez Werneking.
Mrs. Murley died Monday, May 26, 2008, at Azalea Place Nursing Home in Tyler.
She was born on May 8, 1921, in Bonham, the daughter of Gaylord and Minnie G. Ridge Lawrence.
She married Franklin Hoyt Murley on June 22, 1940, at Bonham.
Before her retirement she was employed with Kraft Foods in the cheese making department.
She was a member of Emory Baptist Church.
Her survivors include her son, Ronnie Charles Murley, and his companion, Marie Sanchez of Emory; brother, James Lawrence of Dallas; sister, Gayle Reeves of Washington state; and numerous grandchildren and great-grandchildren.
She was preceded in death by her husband; a daughter, Brenda Williford; and a son, Carroll Dean Murley. ~ ~ ~ Rains County Leader, Tuesday, June 1, 2008
---