Leroy and Sarah E Shelton and their daughter, Lennie Shelton Braud.
Old Alton Cemetery, Denton Co. Cemeteries of TX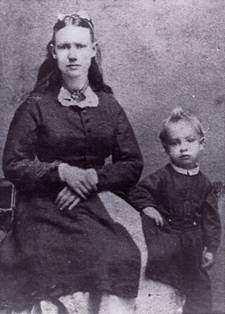 Sarah Elizabeth (Rogers) Shelton and possible William Arthur taken around 1878
Information Submitted by Mark Shelton
Leroy Shelton was the son of James and Nancy Ann (Hendrix) Shelton who were married January 4, 1834 in Tenn. and moved immediately to Blount County in Alabama. They resided there until October 1835, when they "moved to Texas and crossed the Sabine and settled in San Augustine County, five miles below the village of San Augustine where, on December 11, 1835, their first child was born, Leroy Shelton."
James Shelton joined the Texas army to fight for independence from Mexico. "James went to the war in Company 22 for the Texas Volunteers under General Rusk, afterwards was with General Sam Houston, and in later years was with Bird and Burleson in the Indian Wars." A claim against the Republic of Texas dated December 16, 1854, by Robert Curry stated that James Shelton was in the company of volunteers of Captain William Scurlock from July 4 to October 4, 1836, which was under Thomas J. Rusk's command. The Texas Volunteers [San Augustine Co.] "List of Texas Volunteers in 1836 Thomas S McFarland Company", also shows James Shelton listed. In 1838 the family moved from San Augustine to Houston and, after residing less than a year, was "moved by a man by the name of James Pier up to Travis, Austin County, 75 miles above Houston, and there the most of the others of us were born." (See 1850 Austin Co. Census). On the 13th of January, 1853, we moved from Travis to Williamson County near Georgetown, and April the 5th, 1854, we with a company of families and with ox team started for California." Referring again to the diary of James Pier, he has two more references to James and his wife. " Monday August 7th 1854 Election Day in the city of John T. E. -- for sheriff. Mrs. Eldraige and Mrs. Ellen Lott called to see us a little while. Got a letter from Mrs. Shelton dated June 22nd and mailed at Ft. Fillmore on the Rio Grande. Monday, February 19th 1855. To day Mrs. Dunn has just finished Samuel's quilt. To day we (that is Sis) got a letter from Mrs. Shelton from El Monte, Los Angeles Co., California. Dated Jan. 2nd. /55. They arrived there in Sept. /54 safe and well." Leroy was 18 when the family went to California. He reached California when he was 19 years old, in 1854.
Leroy married Sarah Elizabeth Rogers daughter of Edward Hawkins Rogers and Adele Hardcastle. He was 35, she 20. She was born December 8, 1850 in Arkansas. They were married August 22, 1870 by Rev. Charles Gridley minister of the gospel of the M.E. Church South in El Monte So in 1879, Leroy and family moved to Phoenix with other Roger family members to find a new country to start over again. William Andrew, Joseph (Lee) Leander and John Thomas Rogers had all moved to Phoenix area two years earlier. John Thomas mentions in his "story" that "I and my brother-law (Leroy) came back to Texas, staying in New Mexico about 12 months."
This trip for Leroy, at the age of 44, was not easy and he never recovered to a satisfactory condition. Both Leroy's son Joseph Britton and John Rogers' daughter Alberta G died in San Marcia, NM in 1880 and are buried there. "We made a very leisurely journey across the Texas plains and arrived at Fort Worth about the middle of August 1881.
"Both my father and my uncle took places at Smithfield on the east edge of Tarrant County, 12 miles from Fort Worth. Here I went to school two years, then we moved to Collin County near Rock Hill, among the Rogers pioneer settlements, where I grew up."
When he died, he lived at Old Alton, once the county seat of Denton County and where his father had tried to settle in 1835. "The family of Sarah Elizabeth Rogers and Leroy Shelton farmed at Rock Hill, which is in the rolling country near the Little Elm Creek, which is close to the county line between Denton and Collin counties. There is a survey called the Rogers Tract near the Old Alton Cemetery, so it is presumed that they farmed Rogers land in the vicinity.
He and his wife are buried at the Old Alton Cemetery. Leroy died in November 11, 1895, and Sarah died January 4, 1896. He was 60, she was 46. Sarah Elizabeth contracted measles from her son, Arthur, about the time she was ready for delivery. Leroy died after Sarah Elizabeth became pregnant, but before their last son, Leroy, was born. W. A. Shelton wrote in 1955 that they had died within a month of one another. A letter written by Lennie as a child dated Dec. 20, 1895, said, "Sorry to hear Arthur had the measles, the delivery or the shock of her husband's death--or all three." Mrs. W. O. Shelton said she was told she died of an overdose of laudanum.
1. James Edward Shelton, born June 14, 1871, at Azusa, CA. Died August 31, 1958 Dallas, TX.
2. Austin Lee Shelton, born June 24, 1873, at Azusa. Died April 15, 1965 Frisco, TX.
3. William Arthur Shelton, born September 6, 1875, at Azusa. Died February 23, 1959 Atlanta, GA.
4. Joseph Britton Shelton, Born in 1877 in Santa Ana, California, Joseph died at the age of three in San Marcial, New Mexico, in 1880. The town, pronounced Mar-shal, is in Socorro County, about half way between Truth or Consequence and Socorro. San Marcial. The town was completely destroyed by a flood on 13 August, 1929.
5. Lennie Mae Shelton, born August 20, 1882, in Smithfield, Tarrant County, Texas. Died August 16, 1956 in Los Angeles, CA.
6. Albert Bradford Shelton, born February 16, 1886, on the east side of Denton County at Old Bethel near the present town of Frisco. Died June 6, 1958.
7. Willis Oscar Shelton, born May 10, 1889, in Collin County, probably also at Old Bethel. Died August 19, 1945 Supulpa, OK. Willis' son, Keith Shelton lives in Denton and recently retired as head of the journalism dept at North Texas.
8. Leroy Shelton (Lee Shelton Rogers), born December 29, 1895, at Old Alton, near Denton, Texas. Died June 3, 1940 in Los Angeles, CA.
---