Sachse Cemetery Obits
Dallas Co Cemeteries of TX
Submitted by Elaine Nall Bay and Patricia Nall
---
Harrison, Helen Faye
Helen Faye, 87, of Garland, was the second daughter born to Edwin Floyd Sarver and Mary Dell Murphey Sarver on July 27, 1920. She passed away Dec. 20, 2007.
She was a member of First Christian Church for over 50 years. She is survived by her son, John Edwin Harrison and wife, Linda, of Garland; daughter, Donna Beth Brooks and husband, Charles, of Grand Prairie; grandson, Matthew Harrison of Garland; granddaughter, April Ivie and husband, Terry, of Savannah, Texas; great-granddaughters, Courtney and Lauren Ivie of Savannah, Texas; devoted sister, Elsie Jean Bittle of Garland; sister-in-law, Annie Sue Harrison of Wylie; brother-in-law, James Axe of Garland; and numerous nieces and nephews.
She is preceded in death by her husband, Emmett Rayburn Harrison; sister, Edna Mayes and husband, Edison; brother-in-law, Aurel Bittle.
Funeral Service will be held at 10 a.m. Saturday, Dec. 22, 2007, at First Christian Church in Garland with Rev. Dan Jones and Rev. Ray Owens officiating. Interment will follow in Sachse Cemetery, Sachse, Texas. Family received friends from 5 p.m. to 7 p.m. Friday, at Williams Funeral Directors. Memorial Contributions may be made to First Christian Church. ~ ~ ~ The Garland News, Saturday, December 29, 2007
---
Sprowls, Maggie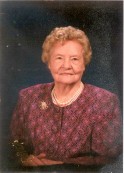 Maggie Sprowls passed away at 7:45 a.m. Dec. 21, in Garland, Texas. Born April 23, 1913, to Montgomery and Fannie Bolton Benham in Seymour, Texas, she married Allen Sprowls Oct. 11, 1931, in Seymour, Texas.
She is survived by five children, Wanda Hix of Van Alstyne, Texas, Peggy Faulkner, Glen Sprowls, James Sprowls all of Garland, and Ronald Sprowls of Poetry, Texas; fifteen grandchildren, thirty-six great-grandchildren and twelve great-great-grandchildren.
She was preceded in death by her husband, one daughter, and granddaughter. Funeral services were held at 2 p.m. Sunday, Dec. 23, 2007, at First Baptist Church in Sachse, Texas. Interment followed in Sachse Cemetery. Family received friends Saturday, from 6 p.m. to 8 p.m. at Williams Funeral Directors. ~ ~ ~ The Garland News, Saturday, December 29, 2007
---
Tapp, Robert
Funeral services for Robert Tapp, 61, were held June 9, 2008, at Charles W. Smith & Sons Funeral Home Chapel in Sachse. Burial followed at Sachse Cemetery.
Pastors Leonard Allgood and Darrell Hargrove officiated.
Mr. Tapp died June 5 in Rowlett.
He was born May 6, 1947, in Summerville, Ga., to the late Robert Bus Tapp and Jewell Battles Tapp.
Mr. Tapp served in the U.S. Army with a tour in Vietnam.
He had worked for a number of years at Lattimore Properties and was an active member at Assembly of God Church in Plano and North City United Pentecostal Church in Garland.
Survivors include his wife of 38 years, Brenda Tapp; daughter, Shannon Reyes and her husband Ivan; two grandchildren, Savanna Campbell and Tony Silva; 11 brothers and sisters and Mom Margie.
Arrangements were under the direction of Charles W. Smith & Sons Funeral Home of Sachse.~ ~ ~ The Wylie News, Wednesday, June 11, 2008
---