Pleasant Mound Cemetery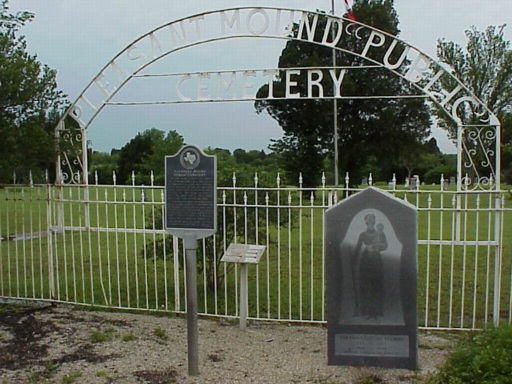 Dallas Co. Cemeteries of Tx
Cemeteries of Texas Coordinator: Dolores I. Bishop

Information provided by the State of Texas Atlas Site

Location:

Marker :
At the intersection of two well-traveled pioneer roads, now Buckner Blvd. and Scyene Rd., this cemetery serves as a reflection of the heritage of this area. Burials took place on the property as early as 1869, but the first marked grave, that of William L. Knox, dates to 1881. In that year, Newton and Catherine (Beeman) Hustead formally donated the land to the Pleasant Mound Methodist church for use as a cemetery. Over the years, additional acreage was added to the cemetery, which has been maintained by the Pleasant Mound Cemetery Association since 1906.
| | | | | |
| --- | --- | --- | --- | --- |
| Last Name | First Name | Birth | Death | Source |
| Hines | Betty Jane | May 22, 1948 | March 30, 2008 | Star Community Newspapers, Wednesday, April 2, 2008 |
| Van Pelt | Mildred Fiola (Davis) | Jan. 15, 1915 | April 26, 2008 | The Wylie News, Wednesday, April 30, 2008 |