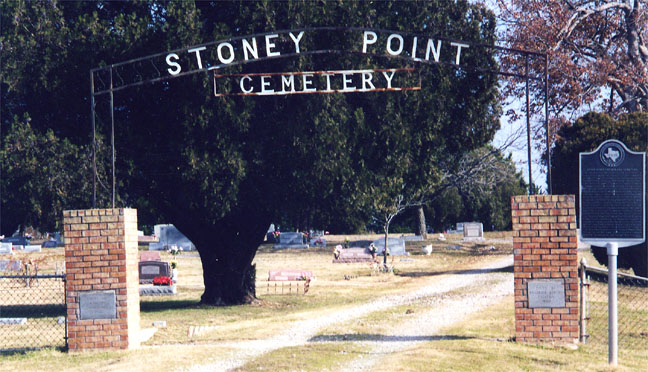 Historical Marker:
Stony Point Church and Cemetery. In the 1870's and 1880's the pioneer settlement of Stony Point was a thriving agricultural community
with a cotton gin, general store, gristmill, molasses mill and school. On
Aug. 17, 1878, area residents formed the Stony Point Baptist Church.
In 1887, J. C. and Elizabeth Price deeded property for the first sanctuary. Destroyed by lightning in 1926, it was replaced by a smaller structure dedicated in 1938. The earliest grave in the cemetery, that of W. M. Wilson's infant son who died in 1880, predates the Church's acquisition of the site. Other graves include those of pioneer settlers and leaders of the church and community. In 1938 control fo the burial site was transferred to the stony point cemetery association. By ordaining early ministers and by helping with the formation of churches in thenearby settlements of Verona, Altoga, Valdasta nd white rock, Stony Point
Baptist Church had a dramatic impact of the region. It continued to play a vital roll until it closed in the late 1950s as a result of the area's declining population. The sanctuary is still used for funerals and for the annual decoration day services.