Rowlett Creek Cemetery
| | | |
| --- | --- | --- |
| | | |
| Rowlett Cemetery 1895-1920 | Church | View of Graves |
Photo credit: Jeanette Coaly
Allen,

Collin Co Cemeteries of Texas

Submitted by

Kelly Westphal
Rowlett Cemetery is located on Hwy 121 and Custer Rd and was named for the Creek that runs nearby. The junction of 121 and Custer is the corner of four towns, Frisco, Allen, McKinney and Plano.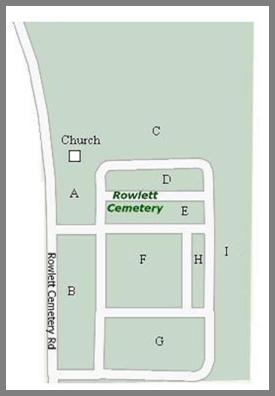 Texas Historical Commission
Rowlett Creek Cemetery
In 1836 Dr. Daniel Rowlett (1786 – 1848), A Kentuckian, came to Texas with his wife and six other families. Rowlett, a physician, Lawyer, Surveyor, and politician, settled near present Bonham. He located much of his large 1838 Land Grant in the fertile area along present Rowlett Creek.
After meeting in homes and outdoors, seven charter members organized the Wilson Creek Church of United Baptists in 1848, under leadership of the Rev. David Meyers. In 1852 the name became "Rowlett Creek Baptist Church". George White (1820 – 1886) deeded six acres at this site in 1861 for a meetinghouse. The following year Shadrick J. Jackson (1830 – 1883) and his wife Sophronia deeded an adjacent four acres. Soon lots were set aside for this cemetery. The earliest marked grave is that of pioneer Alfred Harrington in 1862. The second interment in 1862 was that of Charles Gough, who was on furlough from the Confederate Army. In 1895 the Rowlett Creek Cemetery Association was formed.
Rowlett believed to be the earliest Baptist Church in Collin County. It became inactive in 1935 but had been influential in establishing many early churches, a number of which are still prominent in the North Texas area. (1979)
Aerial view of Rowlett Creek Cemetery (from Mapquest)
Photos Historical Marker and Maps by Kelly Westphal