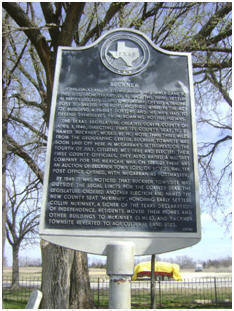 Historical Marker- Town, John (Jack) and Polly McGarrah and family came to this site from Tennessee in 1842. The 3rd settler in present Collin County, McGarrah opened a trading post to barter for hides and furs. While in the act of building a family fort, he and his men had to defend themselves from roaming hostile Indians.
The Texas Legislature created Collin County on April 3, 1846, directing that its county seat, to be named "Buckner", would be no more than 3 miles from the geographical center. Buckner Townsite was soon laid off here in McGarrah's settlement. On the fourth of July, citizens met here and elected their first county officials. They also raised a military company for the Mexican War. On September 21, there was an auction of Buckner Town lots; on November 25, 1846 the post office opened, with McGarrah as postmaster.
By 1848, it was noticed that Buckner Townsite was outside the legal limits for the county seat. The Legislature ordered another election and named the new county seat, "McKinney", honoring early settler Collin McKinney, a signer of the Texas Declaration of Independence. Residents moved their homes and other buildings to McKinney (3mi E), and Buckner Townsite reverted to agricultural land uses.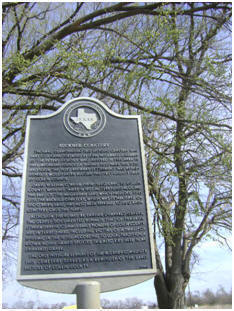 Buckner Cemetery
The land surrounding this historic cemetery was part of a grant obtained by John McGarrah, a member of the Peters Colony who arrived in this area in 1843. McGarrah founded a trading post near this site, and soon the Fort Buckner settlement was established. It would later become the first county seat of Collin County. David William O'Brien (1808-1885) came to Collin County with his family in 1857, he eventually acquired the part of the McGarrah land which included this site. The Buckner Cemetery, which was established on the O'Brien land, has also been referred to as O'Brien Cemetery over the years. Although there may be earlier unmarked graves, the oldest documented burial is that of Franklin O'Brien (1851-1870). Many early pioneers of Collin County are interred here including victims of a smallpox epidemic in the 1870's. According to local tradition, a Kiowa Indian named Spotted Tail also lies here in an unmarked grave. The only physical remnant of the Buckner Community, this cemetery serves as a reminder of the early history of Collin County.