Muncey Cemetery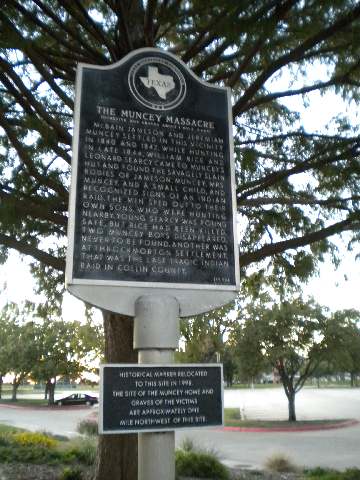 Plano, Collin Co, Cemeteries of TX

Submitted by Elaine Nall Bay and Patricia Nall
SH5
33.069°N 96.683°W


The historical marker for the Muncey Massacre is on the campus of Collin County Community College at Jupiter Road and Spring Creek Parkway. The cemetery is located in woods behind a motorcycle shop on SH5.
The Muncey Massacre
(homesite and graves about 1 mile east)
McBain Jameson and Jeremiah Muncey settled in this vicinity in 1840 and 1842. While hunting in late 1844, William Rice and Leonard Searcy came to Muncey's hut and found the savagely slain bodies of Jameson, Muncey, Mrs. Muncey, and a small child, and recognized signs of an Indian raid. The men sped out to their own sons, who were hunting nearby. Young Searcy was found safe, but Rice had been killed. Two Muncey boys disappeared never to be found. Another was at Throckmorton settlement. That was the last tragic Indian raid in Collin County.
Historical marker relocated to this site in 1998. The site of the Muncey home and graves of the victims are approximately one mile northwest of this site.