Mt. Carmel Cemetery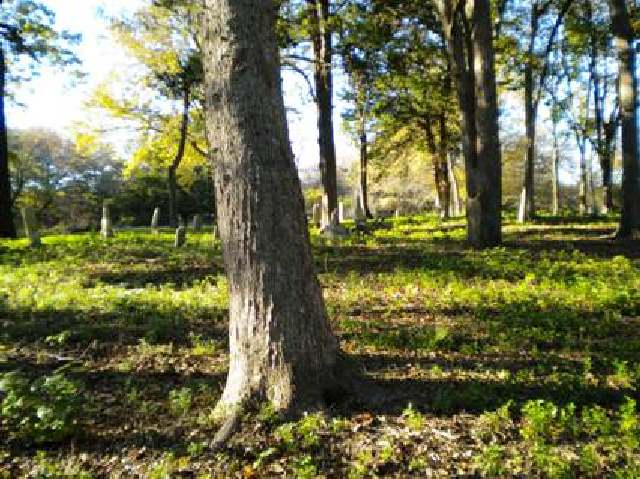 aka Hampton Cemetery
Desert, Collin County, Texas
33.38872 N
96.40266 W
Surveyed & Photographed November 2009
Submitted by Elaine Nall Bay and Patricia Nall
Directions: At the intersection of Hwy 121 and Hwy 160, travel north on Hwy 160 for about ˝ mile. Turn west (left) onto CR 584. Travel about three-fourths of a mile until CR 584 makes a sharp left curve. Just past this curve, is a house on the right with a gate that says "Private Property". On the left (south) side of the house is another locked gate with a path leading to the cemetery. The gate has been locked due to cemetery visitors leaving the gate open and livestock getting out.
About 2 ˝ years ago, the county Sheriff visited the owner of the property that is in front of the Mt. Carmel Cemetery. He requested permission to bring workers and equipment onto the owner's property in order to clean up the cemetery. It took ten men ten days to cut away overgrowth, trees, etc. The cemetery is in good condition. It is, however, infested with poison oak, copper head snakes, and coyotes. Extra caution should be taken when visiting the cemetery.
Information obtained from the property owner:
· The cemetery has two names – Mt. Carmel and Hampton. However, there are only two Hampton buried in the cemetery per marker inscriptions.
· The county Sheriff used dowsing rods and there is evidence that there are burials as far out as the property owner's driveway.
· Most headstones are in very good condition considering their age. The property owner put a barbed wire fence around the cemetery to keep goats out. A few headstones have been slightly damaged by the goats.
· Trees have grown quit large over time. Some headstones have been dislodged from their original placement because of the tree's roots and expanding size.
· Trees have grown in the location of burials as evidenced by a tree being between a headstone and footstone.
Desert got its name (according to the property owner): There were many deserters during the Civil War that settled in the current area. The community became known as Desert (pronounced with a short E instead of a long E vowel). Entire families are buried in the Mt. Carmel Cemetery. Many of the men buried here were the deserters for which the town was named for.
NAME

BIRTH DATE

DEATH DATE

COMMENTS

footstone

---

---

Footstone

---

---

Close-up photo

---

---

Against Tree

---

---

Jan 29 1871

Oct 5 1890

w/o W.F. Austin
Footstone

May 21, 1868

Feb 28 1889

d/o J.M. & L.J. Blackwell

-----

Sept 7 1887

s/o J.M. & L.J. Blackwell

Dec 30 1879

Oct 18 1882

s/o H.F. & S.J. Blevins

Jan 7 1853

Apr 9 1882

w/o Wm. J. Blevins

Nov 23 1885

Mar 22 1886

s/o H.F. & S.J. Blevins
Footstone

Oct 21 1888

Sept 9 1889

d/o H.F. & S.J. Blevins
Footstone

Sept 27 1845

Jan 26 1897

Oct 17 1879

Sept 31 1880

s/o J.L. & J.H. Buchanan

Apr 1 1862

Oct 3 1903

w/o W.D. Buchanan
Footstone

June 10 1883

Aug 2 1883

d/o W.D. & M.A. Buchanan

May 30 1907

Feb 19 1908

s/o W.D. & F.B. Buchanan

May 13 1877

Oct 3 1878

Jan 5 1836

Feb 28 188-

June 30 1818

May 23 1890

w/o Wm. Clark

Feb 4 1815

June 17 1903

May 2 1892

May 7 1892

Apr 28 1890

Jan 27 1891

Jan 22 1883

Feb 6 1884

Feb 10 1887

Sept 22 1887

Feb 1 1882

Oct 2 1882

s/o M.L. & E.R. Dillard

Aug 4 1861

-----

d/o F.M. & R.G. Frogge

Mar 22 1830

Apr 25 1866

h/o R.C. Frooge

Aug 29 1884

July 29 1885

d/o B.A. & M.E. Gardner

Jan 23 1882

Mar 5 1883

s/o B.A. & M.E. Gardner

Aug 12 1840

May 15 1911

Married 1870

June 28 1823

May 4 1890

June 27 1858

Mar 16 1878

w/o S.V. Gentry

Glass, John M.

---

---

Nov 16 1880

Aug 5 1883

June 20 1806

Apr 10 1880

July 14 1848

May 4 1888

h/o Cora Golden
Footstone

July 22 1865

July 21 1889

w/o T.J. Grounds

---

---

Aged 5yr 6mo 10dys

July 10 1852

July 14 1861

Age 10yrs, 4dys

June 3 1893

May 6 1894

Dec 7 1890

June 23 1896

Aug 20 1866

Dec 2 1893

1824

1883

Feb 11 1843

July 25 1879

Jan 5 1880

Jan 5 1880

--- 1 1886

June 13 1887

Mar 1 1818

June 6 1883

h/o Elizabeth Ann Walker, d/o Molly Polly McAlister & Wm. G. Walker; granddaughter of Molly Savility Nall McAlistersis/o Asa Walker buried at Cross Roads Cem

Aug 22 1878

Apr 29 1887

1813

1895

w/o Rev. John Golden

Jan 15 1828

Apr 25 1883

h/o Sarah O. Lorance

Jan 11 1841

June 30 1882

h/o M.A. Mangrum
Footstone

Jan 29 1867

Aug 24 1888

Jan 13 1894

Jan 17 1896

d/o J.S. & V.R. McCollom

May 29 1885

Jan 1 1886

s/o J.S. & V.R. McCollom
Footstone

Feb 15 1892

Oct 16 1892

s/o J.S. & V.R. McCollom

May 4 1884

May 4 1884

d/o J.S. & V.R. McCollom

Mar 18 1808

Mar 1 1887

Mar 23 1859

Apr 5 1859

s/o J.S. & M.A. McCollom

Mar 22 1879

May 13 1887

d/o J.S. & M.A. McCollom
age 8 yrs, 1 mo, 21 days

May 5 1850

Sept 21 1869

June 6 1867

Sept 24 1876

s/o James S. & M.A. McCollom

Apr 2 1858

Jan 5 1870

s/o James S. & M.A. McCollom

Jan 31 1829

July 23 1881

h/o R.G. Morrison
Footstone

Jan 8 1872

Feb 16 1892

s/o Harvey & R.G. Morrison

Apr 17 1815

Aug 26 1859

Oct 27 1811

May 12 1859

Aged 41yr 5mo 15dys
Footstone

Nov 22 1877

Aug 18 1879

s/o W.J. & M.R. Norwood

Aug 9 1857

Oct 21 1878

d/o J.S. & M.E. Norwood

---

Mar 12 1883

w/o N.J. Scott
Aged 52 years

Mar 4 1881

Mar 2 1889

s/o G.A. & J.A. Smith

Oct 20 1858

Oct 23 1881

d/o J.R. & P.M. Smith

Jan 17 1887

Feb 14 1887

d/o B.F. & C.E. Thacker

Oct 27 1859

Dec 24 1889

---

---

Headstone base

Nov 19 1889

Dec 12 1890

s/o H.F. & J.E. Tidwell

Feb 4 1848

Sept 21 1913

w/o Henry F. Tidwell, m 11 Sept 1869 sister of Asa Walker buried at Cross Roads Cem

d/o Mary Polly McAlister & Wm. G. Walker
granddaughter of Molly Savility Nall & David McAlister

July 12 1871

Nov 18 1872

s/o H.F. & J.E. Tidwell
Footstone

Apr 22 1877

Sept 14 1882

d/o W.A. & B.J. Tomlinson

---

---

1816

Feb 8 1882

w/o Wm. G. Walker d/o Molly Savility Nall & David McAlister

1813

Oct 20 1873

husband of Molly Polly McAlister, m 1835

Jan 30 1885

June 2 1888

d/o J.E. & N.J. Wallace
aged 3yrs 4mos 3ds

Jan 25 1863

Nov 7 1885

w/o W.A. Webster

Jan 9 1818

Apr 25 1887