George McGarrah Cemetery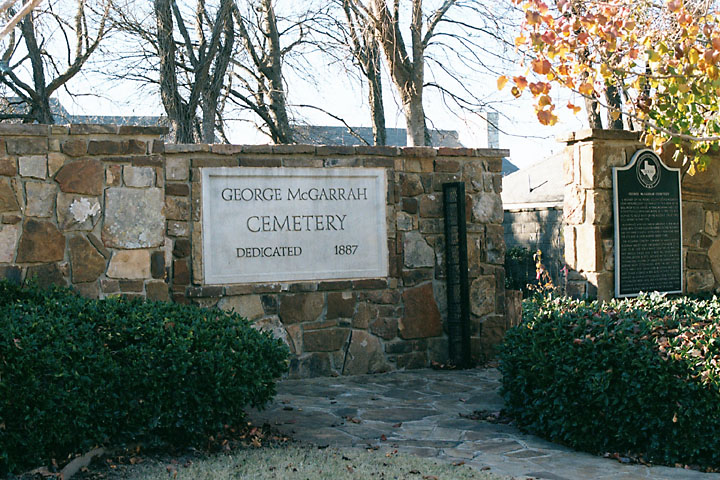 McKinney,
Collin Co Cemeteries of Texas

Cemetery inscription and historical data by Jay Silber, Photo by Gary Webb
2009 Old McGarrah Road, McKinney, TX 75070 (Private Property) Visitation Information: If you would like to see the cemetery, you can drive by and see the outside any time. If you would like to get inside, contact the Cemetery Association at 972-542-7791, which rings at the house of Dr. and Mrs. Hines, relatives of the McGarrahs.
Historical Marker:
George McGarrah Cemetery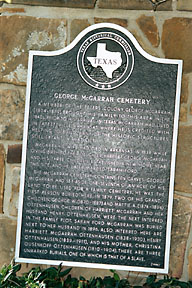 A member of the Peters Colony, George McGarrah (1804-1879) brought his family to this area in the 1840s. Prior to his arrival in Texas, McGarrah had lived in Fayetteville, Arkansas, where he is credited with helping to build many of the historic structures still extant in that city. McGarrah's wife had died in Arkansas in 1838 while giving birth to their daughter, Harriett. George McGarrah and his three children established a new home near this site, and he later married Sarah Ford. The McGarrah Cemetery contains ten graves. George McGarrah had set aside one-seventh of an acre on his land to be used for a family cemetery. He was the first person buried here, in 1879. Two of his grandchildren, George W. (1870-1887) and Mattie A. (1874-1894) Ottenhausen, children of Harriet McGarrah and her husband Henry Ottenhausen, were the next interred in the family plot. Sarah Ford McGarrah was buried next to her husband in 1896. Also interred here are Harriett McGarrah Ottenhausen (1838-1930), Henry Ottenhausen (1839-1911), and his mother, Christina Ousenkoff Ottenhausen (1810-1904). There are three unmarked burials, one of which is that of a slave.
(1988)

Note the plaque refers to Ottenhausen, which is not correct. It should be Ottenhouse, as seen on the grave markers.
**************
The McGarrah Cemetery is located inside of Stonebridge Ranch development, Briar Ridge sub-division, The developer is responsible for building a stone wall for added beauty and to protect the site.

Click on thumbnails below to see full size photos
Sarah McGarrah Born Apr. 13, 1812 in Jasper Co. Ky. And came to Ark and married to George McGarrah Nov. 22, 1841 and came to Tex Nov. 3, 1843 and has been a member of the Christian Church since 1836 DIED Oct. 26, 1896
| | | | |
| --- | --- | --- | --- |
| | George McGarrah born on Caney Fork in Tenn. Mar. 8, 1804 and came to Tex Nov. 3, 1843 Died July 3, 1879 | | Mattie A. Daughter of Henry & Hariet Otenhouse [only one T on stone] Born Nov 21, 1874 Died Oct 12, 1894 Aged 19 years, 10 months, and 21 days |
| | Christina Ottenhouse Born 1810 Died Mar 7, 1904 only sleeping [granite stone replaced original in 1950s] | | Henry Ottenhouse Born Sept 15, 1839 Died Feb 3, 1911 gone but not forgotten [granite stone replaced original in 1950s] |
| | Mother Harriet Ottenhouse 1838 - 1930 [granite stone replaced original in 1950s] | | GWO Born Aug. 19, 1870 Died Feb. 16, 1887 Aged 16 ys, 5 ms, 28 ds Otenhouse Wolcott Bros. McKinney TX |