Higgins Cemetery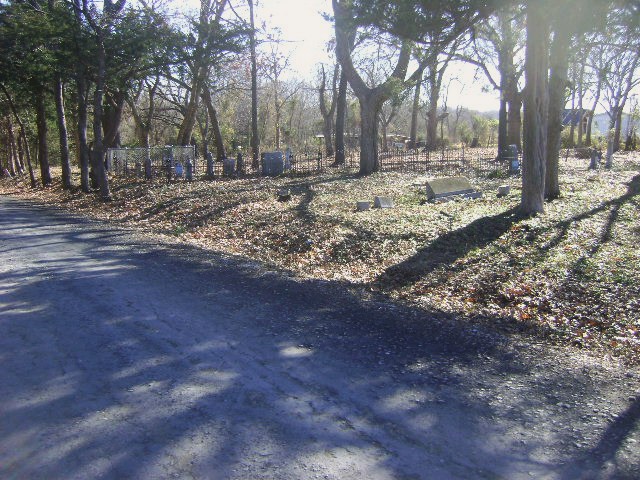 Lowry Crossing, outside Princeton
Collin Co. Cemeteries of TX
Submitted by Elaine Nall Bay and Patricia Nall
December 2008 Higgins Cemetery is located on a corner at the intersection of CR 394 and CR 398. The cemetery is very poorly maintained with evidence of large trees having been cut down and large piles of mulched tree bark throughout the area. There is no evidence any type of fencing; no entrance; no cemetery sign. A few burial locations are marked with large pieces of wood; photos have been taken although the names of the persons buried in these areas are unknown. A schoolhouse once stood on the land in front of the cemetery.
History of Higgins Cemetery
DIRECTIONS:Take Hwy 75 north from Plano or Hwy 75 south from McKinney. Take the Hwy 5 exit which passes North Texas Medical Center of McKinney. Hwy 5 will become S. McDonald St. At the intersection of S. McDonald St. and Industrial Blvd (landmark - Pecan Grove Cemetery), turn east onto Industrial Blvd. Travel approximately 0.7mile, then turn onto FM 546 E. Travel approximately 6 miles. CR 398 and CR 394 intersect into FM 546 E. Turn north onto CR 398 or CR 394. These two blacktopped county roads will intersect within a short distance. Higgins Cemetery is located on the NE corner of this intersection.
| | | | |
| --- | --- | --- | --- |
| NAME | BIRTH DATE | DEATH DATE | COMMENTS |
| Addington, Annie A. | Nov 19 1887 | Sep 21 1889 | d/o J.W. & M.J. Addington |
| Addington, M.J. | Jan 5 1849 | Sept 9 1900 | w/o J.W. Addington |
| Baker, Bettie A. | Oct 21 1866 | Apr 20 1909 | Baker plot w/o N.B. Baker |
| Baker, Napoleon | 1863 | 1938 | Baker plot "Father" |
| Cross, Mary A. | June 10 1877 | Aug 24 1905 | w/o J.W. Cross |
| Crosson, Mary | Nov 17 1842 | Feb 19 1896 | w/o W.W. Crosson |
| Harpole, John C. | Oct 15 1876 | Oct 3 1877 | s/o R.J. & M.E. Harpole |
| Higgins, Jean A. | Oct 26 1826 | Mar 27 1887 | w/o R. B. Higgins |
| Higgins, Mary A. | Dec 12 1861 | Mar 27 1875 | - |
| Higgins, R. B. | Dec 3 1820 | Mar 11 1876 | - |
| Kindle, Infant | Dec 18 1898 | Dec 18 1898 | Stiff plot d/o G.B. & Maggie Kindle |
| Kindle, Infant | Oct 5 1910 | Oct 5 1910 | Stiff plot s/o G.B. & Maggie Kindle |
| Kindle, Martin P.F. | Aug 12 1840 | Aug 13 1912 | Kindle plot "Father" Corp Co E 22 Texas Cav CSA |
| Kindle, Sarah E. | Oct 21 1846 | Feb 18 1890 | Kindle plot "Mother" 2nd stone |
| Kindle, William W. | Dec 1 1899 | Dec 5 1899 | Stiff plot s/o G.B. & Maggie Kindle "Willie" |
| Middleton, Claudie E. | Mar 24 1888 | Aug 24 1889 | s/o D.G.& M.E. Middleton |
| Middleton, Daniel Green | June 19 1856 | July 24 1933 | - |
| Middleton, Mary E. | Aug 19 1857 | May 20 1908 | w/o D.G. Middleton |
| "Mother" | - | - | footstone |
| Paul, Laura Lee | June 10 1898 | Oct 7 1899 | Adopted d/o T.J. & L.E. Townsend |
| Poston, Charlie | Aug 21 1876 | June 28 1898 | Poston plot s/o R.J. & N.M. Poston |
| Poston, Hiram | Apr 23 1890 | Apr 15 1898 | Poston plot s/o R.J. & N.M. Poston |
| Poston, N.M. | Sept 9 1853 | Jan 17 1907 | Poston plot w/o R.J.Poston |
| Poston, R. J. | May 2 1844 | Mar 27 1919 | Poston plot |
| Poston, Robert | Jan 16 1907 | July 5 1910 | s/o J.J. & M.A. Poston |
| Rodgers, Billie | Feb 27 1886 | Feb 28 1886 | s/o J.L. & S.A. Rodgers |
| Rodgers, Infant | Mar 15 1888 | Mar 20 1888 | s/o J.L. & S.A. Rodgers |
| Rodgers, Susie | Jan 18 1887 | Oct 15 1888 | d/o J.L.& S. A. Rodgers |
| "Sister" | - | - | Footstone |
| Stiff, C. A. | Nov 27 1847 | Jan 29 1916 | Stiff plot "Mother" |
| Stiff, Infant | Aug 5 1891 | Aug 8 1891 | Stiff plot s/o W.W. & C.A. Stiff |
| Stiff, John Mc. | Feb 15 1886 | June 3 1900 | Stiff plot s/o W.W. & C.A. Stiff |
| Stiff, Mary A. | Sept 5 1877 | July 20 1900 | Stiff plot d/o W.W. & C.A. Stiff |
| Stiff, Minnie F. | Sept 7 1881 | May 3 1905 | Stiff plot d/o W.W. & C.A. Stiff |
| Stiff, Wm. Matt | Sept 23 1879 | Jan 1 1901 | Stiff plot s/o W.W. & C.A. Stiff |
| Townsend, Eddie Lee | Nov 9 1888 | June 12 1890 | s/o G.L. & Carrie Townsend |
| Townsend, P.K. | Aug 6 1832 | Mar 22 1897 | w/o W.L. Townsend |
| Townsend, W.L. | May 6 1825 | Oct 25 1888 | - |
| Unknown | - | - | - |
| Unknown | - | - | - |
| Unknown | - | - | - |
| Unknown | - | - | - |
| Woods, Emiley | Dec 22 1867 | May 4 1940 | - |
| Woods, John J. | Sept 10 1863 | July 5 1936 | - |
| Woods, Johnnie Roy | Dec 23 1895 | Sept 20 1896 | - |