Bear Creek Cemetery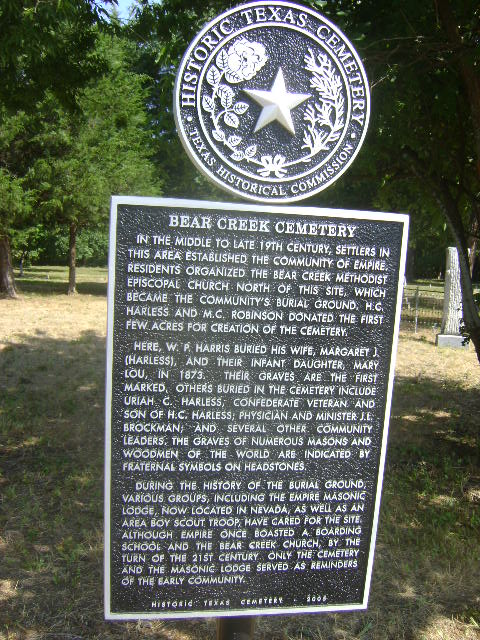 Established 1873
Nevada, Collin Co, Cemeteries of TX

Submitted by Elaine Nall Bay and Patricia Nall
surveyed July 2009
In the middle to late 19th century, settlers in this area established the community of Empire. Residents organized the Bear Creek Methodist Episcopal Church north of this site, which became the community's burial ground. H.C. Harless and M.C. Robinson donated the first few acres for the creation of the cemetery.
Here W. P. Harris buried his wife, Margaret J. (Harless) and their infant daughter Mary Lou in 1873. Their graves are the first marked, others buried in the cemetery include Uriah C. Harless, Confederate veteran and son of H.C. Harless; physician and minister J.L. Brockman, and several other community leaders. The graves of numerous Masons and Woodmen of the World are indicated by fraternal symbols on headstones.
During the history of the burial ground, various groups, including the Empire Masonic Lodge, now located in Nevada, as well as an area Boy Scout Troop, have cared for the site. Although Empire once boasted a boarding school and the Bear Creek Church, by the turn of the 21st century only the cemetery and the Masonic Lodge served as reminders of the early community.
CR544
Latitude 33.056N
Longitude 96.406W
History Bear Creek Cemetery Association
Name

Birth

Death

Comments

Feb 13 1887

Aug 24 1888

-----

-----

d/o -----

Mar 15 1854

May 7 1875

w/o ------ d/o Granville & Sarah Jones
joined the M.E. Church S. Aug 5 1869

Dec 6 1881

May 30 1882

d/o J.D. & S.E. Baker
Baker plot

Sept 20 1876

Feb 5 1877

s/o T.B. & E.F. Barnett

Feb 29 1849

Mar 29 1876

w/o T.B. Barnett

Nov 22 1886

Dec 5 1886

s/o J.H.O. & F.D. Barringer

Mar 25 1897

Sept 26 1899

d/o J.E. & Jennie Basham
age 1 yr, 6 mo, 1 da

May 11 1877

Oct 1 1878

s/o H.H. & N.F. Belew

Aug 10 1855

Aug 16 1891

Born in Columbus, GA

July 13 1885

May 18 1886

d/o A.M. & A.J. Blalock
footstone

Oct 2 1889

Nov 14 1899

d/o E.E. & ?.A. Blount

Sept 30 1851

Oct 31 1880

Feb 14 1814

Nov 6 1884

1819

1903

Age 84 years

1829

1891

Age 62 years

Feb 3 1905

Apr 7 1905

d/o E.G. & M.D. Brown

1866

1902

w/o James McDugald

-----

Apr 25 1900

Age 71 yrs, 4 mo, 5 days

Mar 26 1846

Feb 2 1890

Apr 4 1822

Mar 24 1892

May 9 1822

June 18 1880

w/o B.W. Burns

footstone

Oct 31 1858

Oct 31 1885

Mar 20 1823

Oct 6 1889

w/o Alford Casey

Oct 9 1892

Oct 20 1892

d/o F.M. & Etta Chenoweth

Oct 9 1892

Oct 23 1892

s/o F.M. & Etta Chenoweth

June 24 1843

Aug 20 1880

w/o J.F. Clifft

Apr 15 1882

Aug 23 1882

d/o G. C. & M.F. Corry

Feb 26 1886

June 4 1887

d/o G.C. & M.F. Corry

May 5 1884

May 30 1884

d/o J.H. & M.F. Crenshaw

May 26 1830

Apr 25 1890

w/o W.T. Crenshaw

--- 1 1886

Oct 13 1886

s/o L. & S.E. Dale

July 6 1905

July 6 1905

s/o C.S. & Sarah Daniel

Dec 15 1903

Dec 15 1903

s/o C.S. & Kate Daniel

Jan 16 1873

Feb 14 1900

w/o T.A. Daniel

Feb 1880

Feb 1880

d/o J.E. & M.J. Davis

July 8 1873

Nov 18 1873

s/o J.E. & M.J. Davis

--- 20 1820

Dec 29 1879

w/o J.S.M. Davis
bottom half of stone

Dec 26 1863

Jan 31 1887

w/o M.C. Day

Mar 28 1824

May 16 1884

Apr 14 1848

Dec 16 1900

Sept 22 1852

Sept 11 1902

Oct 10 1895

Oct 1 1896

s/o J.T. & ?.D. Evans

May 27 1882

Mar 7 1899

s/o R.C. & S.E. Evans

Feb 2 1881

Feb -- 1882

s/o T.J. & ?.V. Freeman

Aug 17 1887

Sept 30 1888

s/o F.G. & C. Garrett

July 23 1831

July 2 1876

w/o L.B. Gay

Apr 4 1866

Apr 30 1887

Aug 24 1893

Oct 18 1899

d/o S. & A.E. Goode

Dec 4 1882

Feb 28 1884

s/o A.L. & C. Graves

Oct 17 1857

June 16 1893

Dec 29 1901

July 7 1903

d/o J.H. & D. Habern

1832

1905

Mar 23 1859

Aug 18 1892

w/o Lewis Hall

Jan 6 1832

Apr 27 1887

w/o Richard Hargrave

Mar 4 1820

Mar 20 1880

Jan 31 1890

Aug 27 1895

d/o C.C. & A.M. Harless

May 16 1812

Dec 20 1878

Dec 25 1881

Jan 7 1882

s/o H.W. & M.L. Harless

Aug 20 1889

Aug 20 1889

d/o H.W. & M.L. Harless

Apr 26 1833

Apr 17 1887

Jan 26 1816

June 4 1899

w/o Henry C. Harless

May 19 1861

Sept 17 1889

w/o Henry Harless
d/o J.L. & Mary H. Brockman

Apr 11 1861

Feb 10 1879

w/o C.C. Harless

Apr 18 1892

June 8 1893

s/o H.W. & J.A. Harless

July 3 1880

Aug 1 1881

s/o H.W. & M.L. Harless

Aug 24 1893

Aug 10 1894

s/o H.W. & J.A. Harless

Sept 7 1835

Oct 25 1907

July 30 1848

Nov 1 1873

Oct 25 1873

Dec 12 1873

Mar 22 1881

Apr 8 1889

s/o T.J. & M.E. Hodnett

Dec 10 1874

Aug 9 1876

s/o M.C. & J.H. Horton

Dec 25 1875

July 5 1895

s/o W.A. & M.F. Jones

Nov 13 1880

May 12 1901

s/o W.A. & Mary F. Jones

July 10 1883

Mar 31 1885

d/o J.P. & S.W. Lovell

footstone

s/o J.H. & L.H. -----
footstone

Sept 13 1895

Feb 15 1897

d/o J.H. & L.H. Martin

--- -- 1893

Aug 28 1894

d/o J.H. & L.H. Martin

Jan 11 1862

Jan 15 1902

-----

Jan 24 1881

w/o L.D. Mayfield
age 50 years

-----

Jan 18 1881

Age 47 years

Mar 27 1870

Jan 15 1881

d/o L.D. & E. Mayfield

Jan 1 1892

Aug 15 1892

s/o B.S. & Gertrude McClendon

Feb 28 1890

Feb 28 1890

s/o B.S. & Gertrude McClendon

Mar 24 1856

Aug 4 1886

May 23 1902

May 1 1904

d/o L.D. & M.A. McIntire

June 24 1885

July 24 1889

s/o W.F. & A.E. Moore

Dec 18 1818

Sept 17 1878

d/o N. & S.L. Morris

------

Buried 1888

s/o E.J. & Annie Nowlin

-----

Buried 1888

d/o E.J. & Annie Nowlin

Jan 26 1887

Feb 10 1887

s/o D.P. & L.J. Pegram

Dec 24 1884

Nov 13 1888

s/o C.W. & Victoria Puckett

June 27 1851

Aug 31 1927

Feb 13 1881

Mar 19 1881

d/o D.W. & M.J. Puckett

Aug 8 1886

June 4 1888

s/o D.W. & M.?. Puckett

Sept 16 1860

May 10 1899

w/o H.S. Puckett

---

----

"Brother"

Oct 6 1877

Nov 20 1894

s/o J.H. & Mattie Reinhardt

Nov 22 1885

Dec 5 1885

s/o J.H. & Mattie Reinhardt

Nov 25 1879

July 20 1881

s/o J.H. & Mattie Reinhardt

Dec 1 1883

Aug 3 1884

d/o J.H. & Mattie Reinhardt

Sept 8 1852

Oct 29 1899

w/o John H. Reinhardt

Oct 18 1894

Nov 3 1894

d/o P.E. & M.W. Robinson

Mar 1 1887

May 25 1887

s/o J.T. & M.S. Robinson

Nov 22 1897

Dec 14 1897

d/o P.E. & M.W. Robinson

Aug 11 1876

July 10 1890

d/o S.L. & H.B. Robinson

June 2 1870

Aug 17 1895

w/o W.J. Robinson

Apr 14 1874

Jan 26 1890

s/o S.L. & H.B. Robinson

Jan 20 1867

June 28 1888

d/o S.L. & H.B. Robinson

s/o S.L. & H.B. Robinson

Feb 9 1823

Mar 2 1887

Feb 25 1890

Oct 30 1890

d/o H.C. & S.J. Shipp

Apr 23 1860

Jan 28 1901

w/o Dr. J.B. Sims

Apr 6 1880

Oct 1 1881

s/o J.N. & M.F. Stallings

Nov 1 1878

Nov -- 1879

s/o J.N. & M.F. Stallings

Feb 25 1854

Dec 5 1878

Aug 28 1881

Jan 22 1883

d/o W.C. & S.E. Stanford

Jan 15 1858

Jan 12 1883

w/o W.C. Stanford

1843

1897

w/o D.M. Stimson

July 7 1881

Aug 8 1883

d/o D.M. & M.A. Stimson

Nov 4 1862

Sept 18 1881

w/o W.H. Stimson

Dec 23 1860

Sept 19 1912

Jan 3 1885

June 17 1886

s/o W.B. & Virginia Taggart

Sept 7 1887

Oct 25 1887

s/o J.G. & M.J. Taggart

May 2 1863

Mar -- 1889

w/o W.B. Taggart

Oct 3 1889

------

d/o J.R. & Ella Taylor

----

----

d/o E. & M.A. Templeton

Mar 20 1880

Dec 28 1880

s/o E. & M.A. Templeton

Nov 3 1886

July 25 1888

d/o F.C. & M.B. Tisdale

----

1903

1862

1905

1857

1925

Unknown

--- -- 1839

Jan 22 1878

Oct 9 1881

Feb 6 1882

footstone

Dec 28 1881

Oct 14 1882

Nov 16 1888

w/o J.T. Walters

Feb 3 1868

June 29 1891

d/o La---- & Margarett Weatherall

July 15 1882

May 6 1883

s/o J.I. & A.S. Webb

Mar 13 1884

Mar 13 1884

d/o J.I. & A.S. Webb

Feb 1847

Feb 20 1889

Feb 23 1816

Aug 24 1882

w/o ?. R. Welborn

Feb 10 1805

Feb 15 1889

w/o Gideon White

Mar 22 1871

Jan 31 1892

s/o T.P. & S.E. Yeager

May 18 1850

Feb 23 1925

w/o T.P. Yeager

July 13 1876

Sept 28 1877

d/o T.P. & S.E. Yeager

Oct 8 1845

Sept 2 1891