Bowman Cemetery History
Collin Co, Cemeteries of TX

Submitted by Elaine Nall Bay and Patricia Nall
Bowman Cemetery (1868 – ca1919)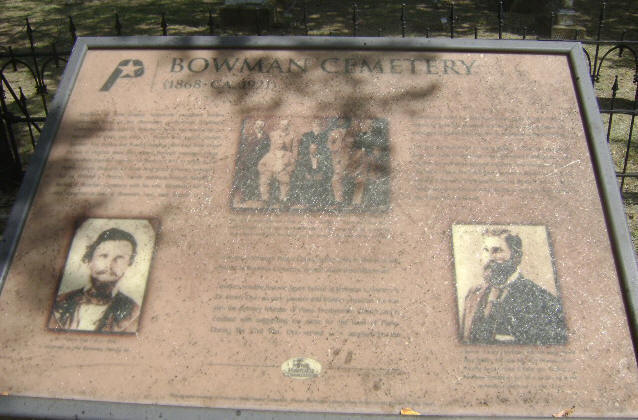 Members of three related, historically prominent families, comprise many of the interments at Bowman Cemetery. Cemetery founder John D. Bowman's family had marital ties to members of both the John D. Brown and Joseph Russell families. The Brown and Russell families, who had been close friends in Virginia, were also related through marriage. These two families traveled together to Texas in 1845 to settle in the Peters Colony (Republic of Texas land grant given to investors led by William S. Peters). Family patriarch Joseph Russell is buried at Bowman Cemetery with his wife Elizabeth, his son and daughter-in-law, a Bowman, are also buried in the cemetery. Although Peters Colony settler John D. Brown is not buried at Bowman Cemetery, several of his descendants are.
Another notable historic figure buried at Bowman Cemetery is Dr. Henry Dye, an early pioneer and frontier physician. He was also the primary founder of Plano Presbyterian Church and is credited with suggesting the name for the town of Plano. During the Civil War, Dye served as a surgeon for the Confederate Army. He died from tuberculosis in 1870. He is related to both the Bowman and Brown families, through the marriages of two of his daughters to members of these families.
The last marked burial in the cemetery is that of George W. Bowman, John D. Bowman's son. He was a Confederate Army veteran, as well as an original organizer and investor of Plano's first bank, Plano National Bank. Bowman served as the bank's president for over 30 years until his death in 1921. He too held interests in several other business ventures and served on the Plano School Board.
Bowman Cemetery (1868-ca1921)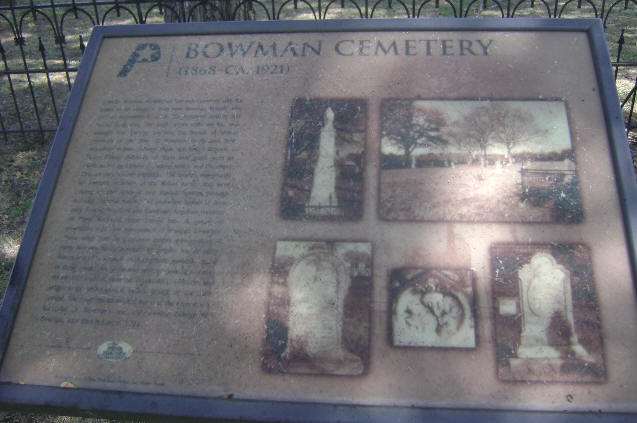 John D. Bowman established Bowman Cemetery with the burial of his daughter, Julia Ann Bowman Russell, who died on September 5 1858. The cemetery contains two fenced family lots. The large, more elaborate lot with wrought iron fencing, contains the burial of several members of John D. Bowman family, and their immediate in-laws. Among these are Joseph Russell, a Peters Colony (Republic of Texas land grant given to investors led by William S. Peters) settler, and Dr. Henry Dye, an early…..physician. The smaller, wire-fenced lot contains members of the Brown family, who were related to the Bowman and Russell families through marriage. Several marked and unmarked burials of both early African Americans and European American residents of Plano surround these fenced lots. A variety of gravestone types are represented in Bowman Cemetery. These range from the prominent marble tablet stones and a few….modern granite markers. Many of these stones are adorned with symbols and fancy….such as fraternal organizations….and religious or philosophical beliefs typical of the time period. The most recent marked burial in the cemetery is for John D. Bowman's son, George W. Bowman, who died in June of 1921.
---