Elmendorf City Cemetery
Elmendorf, San Antonio, Bexar Co. Cemeteries of TX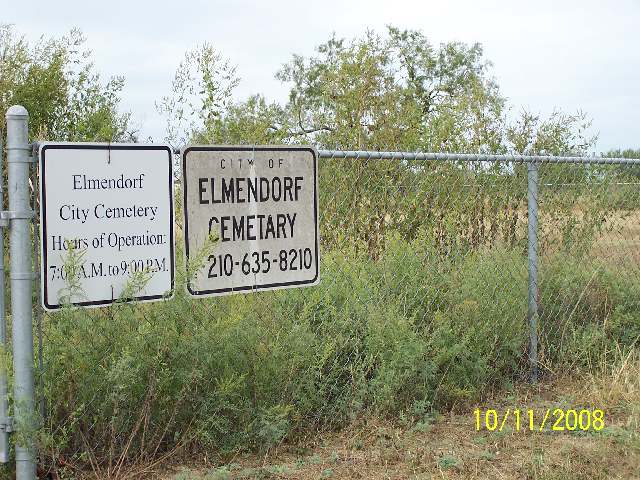 Submitted by Wanda Westfall
Located 17 miles southeast of San Antonio, Texas
This cemetery is very old and some years back citizens of Elmendorf and others took a lot of the headstones and made porch steps and used them for other things. The law made the ones caught put them back but there were many lost forever. A lot of the headstones are deteriorated and others in overgrown enclosures. The city council of Elmendorf recently put into effect cemetery hours of 7a.m. – 9pm seven days a week.
Rogers, John Born England Aug 9, 1851 – Died Apr 21, 1921
Ford, Henry J. Born Oct 23,1835 Died Sept 11, 1913 "Sacred to the memory of my darling husband" "Until we meet again"
Smith, Viola Dau of J.M. & Josie Smith Born Nov 27, 1905 Died Dec 18, 1905 "We loved this little ? and would have had her stay. But ??? will be done. She ?????
Brownlow, Frances Elizabeth 1871 – 1905
Brownlow, James Monroe 1858? – 1938
Salazar, Zenia "Beloved Nanny" hand carved inscription No dates
Garza, Saul? 1862 – 1921
West, Murel 1884 – 1917 (Oct 1, 1884 to July 21, 1917)
West, Thomas Born Feb 23, 1856 Died Mar 15, 1917 " Min__ton Now Rest? In life's journey trod, yea walked securely with God." Woodmen of the World Memorial close up
West, Mattie Jane Apr 18, 1861 – Aug 2, 1936 "A tender mother and a faithful friend" 2nd photo
Scott, Chad Died 1923 (Hard to read the first name) 2nd photo
King, Maude W. 1882 – 1918
Lambrecht, Kathleen Born and Died Oct 17, 1960 – "IN Heaven"
Lambrecht, Hugo Aug 15, 1901 – Aug 29, 1961
Martinez, Mary Lou Bustillos July 4, 1932 – Feb 28, 2004 2nd photo
Griffith, John Walton Oct 19, 1904 – Sept 30, 1982
Garrison, Martha Born Jan 1815 – Died June 1896 "In Memory Of" "Beloved Wife of Rev. RC Garrison"
Palmer, Elmer J. Died Jan 20, 1897 (Headstone is broken off of base and lies in two pieces on the ground)
---