Confederate Cemetery #4
San Antonio, Bexar County, Cemeteries of TX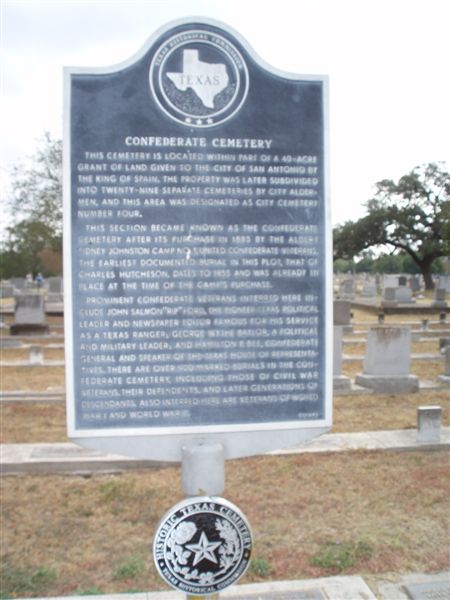 Confederate Cemetery # 4 historical marker in San Antonio, Bexar County, Texas
Inset into Cemetery #4 off of E. commerce, Paso Hondo & News Braunfels Streets, San Antonio
This cemetery is located within part of a 40-acre grant of land given to the city of San Antonio by the King of Spain. The property was later subdivided into twenty-nine separate cemeteries by City Aldermen, and this area was designated as City Cemetery Number Four. This section became known as the Confederate Cemetery after its purchase in 1885 by the Albert Sidney Johnston Camp No. 1, United Confederate Veterans. The earliest documented burial in this plot, that of Charles Hutcheson, dates to 1855 and was already in place at the time of the Camp's purchase. Prominent Confederate veterans interred here include John Salmon "Rip" Ford, the pioneer Texas political leader and newspaper editor famous for his service as a Texas Ranger; George Wythe Baylor, a political and military leader; and Hamilton P. Bee, Confederate General and Speaker of the Texas House of Representatives. There are over 900 marked burials in the Confederate Cemetery, including those of Civil War veterans, their dependents, and later generations of descendants. Also interred here are veterans of World War I and World War II.
This cemetery is on East Commerce St. San Antonio, Bexar County, Texas. It became known as the Confederate Cemetery in 1885. Some people call it City Cemetery #4 even now. The earliest recorded burial is 1885. There are approximately 1000 graves in the cemetery. Veterans of World War I and II are also buried here as well as family members of the Veterans. Probably other people too. The headstones listed below lie between Jeff Davis Walk and John B. Hood Way sign posts in the cemetery. A lot of the headstones are badly deteriorated, some are broken up, and some unreadable. So much information lost forever from the pages of history.
List submitted by Wanda Westfall. Photos by Amber & Billy Horton & Debra Westfall
This headstone is a flat long one with the following 9 names and dates on it
Harrison, Lottie Fay 1838 – 1906
Harrison, Francis Marion 1830 – 1913
Bowman, Vivian Jones 1876 – 1915
Jones, Robert Otis 1896 – 1921
Madison, Velma Jones 1897 – 1934
Kennedy, Bobbie Harrison 1866 – 1938
Calmbach, Maude Harrison 1864 – 1940
Kennedy, Kathryn Lentz 1900 –
Kennedy – Ira J. 1893 – 1972
***************************************
Baylor, Colonel George Wythe Born August 24, 1832 –at Ft. Gibson in what is now the state of Oklahoma Died March 24, 1916 "Colonel of the 2nd Regiment Arizona Brigade CSA – Later a noted Texas Ranger
Boston, Mary Scott Aug 2, _____ Nov 25, _____
Brown, Archie Scales March 21, 1884 – 1938
Brown, Vera MacDavid Feb 11, 1888 – Mar 7, 1967
Campbell, Herbert W. 19 Jan 1898 – 12 Aug 1903
Chowning, Thelma L. Born Jan 17, 1899 – Died Apr 7, 1899 "Budded On Earth To Bloom In Heaven"
Cooper, Thomas Kirby "Born In England" No dates
Dixon, Callie A 1907 – 1993 (Funeral Home Marker)
Ellison, Jeff S. "Daddy" Mar 29, 1871 – Mar 30, 1945 S/W "Daddy"
Ellison, Lizzie A. "Mother" May 20, 1877 – Nov 12, 1970
Ellison , Gussie Born Oct 3, 1874 – Died June 6, 1968
Ellison, Stella Z Nov 29, 1876 – May 8, 1955
Ellison, Louella C. 13 Dec 1848 – 15 June 1930
Ellison, Alex A Feb 3, 1846 – June 29, 1919 PVT 27 Brig Texas Militia Confederate States Army
Gillespie, James Wright Born in Fayette County, Tenn Nov 2, 1844 – Died in San Antonio, Texas July 9, 1910 "A Confederate Soldier – Blessed are the dead which died in the Lord" Pvt Co E 15 Texas Regt Confederate States Army
Green, Geo. D. Lieut. 21 June 1832 Died ?
Harrington, Edward Hugh Apr 6, 1861 – Apr 13, 1930 S/W
Harrington, Marry Alma Nichols Dec 9, 1859 – Feb 17, 1939
Harvey, N.A.? Nov 29, 1848 – Jan 28, 1905 "Gone But Not Forgotten" (WOW headstone)
Harvey Susan Dec 29, 1852 – Aug 14, 1903 "Erected by the Woodmen Circle" "Gone but not forgotten"
Haynes, Violet A. Jan 23, 1873 – Mar 2, 1953 "Organizer of Daughters Of Texas Trail Drivers" Back of Haynes, Violet A. "Erected by Organizers of Daughter of Texas Trail Drivers":
Houston, A.W. Born: 03 August 1850 Alabama Died 21 Feb 1915 San Antonio Inscription: "Patriot, Statesman, Jurist - Grand Master of Texas Masons 1913 -1914 Just, Charitable and True. His life and example are eternal "
Largen, Katherine M 1887 – 1962 "To The Truest Mother Ever"
Newman, Lemuel Feb 01 1840 – Apr 25 1908 CSA
Newman, Lemuel R. 6 July 1834 – 19 Feb, 1913 "Resting In The Arms Of Jesus" "Father"
Newman, Henrietta Ary Feb 1, 1840 – April 25, 1908 "Asleep to Wake In Jesus" "Mother"
Newman, S. Arthur Mar 19, 1874 – Apr 28, 1940
Newman, Mattie Lee Aug 23, 1880 – Feb 12, 1933
Newman William F. Jan 7, 1872 – Mar, 1937 "In Loving Memory of Our Brother"
Newman, Homer Alfred June 26, 1882 – Dec 16, 1962 "Father" "At Rest"
Nottace, Susan Dec 7, 1807 – Aug 30, 1906 "At Rest"
Scott B.R.A. Lt., Dec 13, 1888 – Nov 12, 1918 "A place is vacant in our hearts. A voice is stilled which never can be filled. A precious one from us has gone"
Scott, B.R. Alden Born "Bel-Air" Virginia Born June 28, 1851 – Died Jan. 13, 1925 S/W
Scott, Mary Anderson Born "Locust Hill" Virginia Born September 5, 1851 – Died June 10, 1932
Serna, I. F 2 Feb, 1840 – 29 Nov 1912
Serna F.V. 22 Mar 1846 – 20 July 1926 "They steered their course to that same quiet shore not parted love and to part no more"
Smith, Charles T. Pvt Co D Waul's Texas Legion Oct 14, 1843 – Jun 8, 1920 (Military Marker)"In Loving Memory Of" "He died as he lived. A Christian".
Smith, Emily L. Born May 25, 1840 Died Nov 23, 1903 "Wife of C. T. Smith"
Tunstall, Florida Pope June 17, 1825 – May 2, 1911 " I have fought a good fight, I have finished my course, I have kept the faith"
Tams, Infant son of W. & L.P. Tams
Tyte, Infant son of A.W. & C.L. Tyte Feb 21, 1911
Tyte, Avery W. Aug 21, 1878 – Feb 19, 1962
Tyte, Charlotte Laronia Feb 10, 1878 – Oct 29, 1971 "The Lord Is My Shepherd"
---