Pilgrim Cemetery
Elkhart, Anderson Co. Cemeteries of TX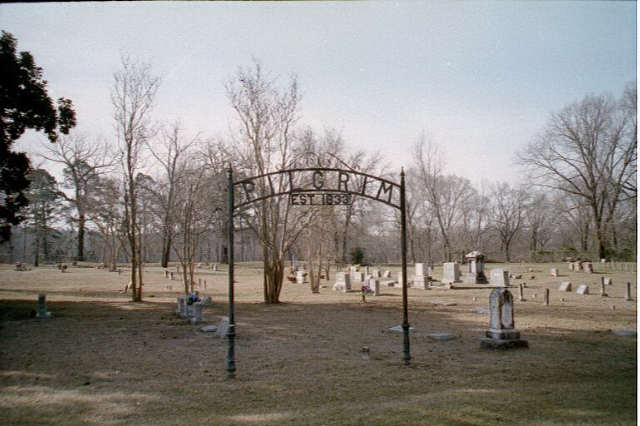 Photos by Faye Westerman
Log Cabin Church was built in December 1848, Elkhart Anderson Co., TX Present building is the fourth on the same site, Church has continuous worship since 1833. Pilgrim Presbyterian Regular Baptist Church. Organized in Illinois in 1833 by Daniel Parker. Members moved to Texas, first meeting in Stephen F. Austin's Colony, Jan. 20, 1834.
Log Church built December 1839, Old Graveyard
adjoins. Present Church fourth on the same site. Continuous worship since
1834, Daniel Parker, Pastor 1833-1844."

Last Name
First Name
Birth
Death
Comments
Bennett
Miles
Jul 26 1816
Nov 28 1887
A soldier in the army of Texas, 1836 Born in Indiana
Bennett
Laura Jordon
Aug 28 1830
Dec 24 1925
w/o Miles
Bennett
Rachael
Sep 27 1821
Dec 23 1843
D/o Daniel Parker w/o Miles Bennett First person buried in this cemetery.
Miller
Rev. Rufus Calvin
Sep 11 1857
Jul 17 1904
h/o Mary Dannie
Miller
Mary Dannie
Jan 7 1870
May 25 1946
w/o Rufus
Miller
Reece Eugene
Sep 26 1800
Apr 21 1915
s/o R. C. & M.D. Miller
Miller
E. T.
-
Dec 02 1888
20 yrs & 2 mo.
Miller
J.W.
Nov 02 1855
Aug 17 1943
Gone to a Better land
Miller
Gennie A.
May 18 1870
Jan 27 1942
At (Age 72)
Parker
Rev Daniel
April 6 1781
Dec 3 1844
First pastor of Pilgrim Church. Pastor 1833-1844.Rev. Daniel Parker. Pioneer Baptist Minister B: Virginia
Tombstone erected by the State of Texas in 1936
Parker
Dickinson
May 29 1812
Aug 01 1844
w/o Lucinda B: TN A San Jacinto Veteran
Parker
Patsy Dixon
Jan 17 1783
Dec 01 1946
Parker
Lucinda Eaton
Jan 14 1820
Jan 27 1847
h/o Dickinson Parker
Parker
Rachel
Sep 27 1821
Dec 23 1843
w/o Miles Bennett, d/0 Daniel Parker, First Person buried in this cemetery